CHAMPAIGN — Everything was going through Samba Kane's mind at once as he sat in an airplane in August of 2016, headed away from the life he knew.
He was leaving behind mother, Cira Ndiaye, the Dakar fields he grew up playing soccer in, his friends and family, his native language of French and home country of Senegal. His life was fading away behind him along with his sense of comfort and stability.
Ahead of Kane was a new country — the United States — to call home, a new family and a sport — basketball — that he had only been playing for less than three years. He had few friends and spoke no English.
All Kane had was his ever-growing 6-foot-9 frame, questions and a dream to take care of everyone he left back in Senegal. Basketball was the vehicle to achieve those dreams.
"It was hard, just leaving my mom, because I'm the only child," Kane said from a chair on the sideline of the court at the Ubben Practice facility in a white compression shirt and a red smoothie to his side. "I was scared and sad because I was like: I'm leaving my friends, I'm leaving my family, I don't know what I'm going to find over there."
Kane found new friends, is living in his third state in just more than two years and is realizing his dream of playing basketball as a freshman at the University of Illinois, becoming a local celebrity for the athleticism and defense he adds to the Illini. He's fighting to add strength after missing eight crucial weeks in the summer while he met academic requirements. Since joining the team, Kane is averaging 6.4 minutes and 2.1 points.
The scared kid who flew from Senegal to Colorado on 2016 — the last time he was in his home country, and the last time he was able to see Ndiaye and wrap his long arms around her for a hug — has been replaced by a 6-11 Division I basketball player with an ear-to-ear smile and a well-known sense of humor and a building confidence on the court.
Arriving in Colorado
Greg and Denise Willis have opened their Colorado home to 14 international players, including Kane. He arrived in Denver in 2016 as a 6-foot-9 transplant by way of the Flying Stars Academy — a basketball training organization in Senegal that has turned out a number of players to the United States — who was incredibly thin and desperately missed home.
"He was really nervous," Greg Willis said. "Of course, being away from his mom and grandmother for the first time, he had probably never even slept at anybody else's house other than his mom's and grandmother's."
Kane enrolled at Regis Jesuit High School in Aurora, Colo., a school that both Kane and Greg Willis, who is the director of the Colorado Hawks AAU program, describe as a predominately white school with a reputation as one of the state's top academic institutes. 
When Kane towered over his classmates and was peppered with questions. They wanted to know who he was, where he was from and asked to shake his hand and for pictures with him.
Though one issue persisted: Kane was still in the process of learning English as a second language. He used Google Translate to try to communicate with his new classmates and friends, but challenges remained — despite watching cartoons to try to expedite his learning.
"Sometimes I was afraid to be around people because I thought they were going to laugh because I didn't understand what they were saying," Kane said. "Sometimes it would be worse hanging out with them. I was alone and I didn't hang out with anybody."
Kane wasn't alone while living with Greg and Denise. Several other students and basketball players lived in the house with him. They quickly became a family. Denise describes Kane as a "people pleaser." If he had something that other kids in the house didn't, Kane was quick to share with them.
Often times, Denise said, he would send things back to his home country, always thinking about others. As Kane settled in, he became close with everyone in the house, even earning the nickname "Cookie Monster" for his love of chocolate chip cookies.
The Willises are giving by nature, and Kane was easy to like.
"When you get to know those kids, you're like their family. You don't second guess doing anything to help them," Greg Willis said. "Anything they want, you'd do it like a parent to help them out, and he knows that. He's such a good-natured person, a humble person. He's just different. He's a special kid."
It took roughly five or six months for Kane to settle in, get comfortable and let his personality show. Even after spending a season playing for Florida Prep Academy, Kane goes back to Colorado at any opportunity. He was there when the Illini had a break for the holidays after a loss to Missouri, and spent eight weeks with the Willises in the summer while he was getting his academics in order before joining the Illini.
As Kane settled in and made a home of Colorado, his personality began to emerge. When Denise had to scold him, she noticed a smile burgeon on Kane's face. It was incredibly difficult to be mad at the mild-mannered big man.
Of all 14 international kids the Willises have welcomed into their home, Kane's sense of humor stood out.
"Samba is the funniest kid of them all.," Greg said. "He's got a sense of humor that's unmatched by almost anybody I've ever met. He loves to laugh. I would say 90 percent of the day he's laughing and joking."
Feeling homesick
After his best performance of his college career — an eight-point, two-block effort in a win against UNLV during which he wagged his finger like Dikembe Mutombo after blocking a shot — Kane immediately took to his phone.
He sent his highlights home for his mother and grandmother to see. They communicate through WhatsApp and Facetime when they can. Through those conversations, his family has helped support and push him when times get hard and helped him press through because of the cultural and language challenges when he first arrived in Colorado.
"I was thinking about how I'm doing it for myself and I'm doing it for (Ndiaye)," Kane said. "One day if I'm successful I'm going to be able to help her and take care of my family."
Denise Willis knows Kane and Ndiaye are close, and became closer after Kane's father, Cherif Kane, died five years ago while Samba still lived in Senegal. That was part of the reason Denise was so drawn to Kane, more so than the other athletes she and her husband welcomed to their home.
"I could see the struggle that he was going through," Denise said. "I think that was another reason I became so attached and close to him and wanted to nurture him. I knew he was an only child and I knew it was very difficult for him to leave his mother because he's very attached to his mother. I tried to step in as much as I could as a mother figure for him to ensure him that: It's OK. You're safe here."
At times, when Kane lost focus, Denise reminded him why he's in America, and just how far basketball can take him. Those who know Kane's potential can easily see him playing basketball professionally after college.
But even that dream could get lost on Kane. There were times — a few of them — that Kane wanted to pack his bags and go back to Senegal.
"I was like, 'Mom, if I tell you what I'm thinking right now, you're going to think I'm a fool,'" Kane recalled. "She told me, 'I know what you're thinking. You want to come home. I know you miss me, but you have to fight for your future. You have to fight for yourself. Don't worry about me. I'm going to be fine.'"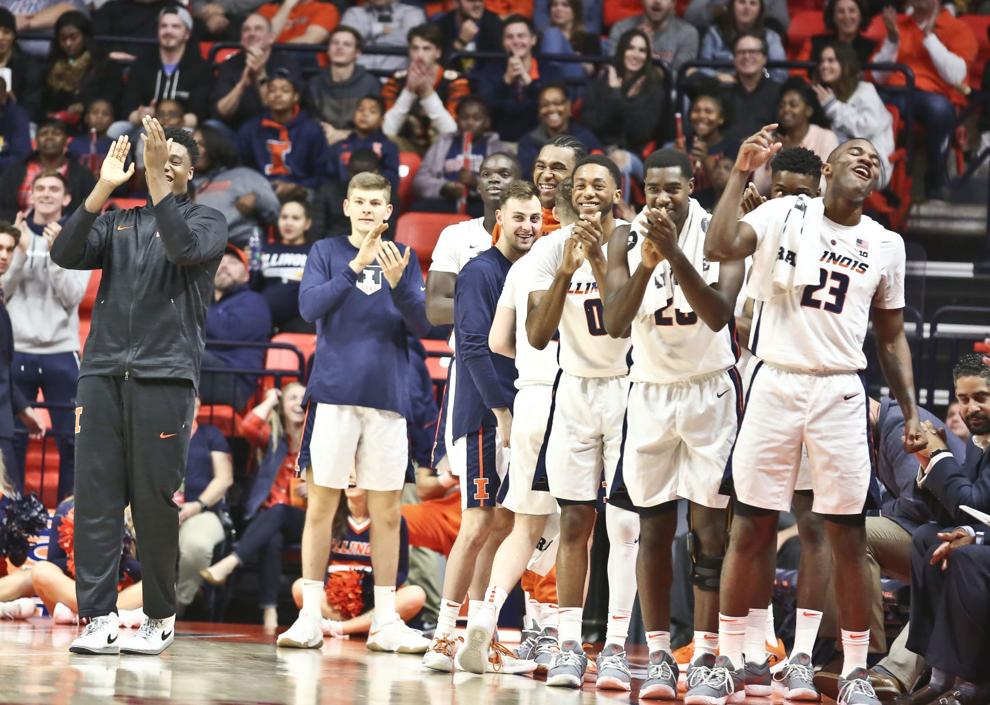 A year in Florida
Just as Kane was settling into his life in Colorado, he moved to Florida to play his final high school season at Florida Prep Academy. There was a heavy focus on basketball and dorms for the players — many of them international students — to live in.
That's where he met Pete Munch, who was a coach at Florida Prep and is now a coach at IMG Academy, another nationally prominent prep school. 
There Kane unlocked more talent and landed his offer from the University of Illinois, a recruitment that was spearheaded by Illinois assistant coach Orlando Antigua. 
Kane also found a safe place with Munch, who was  a father figure for Kane. In fact, the two shared a lot in common. A year before Kane arrived in Florida, Munch's father died.
"We had a lot of personal conversations about that and making him feel OK and knowing what he's growing though and how tough it is," Munch said. "But also knowing how awesome it is to still have your mother and be a mama's boy — there's nothing wrong with that. He's done such a great job. I can't imagine being his age and losing my father.
"To grow and see him mature the way he has, it makes guys like me feel really good about him and makes me love that kid even more and knowing how hard it his and how tough it is to leave his mom. He's doing it all for her."
There were moments that Kane matured fast in Florida. He and the other athletes lived in dorms and focused on basketball and school work. On the court, he was draining free throws, dishing no-look passes and shooting an occasional 3-pointer.
Kane played a phenomenal game on his birthday as a senior in Florida against a top-tier team. Prior to that game, Kane was fighting to see the court and honing in on his academics. It was a road game and Kane was forced in when a teammate got in foul trouble. Munch saw Kane change the game with no-look passes, five blocks and a game-sealing dunk. His potential was on full display.
"He literally did something every single game where we like, 'Holy crap, I can't believe he just did that,'" Munch said. "He literally does a little bit of everything and that was one of the reasons we were so excited for him to go to Champaign."
A late start
While most of the incoming group of freshman were on campus, Kane was back in Colorado over the summer. He had to complete academic requirements in order to join the school. The Willises saw him work day and night, at all hours, to complete the classes he needed.
Kane longed for Champaign. He looked forward to learning head coach Brad Underwood's system, meeting his new teammates and working with strength and conditioning coach Adam Fletcher.
"It was difficult for me because I wanted to be here, put some weight on and understand what we're doing more and get more confidence," Kane said. "I understood the situation and my whole family told me, 'You have to do your school work and keep practicing, and you'll be fine.'"
Munch checked in on Kane several times a week, and also knows Kane to be a people-pleaser. Not only was Kane missing important reps in his basketball development, Munch said Kane indicated he was letting people down.
"He felt so guilty about it and wanting to make sure the coaches weren't going be mad at him and wanted to make sure that he was even going to be able to play this year," Munch said. "He would go back to, 'I don't want to disappoint fans and my family.' He just felt guilty about it. He worked very hard over the summer and especially in the classroom."
Kane is battling for playing time but the flashes are there. He's swatted opponents' shots, dunked with authority, showed a turnaround and his passing ability. There's no doubt he needs to add weight, but he's got the firm backing of his teammates and coaching staff.
"I've mentioned before that he wasn't here, he's so far behind," Underwood said after last month's game against East Tennessee State. "Every day he's on the court with us, he makes big strides. I'm becoming a big, big Samba Kane fan."
Kane credited his teammates' support after the UNLV game. He's been seen after practice working with graduate transfer big man Adonis De La Rosa. Kane's confidence is improving and his potential is evident to his teammates.
"He's a big time player," junior Kipper Nichols said. "His ceiling is very high. Expect a lot out of Samba Kane in the future."
Limitless potential
Just how high Kane's ceiling is doesn't much depend on who you ask. Those who know him see the structure and skill set of someone who can play basketball professionally. Most who know Kane have known it for some time.
Greg Willis has seen a drop step in the post, a sweet mid-range game and the length and instincts to be a factor on defense. All that's missing is the confidence to put it all together and show the moves that he's been crafting in his brief basketball career to the public.
Could he eventually land in the NBA? 
"There's no doubt," Greg said. "You don't see a seven footer who can run like him. He's springy. He's got a really nice jump shot and has nice post moves."
Munch saw enough flashes of Kane while he was in Florida and through the early part of his Illinois career that leads him to believe the same, and he thinks Illinois is the best fit to put all the pieces of Kane together.
Then there's the reminder that Kane is still a basketball rookie. Six years ago he was lying to his mother about going to basketball practice, instead going to play soccer and washing grass off his feet to sell his lie.
The hands on his basketball clock have only started moving.
"It's not like he grew up playing basketball," Munch said. "Everything is so new to him. Factor in that (English) was his second language. It takes him a little longer than most. Once he does, over time, put everything together, he will be unbelievable."
For now, Kane is settled in. He still misses his mother and hopes to visit her after the school year. But that uneasy flight almost three years ago is in the distant past.
"Right now," Kane said, "I feel more comfortable than before."
Contact Joey Wagner at (217) 421-6970. Follow him on Twitter: @mrwagner25