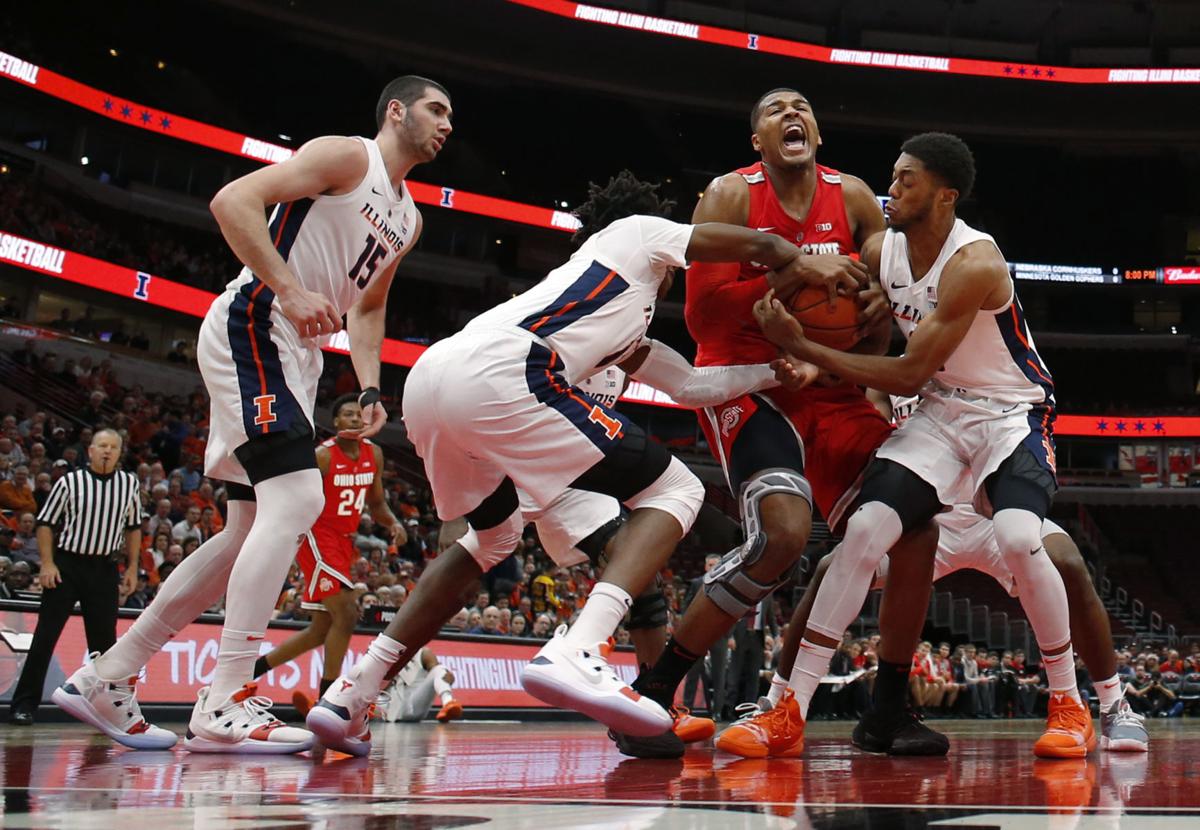 CHAMPAIGN — For the first time since 1994, the Illinois men's basketball team won't play at regular season game at the United Center in Chicago.
It's not a permanent goodbye, Illinois Athletics Director Josh Whitman said on Tuesday at a media round-table discussion, but the annual game will take a "hiatus."
Whitman said the expansion of the Big Ten basketball schedule to a 20 games and multiple-team events such as the Gavitt Games and the Big Ten/ACC Challenge left fewer openings on the schedule.
"We wanted to give it the old college try one more time last year," Whitman said. "We moved a Big Ten game and obviously faced criticism for that. We thought we're going to give Chicago a chance to stand up for itself, bring Ohio State in the building, play a Big Ten game in the United Center and see what we can make of it and we drew about 5,000 people. That's a 14,000 person crowd here at the State Farm Center.
"This isn't a goodbye. We'll be back at the United Center for a regular season game. It's not that we'll never play there again; we certainly will. We want to let it breathe a little bit and let people remember what was so special about playing in the United Center and hopefully bringing some of the shine back to that place and our games up there. We'll take a little break, but we'll be back up there before too long."
In 2017 for the game between Illinois and New Mexico State, 5,695 fans attended the game at the United Center. Both Whitman and Illinois men's basketball coach Brad Underwood were supportive of taking a Big Ten game to the United Center, Whitman said, and both are supportive of returning that game to the State Farm Center.
"I don't think it would be 10 years until we play there again," Whitman said of the United Center. "I would expect we'll be there again within five years, but that's just a guess."
Watching talent file in
Whitman also touched on the talent that Underwood and his staff has brought to the men's basketball program. 
"Give Coach Underwood and his staff a lot of credit: They continue to bring, I think, pretty special players into Champaign-Urbana," Whitman said. "We've seen that happen, obviously, with Ayo (Dosunmu's) success, Giorgi (Bezhanishvili's) success, we're excited now to have (freshman) Kofi (Cockburn) on campus. He is a big dude. Even by Big Ten basketball standards, he's a big man."
There was a suggestion for a new standard for the backboard if Cockburn, a known ferocious dunker, were to damage the hoop at the Ubben Practice Facility. That order has been made.
You have free articles remaining.
"Just to have it in the wings, just in case on of the standards that we have doesn't make it through the summer," Whitman said. "We went ahead and made that order, and I think it would be kind of cool for him to use it."
Ubben still in works
On Tuesday, Whitman announced progress has been made in fundraising for that project.
"We've made some significant progress on the fundraising path for the expansion and renovation of Ubben," Whitman said. "We expect that to continue to move forward in relatively short order."
The renovation would add approximately 45,000 square feet to the existing structure, while remodeling more than 8,300 square feet of existing space.
Football space ready
The Illinois football coaching staff is expected to move into the new football performance center at the end of July, with players moving over there when they re-convene on Aug. 1.
Previous space at the north end of the end zone will be used as a "hub" for Illinois student athletes.
There will be a dedication on Oct. 11, the Friday before Illinois hosts Michigan home game on Oct. 12. There will be two staggered dedications, one for the center and one to unveil a Dick Butkus statue outside of the center. Butkus will be present.
Plans to pursue state tournament
The Illinois High School Association announced plans for a re-worked state boys and girls basketball tournament schedule that moves all boys state games to one weekend and all girls state games to one weekend. There will also be a bidding process for the next venue of the tournaments.
Champaign, and the State Farm Center, have been a topic of discussion given the tournament's history in Champaign. There's a combined effort between the University of Illinois Athletics Department and Jayne Deluce, Secretary at Visit Champaign County, to put together a bid for the state tournament.
"Obviously the state basketball tournament has a long-storied tradition in Champaign-Urbana at the old Assembly Hall, the new State Farm Center," Whitman said. "We intend to go after it aggressively. It would be great to bring it back here to Champaign."
Contact Joey Wagner at (217) 421-6970. Follow him on Twitter: @mrwagner25