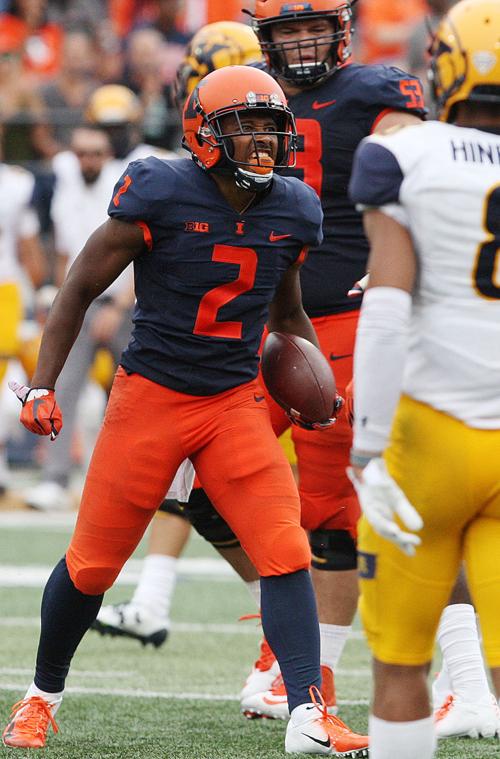 One day, he planned on leaving the Illinois football team to pursue a professional football career. The next day, he planned on returning to Illinois for his final season of eligibility.
He was "very close" to going pro. It made more than enough sense. He had just turned in his best collegiate season, rushing 128 times for 1,085 yards and nine touchdowns and continuously broke loose for big runs, including a long of 80 yards.
Truthfully, Corbin didn't know what he was going to do until he sent out a simple tweet on Jan. 12. It was a picture of him with his arm around Tuscola superfan Colton Rahn with a five-word message.
With that, Corbin was back with the intent to build on his redshirt junior season and with the plan to improve on the win total of the last three years; something Corbin takes to heart. He's passionate about his faith, which payed a big role in his decision to return.
"God," he said of why he elected to return. "Sitting on my knees every night and praying. Somehow he told me. 'Go back to school. This is the best thing for you.' It wasn't that I didn't believe in my skill or anything like that. It was just, 'Hey, you need to go back to school.'"
Corbin went to offensive coordinator Rod Smith and told him that he wanted to talk to him one-on-one in his office. There, Corbin explained that he had things he wanted to improve on. He wants to be a better blocker and fine tune other aspects of his game. 
Smith, of course, welcomed the news with open arms to get one of his most explosive play-makers back on the field, but he also appreciated Corbin's push to improve. In the offseason, Corbin goes back home to Maryland or down to Miami to work on his training, always fighting to be better.
The decision to return exemplified the work ethic that helped Corbin persevere through his first three seasons — one redshirt — of limited playing time that was compounded by a few injuries.
You have free articles remaining.
"When he told me that, I felt good and I knew his head was on right,"Smith said. "Not good from a selfish standpoint, which I was, but at the same time, he understands who he is and what he needs to work on. He doesn't have an inflated ego of himself and think he's a player that hes really not."
The lack of an ego goes beyond understanding where he needs to improve. By most general lines of thinking, Corbin should step foot on the field at Memorial Stadium on Aug. 31 against Akron in the season opener as the team's premier back. His statistics make it obvious. But Corbin doesn't see it that way.
He's seen the story too many times of players in a similar position assuming too much and having it all taken away. On Friday at spring practices, Corbin was not unlike the rest of the backs, head down in a steady rain working on footwork drills before the team did 11-on-11.
"You can never look at it as: I know where I stand or I'm that person or this is my role, because everything changes every single day," he said.
"I've got to earn a job just like everyone else. I've got to come back and fight for my spot and push to be better. That's the only way. I wouldn't' expect anything different. That's the only way I'm going to get better."
Smith sees more confidence in Corbin. No, Corbin never thought about transferring from the program, not even when he was a sophomore with 18 rushing attempts for 78 yards. He's a believer in staying the course.
He knows Smith's system like the back of his hand. Finally, he doesn't have to re-learn an offense. He can be an extension of Smith on the field.
There's a change in him. When asked if he took over the team leadership role and spokesperson role after Nick Allegretti graduated, he deferred.
If Corbin accepted that role, was it really his? Things like that, he said, go unspoken. Smith can still see the change and the leadership qualities.
"His confidence is better," Smith said. "I don't think that he ever lost confidence. I just think for him to see the fruits of his labor of his work ethic to finally come to fruition. That, to me, helps drive him to want to come out and work day in and day out."
Day in and day out could lead to a big season, something the coaching staff and players feel they're on the cusp of entering head coach Lovie Smith's fourth season. Corbin is back and will be a part of that. 
He wouldn't have it any other way.
"For him, it's a mental game," running back coach Mike Bellamy said. "He puts himself in a position to say: I've got to grind, I've got to grind, I've got to grind. I'm excited for him. I'm excited for the future and the potential he has this year."
Contact Joey Wagner at (217) 421-6970. Follow him on Twitter: @mrwagner25