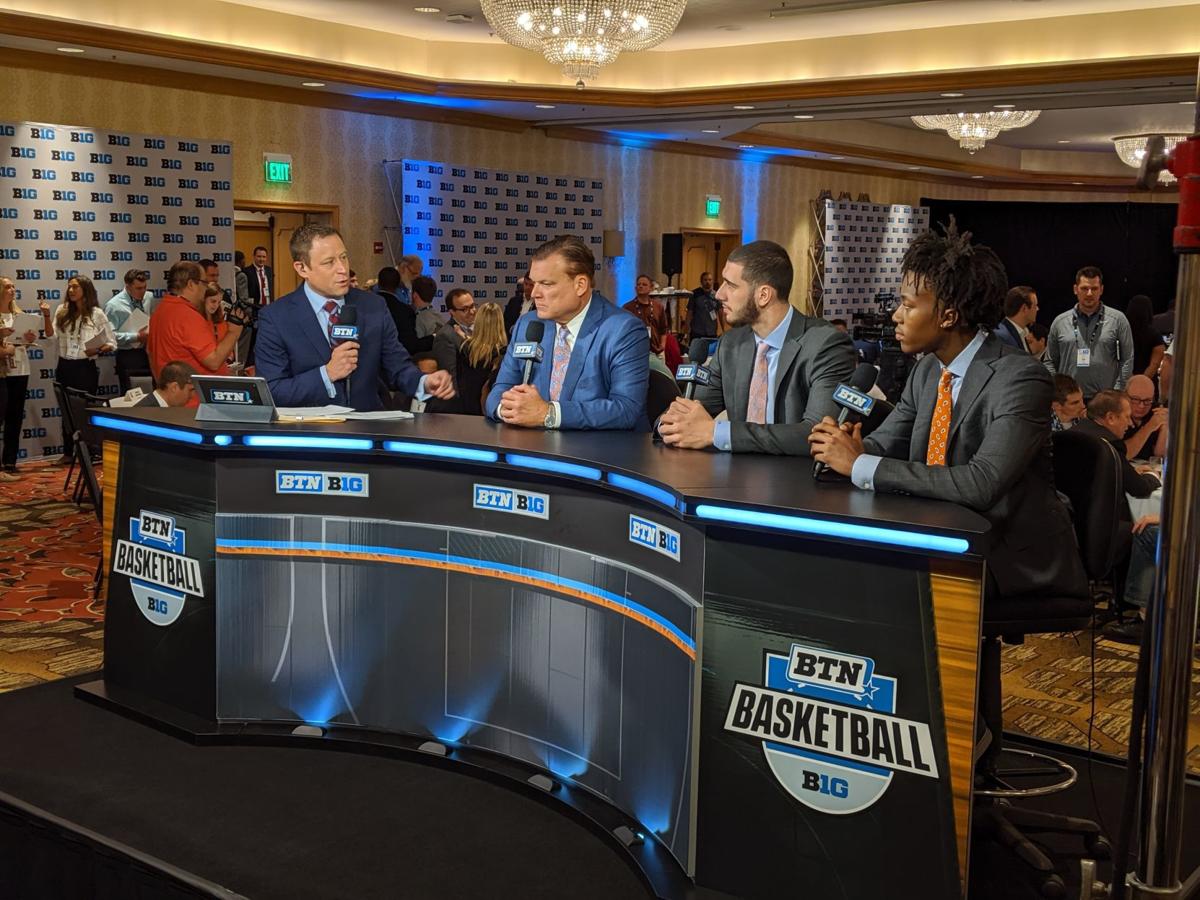 ROSEMONT — A few minutes before 1 p.m. on Wednesday, Giorgi Bezhanishvili put a microphone down, hopped off a stage after an appearance on the Big Ten Network in the Grand Ballroom inside the Hilton Rosemont and began looking around.
To his right was a round table with chairs and a group of reporters waiting to being their 50-minute interview session with Illiinois basketball players Bezhanishvili and guards Ayo Dosunmu and Trent Frazier at Big Ten Media Days. Bezhanishvili was the first to make his way to the table, extending his monstrous hand for a handshake with some reporters and going in for a hug with others before finally taking his seat.
Players and coaches go through the media gamut at these annual summits. There are radio appearances, photo shoots, TV appearances and in-person interviews. Football operates the same way. There's a bit of madness around college sports, so for forgive Bezhanishvili for being a little surprised by it all, but he's still appreciating the moment.
The swift-footed, sweet-dancing sophomore became a sensation last season for the Illinois basketball team, and it didn't take him long to move into the stratosphere of celebrity status. His game is one thing, and he substantially out-played the three stars he brought to college. Come for his stellar play and stay for his contagious personality.
Before he committed to Illinois in March of 2018 after being lightly recruited out of St. Patrick High School in New Jersey, he was an unknown. He's plenty known now, and answered one question by using his right pointer finger to count six reporters surrounding him at the time, with more coming up to him before he left the ballroom.
"It is crazy," Bezhanishvili said. "I was just talking to my mom (Wednesday morning). She was telling me, 'It's always so shocking for us.' I'm doing interviews with ESPN, with you guys, I'm on the TV. Last year I came here and not one single person knew me. That's a fact."
This world of college athletics is still kind of strange to Bezhanishvili. There's nothing like it in his home country of Georgia. Things got real for him after his first home game last season, he said. That's when he got the full view of what college athletics are all about. He'll never forget the moment that he was riding his bicycle — he called it his "Lambo," after the Lamborghini sports car — and crossed a street at a red light, only to see an officer approaching him. His heart sank. He thought he was in trouble. But, Bezhanishvili said, the officer stepped out of the car and took a selfie with him.
To understand why this is so enjoyable to Bezhansihvili is to understand where he came from. Growing up in Georgia, his family struggled financially and boiled warm water, mixed it with cold, and poured it over themselves as their showers. This kind of attention and lifestyle was unthinkable.
You have free articles remaining.
"That's why I'm so joyful — for the people back home," Bezhanishvili said. "If they would be here, they would be really appreciated and they would love it. I love it. Nobody has this. This is such a blessing. I'm just happy, joyful, for it and hopefully it will continue for me."
He speaks to his mother, Lali, and brother, Davit, often. Each came for a visit last season, and Davit was in town when Illinois upset Michigan State at the State Farm Center. Bezhanishvili is experiencing this lifestyle for the first time, but it's also new to his family. He's a celebrity both back home and in Champaign-Urbana. Of course is family his proud of him, but he's just as proud to show them who he's become.
But at the heart of the attention, he's still the same person that made him so endearing to a fan base that has been looking for anything to cling to after six straight seasons without an NCAA Tournament berth.
"They're just really proud," he said. "I will always be the same Giorgi that I was for them for my entire life. Just because now people know me and some people take pictures with me. That doesn't change anything for our family. I will be the same Giorgi that they know and they will love me the same and they will fight me the same. It will be all the same for us. At the same time, they're really proud that some kids look up to me and some people are fans of mine. They're just really proud."
The connection between Illinois head coach Brad Underwood and Bezhanishvili was born almost immediately after Underwood saw him play in person. It took "five minutes of me watching him to know I wanted him on my team," Underwood said from a few tables to the left of Bezhanishvili in that same Grand Ballroom in Rosemont.
"Giorgi is different," Underwood said. "His level of appreciation, there's not any entitlement with Giorgi. He's driven in a way that most aren't. That's refreshing, and yet it also requires certain nurturing because there is a lot of pressure that he puts on himself to go be this or be that. Yet, you want a guy who works that hard to be rewarded, and he will be."
As the media obligations began to wind down, Bezhanishvili, Dosunmu and Frazier each walked to the front of the ballroom, where head coaches and Big Ten Commissioner Jim Delany began their press conferences some five hours earlier. They posed in front of the Big Ten trophies for photos. As the three players walked out of the room, they stepped atop a platform that was built to elevate a TV camera. Bezhanishvili began singing R. Kelly's hit song "I Believe I Can Fly."
The rendition of the song was his parting gift to this year's Big Ten Media Day.
"It's just a blessing," he said. "It shows how much the hard work pays off and being yourself and being in the right spot at the right time. It's just a blessing for me."
Contact Joey Wagner at (217) 421-6970. Follow him on Twitter: @mrwagner25