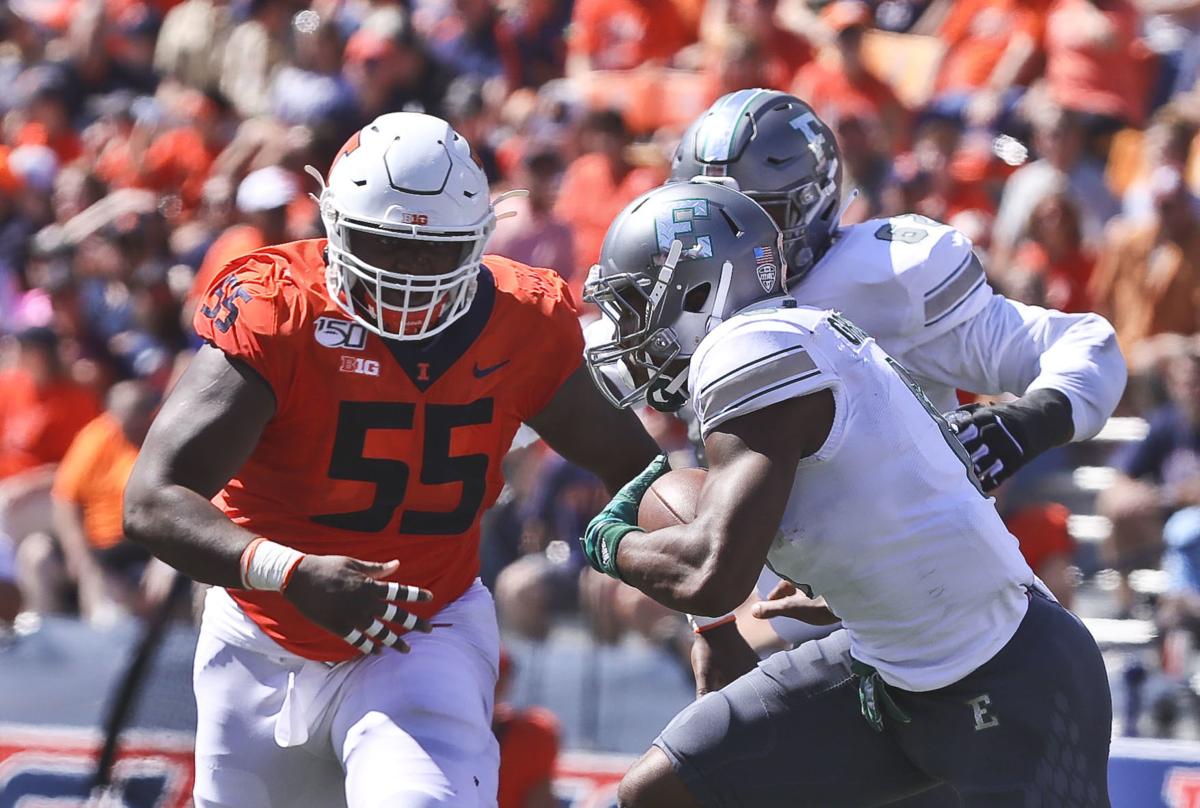 CHAMPAGIN — At 18 years old and as a freshman college football player, it's not always easy to appreciate the little details.
That appreciation doesn't always come until later, maybe after a few bumps along the way. Or, at least, that was partially the case for Illinois senior Jamal Milan. This offseason, he turned his focus to his body and the maintenance required to withstand a college football season, particularly from his post as a starting defensive tackle. He's seen a seasons cut short because of an injury, one in its entirety. A high level of body maintenance is crucial. 
Milan, a 6-foot-3, 300-pound senior, played in exactly one game as a freshman in 2015 after a standout career at Chicago Al Raby High School, where he was a three-star recruit and the No. 3 defensive tackle in Illinois. He suffered an injury in that game against Kent State that ended his season, but was granted a medical hardship waiver to retain his year of eligibility.
"I'm feeling great," Milan said. "I'm taking care of my body a lot more, I'm doing a lot more to my body and I'm invested in my body more often. I'm doing as much as I can, and I'm listening to my trainers. They're doing a great job."
There wasn't one big lifestyle change, but rather it was the introduction of several changes that made the difference. He's eating more greens and protein, watching what he consumes and getting more sleep. It's a culmination of little things paying dividends. 
"You can't just make huge changes all at once," said Milan, who has started all four games this season. "It's all about the little stuff until your body forms right. I've just been doing that since the summer and it's been paying off for me."
Paying off means being healthy and being disruptive. His stats don't tell the story. On paper, he has five tackles, a tackle for a loss, a pass broken up and a pair of quarterback hurries. There is no stats for "number of times a defensive lineman has been a general thorn in the side of a quarterback or running back," but Milan would have hearty numbers in that category. He's a big body and a productive space eater.
"He can be a difference maker in there," Illinois head coach Lovie Smith said before a Week 3 game against Eastern Michigan. "He can play either tackle position. He's just a force with athletic ability. He's had to fight through injuries in the past. He's healthy now."
There have been flashes since he stepped on campus, but those pesky injuries have gotten in the way at times. He was helped off of the field in training camp last season, costing him the first four games of the regular season, and his face told the story of a player who had been there before. That injury didn't cost him the season, but it's human nature to carry a piece of that, leaving the perpetual fear of a season crashing down.
Eventually, though, Milan had to fight the demon out of his head; with the help of his coaches.
"Up until now, yes it has been a challenge," Milan admitted. "I've been able to kind of keep that out of my head. In the game of football, you're bound to probably get hurt or have a little nagging injury. At the same time, if you want to make it far, you have to be able to play through things like that.
"That's what I've been telling myself. If I want to make it far and make it to the next level, I have to be mentally strong. Having (Defensive Line) Coach (Austin) Clark in my ear, he does a phenomenal job in helping me in those aspects."
All that's left for Milan in Champaign-Urbana is at least eight more games. He and fellow redshirt senior running back Dre Brown talked the other day about how quickly it goes, of course, they'd heard it before.
Nearly every high school coach sends their athletes off with a message that college athletics happen in a hurry. It has gone by quickly, but it's been quite the path. There was a coaching change, some injuries and the fight for more wins. There have also been lessons, some off the field and some to help stay on the field.
"It's all about the little things," Milan said. "If you pay attention to the little things then in the long run you'll be just fine."
Contact Joey Wagner at (217) 421-6970. Follow him on Twitter: @mrwagner25
Be the first to know
Get local news delivered to your inbox!