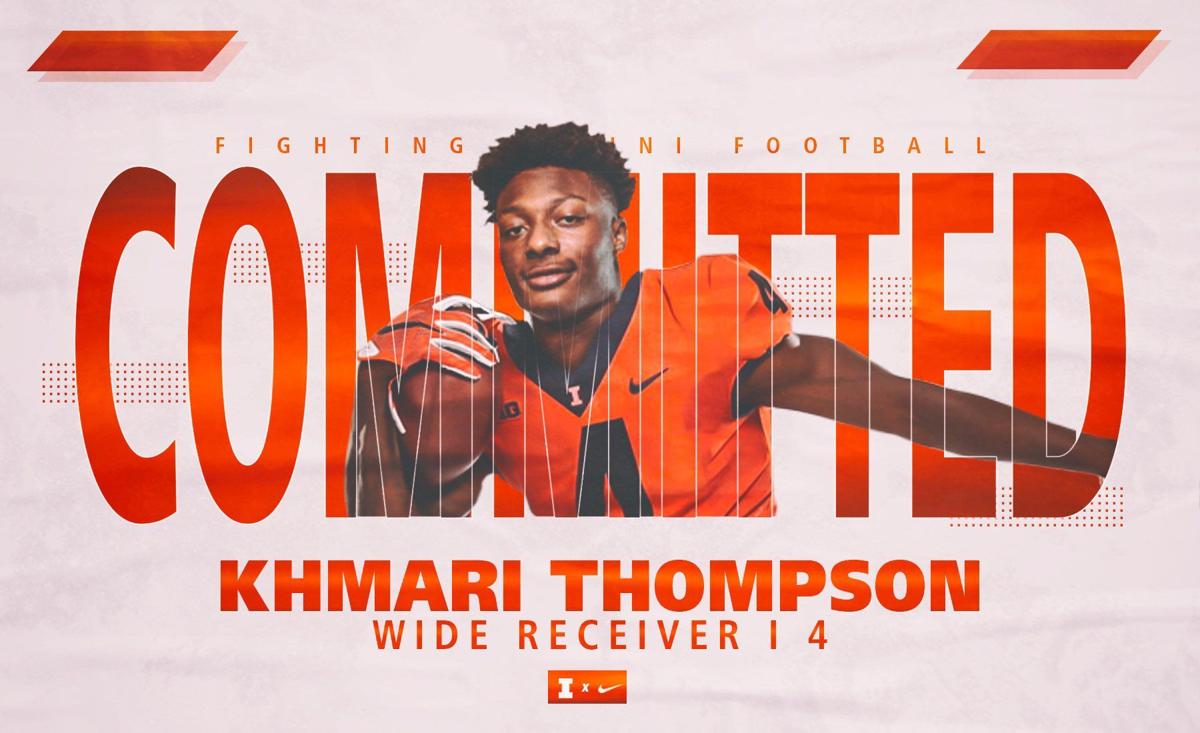 CHAMPAIGN — The relationship between Andrew Hayes-Stoker and Khmari Thompson goes back several years.
Hayes-Stoker, Illinois' wide receiver coach, was trying to land Thompson as a speedy three-star receiver out of Central Gwinnett in Lawrenceville, Georgia, in the Class of 2018. Illinois offered a few weeks after Thompson gave a verbal commitment to the University of Missouri. Thompson held to his word and signed with the University of Missouri to play football and run track.
Earlier this month, he announced his intent to transfer from Missouri after playing in three games as a true freshman in 2018 with no catches before a torn meniscus cost him his redshirt freshman season last year. Hayes-Stoker and Illinois got back in contact with Thompson and on Monday, Thompson announced his intent to transfer to Illinois. He'll have three years of eligibility remaining, though may have to sit out the upcoming season per NCAA transfer rules. He's appealing for immediate eligibility.
Years later, the relationship forged during the initial recruiting process paid off.
"It was just my connection with Coach Stoker and it was us having a conversation of the type of player I can be and how he can groom me, not only to be the best receiver I can be but also to get ready for the next level," Thompson said.
In Thompson, Illinois lands a 6-foot-1, 210-pound receiver who ran a 22.82-second 200-meter dash while at Mizzou and a 7.14 60-meter dash.
The relationship with Hayes-Stoker, and family — including a grandmother, uncle and cousins — nearby in Chicago, were key in Thompson's decision to transfer to Illinois. He said he hopes to be on campus within the next week. Hayes-Stoker laid out a plan to help Thompson improve his skills, far beyond is blazing speed.
"I'm a big person on honesty," Thompson said. "A lot of coaches can try to swindle you to come to their school and everything. I understand that's part of recruiting. To me, when you're honest with me and honest about how you'll use me and develop me, when you have a plan, you get favoritism in my eyes because you're being real with me. You're not going to blow smoke up my ass just for the time being and when I get there it's something completely else."
Thompson watched Hayes-Stoker help develop Tampa Bay Buccaneers star Mike Evans, and that kind of development was appealing to Thompson, who is still fairly new to football. He didn't play football as a sophomore or junior in high school, instead focusing on track. Thompson transferred to Central Gwinnett as a senior and broke out with 82 receptions for 1,131 receiving yards and 12 touchdowns.
He signed with Missouri and played in three games in 2018 without a catch, but preserved his redshirt. An injury cost him last season, but it wasn't a lost year. Finally, he got to step back and learn. For two years he was caught up in using his athleticism and learning football on the fly. The nuances of the game aren't always available to learn on a Friday night or Saturday afternoon. Life in football moves fast.
Without the games, Thompson found the importance of the little things.
"It was a humbling experience for me and it actually helped me a lot because I didn't get any time to slow down and really learn the game of football," Thompson said. "Instead of me relying on pure athleticism and going out and trying to do my best at that, I learned concepts, coverages, how to read coverages; little things like how to get on the same level as quarterbacks and how they think. It really helped me become an overall better football player."
The NCAA waiver process is nearly impossible to predict so it will be curious how a coaching change at Mizzou affects the process. If it's not approved, Thompson will spend the year getting acclimated to the system. Illinois also received a transfer commitment from Brian Hightower this offseason. Hightower previously played at Miami.
But if he can play, Thompson said he'll step into whatever role the team asks. Need a holder on the field goal unit? He'll be there. 
"I feel like what Coach Lovie Smith is doing in this rebuilding process, we have a chance to be something great. I want to buy into that. I bring a great attitude. I would do anything they ask me to do."
---
Meet the high school players who have given Illinois a verbal commitment for the Class of 2021
Contact Joey Wagner at (217) 421-6970. Follow him on Twitter: @mrwagner25