DECATUR — A smile quickly took over Ramona Borders' face. The 92-year-old lifelong Illinois fan tilted her head back, brought her right arm to the Illini bandanna that was wrapped around her neck and smiled.
Borders had just finished up a one-on-one conversation with Illinois head football coach Lovie Smith at the third annual Illini Celebration Dinner at the Knights of Columbus Hall in Decatur, which was put on by the Decatur Illini Club and WSOY on Tuesday evening.
"Oh, my God, I was thrilled," Borders exclaimed, "thrilled to death. He's going to put us back on the map. I really believe it."
Borders is a Decatur resident who graduated from the University of Illinois in 1948 and was quick to share stories about her friendship with former Illinois head football coach Bob Zuppke. She knows the complete overhaul that Smith and the Illini took on four years ago was a project. But with Smith entering his fourth season at the helm there's a feeling of optimism around the program, even if the quarterback position is very much up in the air.
"It's going to take a little time. If he calls on us for advice," Borders said while nodding toward the rest of her family at the table, "we'll help him."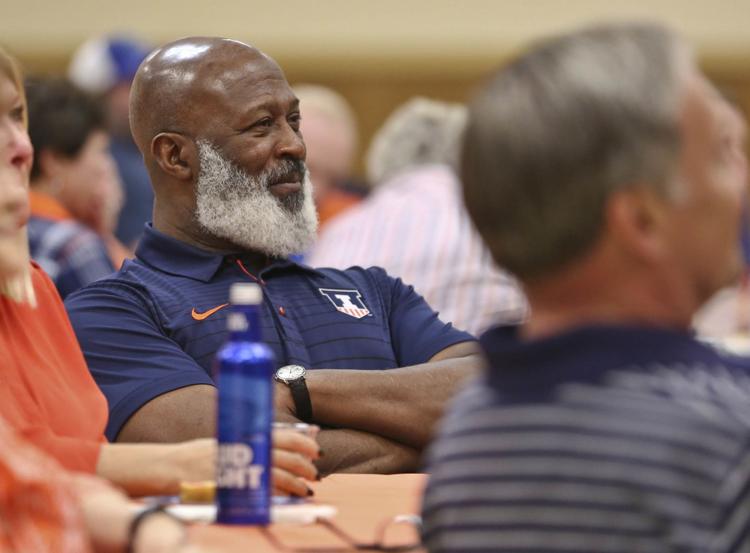 It didn't take long for Smith to walk through the door before a fan expressed her excitement to see a team that's taken its lumps in Smith's first three years with a 9-27 record and a lot of youngsters show how much it has grown up. Outside of Chicago and Champaign, Macon County sells the third-most season tickets within the state of Illinois, school officials said on Tuesday.
"We have a lot of people who love the University of Illinois, and whenever you can get out and bring Champaign to them, it's a good thing," Smith said. "Especially this time of the year. ... We're really pumped up about everything going on. It's been a long time coming for us to be in this position, we feel like. Decatur is kind of who we are, and there are a lot of smaller towns that feel like they're a part of our university, so it's all good."
Smith was joined by men's basketball assistant coach and Lincoln native Geoff Alexander, along with men's gymnastics coach Justin Spring. They mingled around the KC Hall for roughly an hour for several one-on-one conversations and countless photos with fans.
After dinner, they each had podium interviews with WSOY's Matt Hall, who was the emcee.
"Any time you can get the head coach of one of the major revenue sports to come in and sit down and talk, it's something to come to and take the time with and show support," Decatur resident Claude Drew said. "They look for that support out of us out here. Any opportunity I get to come listen to one of the coaches, I do it."
Even after a difficult first three years, there was a feeling of excitement swirling around the building. Perhaps it was because there are experienced juniors on the roster now. Maybe it was the influx of recruits who recently signed on, including a pair of 4-star athletes in Isaiah Williams and Marquez Beeson.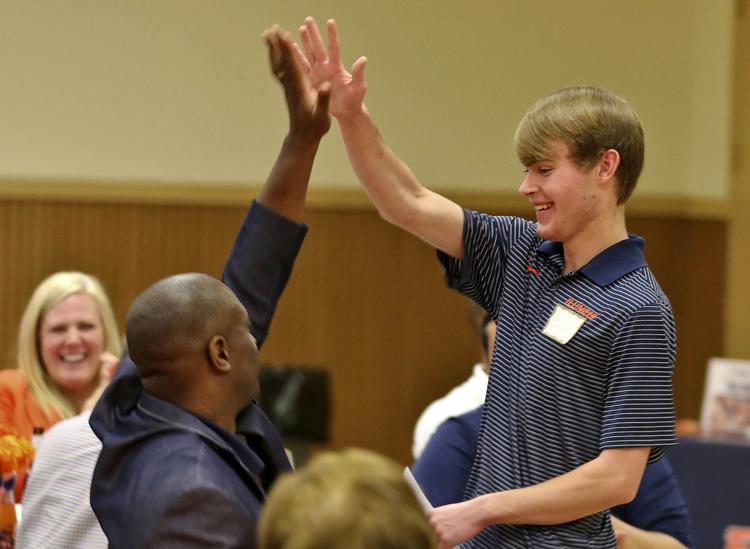 "We have an educated crowd that loves football, that knows what we've been doing and knows about the process we've gone through," Smith said. "In an ideal world, you come in and you go undefeated every year. That's not what Illinois football has been. We haven't gone to a lot of bowl games. When we started fixing our program, there was a plan for how we were going to do it. There's a process to go through. Year Four is a pretty good time."
Decatur resident Mike Berg was on hand with his co-workers, and each got photos with Smith, who took several prior to the dinner.
"The most (excitement) in years," Berg said. "It's been down. I think it's on the right path. I'm more excited now than ever for the football team."
For Alexander, it was a bit of a homecoming. He played at Lincoln for his dad, legendary basketball coach Neil Alexander. Geoff Alexander is plenty familiar with Decatur and took time to talk about the state of the Illini. After a stellar freshman season, Ayo Dosunmu is returning for his sophomore year, as is big man Giorgi Bezhanishvili. Prized recruit Kofi Cockburn is coming to Champaign and there's only been one announced transfer — Anthony Higgs. The Illini recently missed out on graduate transfer T.J. Holyfield, who committed to Texas Tech on Saturday afternoon.
Still, like football, there was excitement for the Illini.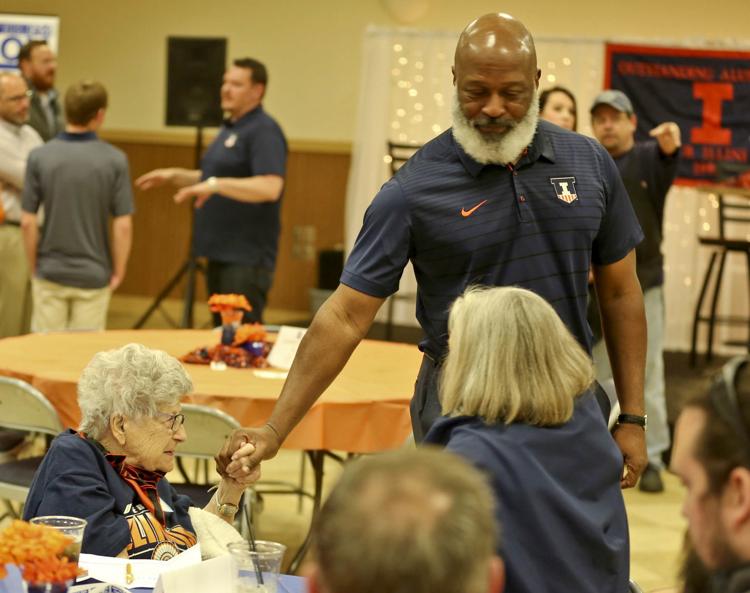 "I've got a lot of great memories, I'm seeing some familiar faces around here," Geoff Alexander said. "They're fanatics as far as fans, love the game of basketball, love the Illini, it's good to talk basketball with them.
"You can feel the excitement that they have, just like we do. We obviously feel like we're trending upwards at a steep climb. We're obviously excited."
It was Spring's first trip to Decatur for an extended time. He's driven through several times and perhaps even sold a motorcycle in town, but the 2008 Olympic bronze medalist was still widely recognized for his work as the men's gymnastics head coach.
"I'm kind of blown away," Spring said.