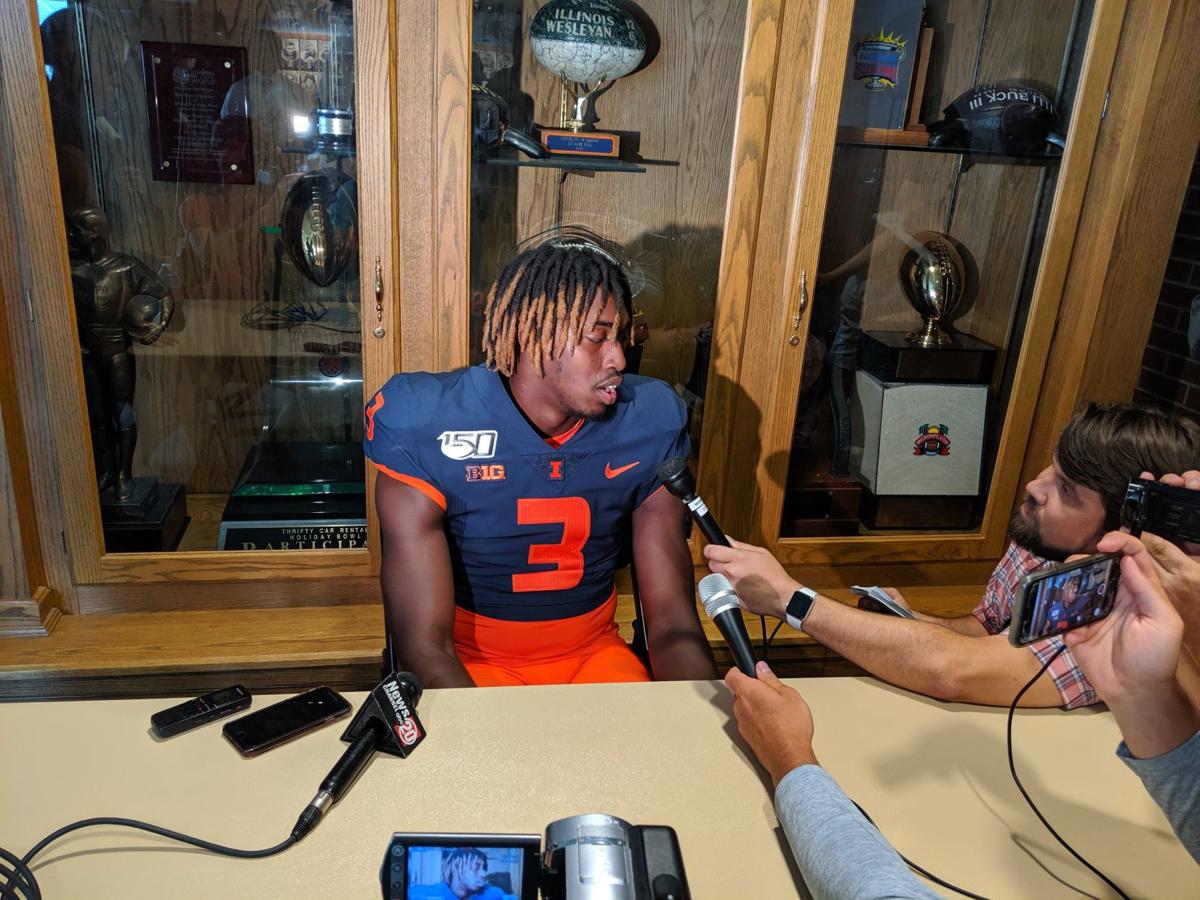 URBANA — Assigning Nate Hobbs and Marquez Beason to be roommates during Illinois football training camp was a deliberate act.
Hobbs is an established corner for the Illini and one of the team's defensive leaders. Beason is the Top-100 recruit who came to Champaign as a four-star prospect from Texas with plenty of excitement surrounding his commitment to the program. The coaching staff wanted the pair together as often as possible. After all, they're both cornerbacks on the team and integral parts to a young, but experienced secondary.
Beason speaks glowingly of Hobbs, and prefaces most of his answers about Hobbs with the qualifier that Hobbs is the best defensive back in the Big Ten. After that's been established, Beason raves about his junior mentor.
"He's helped me a lot, from Day 1," Beason said. "He's teaching me the ropes, teaching me the technique, teaching me things outside of football, things about life. He's a big brother to me."
Usually when the two get back to the team hotel, they go right to sleep. Fatigue takes a toll. Sometimes, though, like on Tuesday night, they throw some film on the TV and talk about plays and how Beason can continue to improve. Conversations aren't exclusive to football. They talk about life and about being a college football player.
"The best leader you can have is a guy who does it right on and off the football field," Illinois head coach Lovie Smith said. "That's what (Hobbs has) done as much as anything for the Marquez Beasons of the world — the young players — to see how a guy hounds himself, gets ready on and off the football field, takes care of his body, the rest he gets."
Hobbs relishes the role of being a mentor to Beason in the same way that former Illini defensive back Jaylen Dunlap helped him along two years ago. In Beason, Hobbs sees a rising star with the physical skills — a 10.3 second 100-meter dash — and a desire to continue to improve, no matter his rankings in the Class of 2019.
You have free articles remaining.
Beason isn't afraid to ask questions as he navigates through the woods of learning a college scheme. Hobbs sees Beason growing in that aspect, and the physical gifts are hard to miss.
"He brings that different type of that athletic ability," Hobbs said. "There are people who are athletic, then there's him — 10.3 100 and he can jump out of the building. As long as he keeps his head on straight, the sky is the limit for him. He can do whatever he wants to do."
Illinois cornerbacks coach Keynodo Hudson was brought on staff after Beason had committed and signed his National Letter of Intent to play at Illinois. He quickly learned about his freshman defensive back. Hudson knows Beason is fast, but wants to get him playing at top speed on the football field. The path to that speed is confidence and getting comfortable within the framework of the defense. It's learning the playbook and the calls — things Beason is taking great strides to do.
"He's in the process," Hudson said. "Remember, Marquez Beason is a world-class sprinter. He's a 10.3 100-meter guy. He ain't playing at 10.3 right now. That means we've got a long way to go, and that means I look forward to that every single day. We've got to get him playing at 10.3. When we get him playing at 10.3, I think that's going to be a spectacular sight to see."
The first day of camp was a whirlwind for Beason. It wasn't his finest showing, but he had Hobbs to help him through the growing pains. He's improved in the four practices since, coming up with an interception on Monday and getting his hands on several of the passes thrown his way, nearly coming up with an interception on Wednesday.
His first interception was sweet, and it was the first of what Beason hopes is many big moments.
"I'm expecting to make a lot more plays," he said. "I see myself as a playmaker. I like to make plays. I'm just taking it day-by-day, though. Don't try to force it."
Beason has returned punts during camp, can see himself returning kickoffs, and is on the field goal and punt block teams. Some offensive coaches are still clamoring to get him in a few packages on offense. Before any of that happens, he knows he needs to learn the playbook. He doesn't care about the hype surrounding him. He's focused on football, and on learning.
"It's like you're developing a puppy," Hudson said. "You're molding him right now and turning him into a big dog. It is an absolute pleasure to coach him every single day and watching him grow and evolve."
Contact Joey Wagner at (217) 421-6970. Follow him on Twitter: @mrwagner25