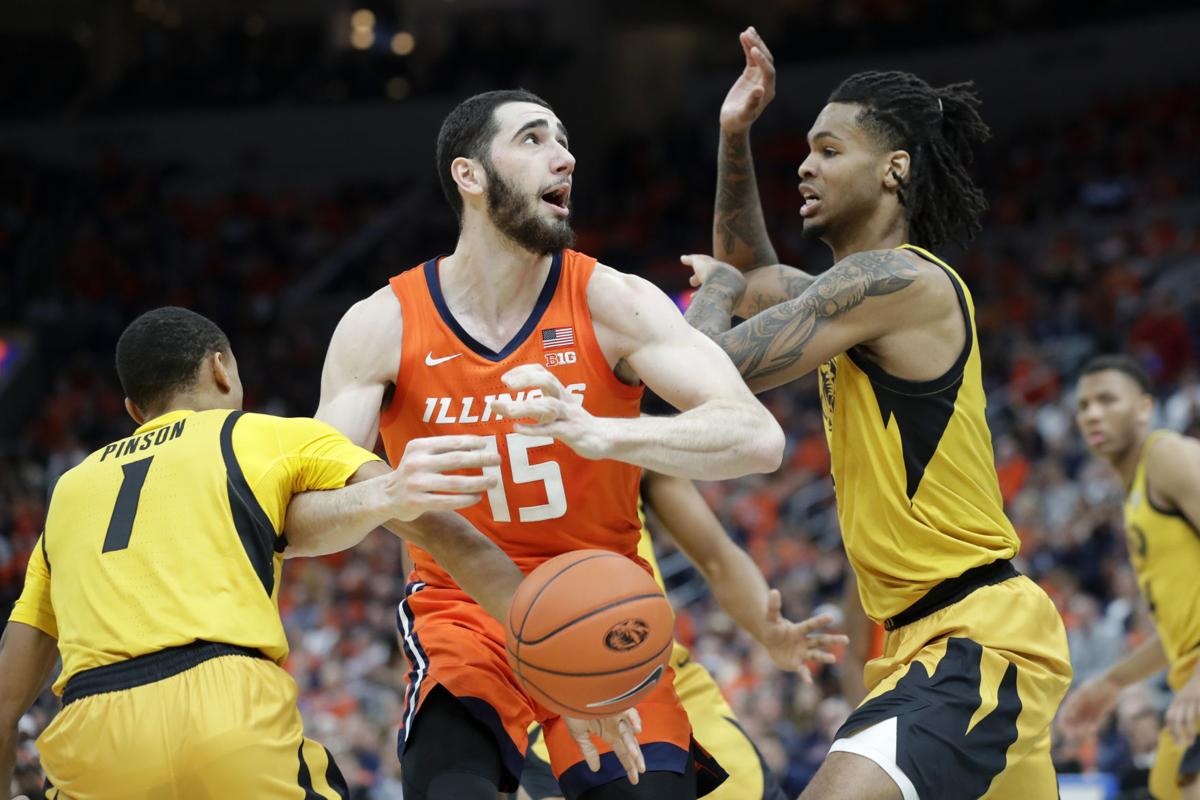 ST. LOUIS — Occasionally in the second half, Brad Underwood sat in the third chair from the end of the bench tucked between assistant coaches Stephen Gentry and Orlando Antigua; looking on as his team turned the ball over and missed shot after shot.
He put his head in his hands with roughly 11 minutes left in the game after a turnover by freshman Kofi Cockburn that led to a tip-in by Missouri's Javon Pickett on the other end. Fourteen point game.
Less than a minute later, Illinois junior Da'Monte Williams tried to sail a cross-court pass to Alan Griffin. Former Illini turned Tiger Mark Smith hopped it. Underwood kicked his legs out and looked straight up. That one didn't lead to points, but it was another one of 17 in Illinois' 63-56 loss to Missouri in the annual Braggin' Right game at the Enterprise Center in St. Louis on Saturday. It's the second season in a row the Tigers (7-4) have won the game.
"Our fight," Underwood said of what he was most disappointed about. "We can talk about Xs and Os. It's," he paused for nearly 10 seconds, "playing with your hair on fire all the time. Alan Griffin came in and he was sensational (eight points and six rebounds in 18 minutes). He did that. It's an understanding that we're very privileged to play this game. Understandably so, for some of their players it's very personal. They play that way. We didn't."
The Illini (8-4) couldn't find any sort of offense in the second half. They didn't hit their first field goal of the half until Trent Frazier buried a 3-pointer after seven minutes had passed and Mizzou turned what was a three-point halftime lead into a nine-point advantage. All told, Illinois made just eight of its 25 shot attempts in the second half, and the only reason the game got as close as five points with less than a minute left was Tiger turnovers and Illinois' 16 second-half free throws. Eventually, Missouri salted the clock away, hit its free throws and danced on the court with the trophy in hand.
Illinois found nothing offensively in the half court. The ball stuck in players' hands, the shots didn't fall and the turnovers mounted.
"I just feel like we get stagnant with the ball," said Illinois sophomore guard Ayo Dosunmu, who scored a game-high 21 points. "Moving the ball, our cuts aren't as fast as they normally are. The ball gets to sticking and when the ball gets to sticking, it's easy for the defense to lock in defensively and lock down the offense. We've pretty much got to move the ball and not let the ball stick."
On the other end, the combination of Dru Smith (19 points) and a pair of Illinois natives in Xavier Pinson (14 points) and Javon Pickett (17 points), buried shot after shot. Those three scored 31 of their combined 50 points in the second half.
Pickett had signed his National Letter of Intent to play at Illinois under former coach John Groce, but ended up at Missouri after Underwood was hired.
"Over the last five games, Pickett's numbers are way up, his points are up," said Underwood. Pickett is averaging 13.8 points in his last four games. He had just one double-figure scoring ouput before the month of December. "He was tremendous. He was the difference in the game."
Missouri held Illinois freshman Kofi Cockburn to two rebounds, out-rebounded the Illini 36-32, got 13 offensive rebounds and had 16 second-chance points. Missouri coach Cuonzo Martin challenged his team to win the rebound battle coming entering the game. The Illini entered the game with the best rebounding margin in college basketball and the second-best offensive rebounding percentage in the country.
"If they're the best rebounding team, let's find out," Martin said he told his team.
On Thursday, the players said they learned from the loss to Miami, a one-point loss 19 days before Braggin' Rights where they came out flat in the first half and found themselves in a 27-point deficit. That lack of fight came back again on Saturday. The elixir that the team looked like it ingested in a one-point loss to Maryland, a win over a Michigan team that was top-five at the time and a win over Old Dominion suddenly vanished.
"I don't think you ever know," Underwood said of if he thought the Miami game got that lack of fight out of the system. "We had a nice stretch and, it's like I told the team afterwards, we've actually done this before so now we have to do it again in terms of understanding.
"I thought we were better in practice. We weren't great. Finals week at Illinois is a very challenging task. We had guys who were having to leave practice early and so on and so forth, and that's OK, but we didn't have the right combative spirit that you need to have (in practice). I was hoping that was gone."
It wasn't, and Missouri reaped the rewards.
---
Joey Wagner's favorite stories from 2019
Joey Wagner's favorite stories from 2019
Here are some of my favorite stories from 2019, most of which are about the successes of athletes through adversity. MacArthur's MyShaun Dozier got viral attention for his inspiring story; Pana receiver Wes Kile might be deaf, but that doesn't stop him on the football field or basketball court; Illinois running back Reggie Corbin, linebacker Dele Harding and tight end Justice Williams spent their time giving back and coaching youth football; Macon County boys basketball Player of the Year told us where he got his inspiration to play; and Portland Rosen got a special surprise at the final Forsyth Classic.
Contact Joey Wagner at (217) 421-6970. Follow him on Twitter: @mrwagner25
Be the first to know
Get local news delivered to your inbox!