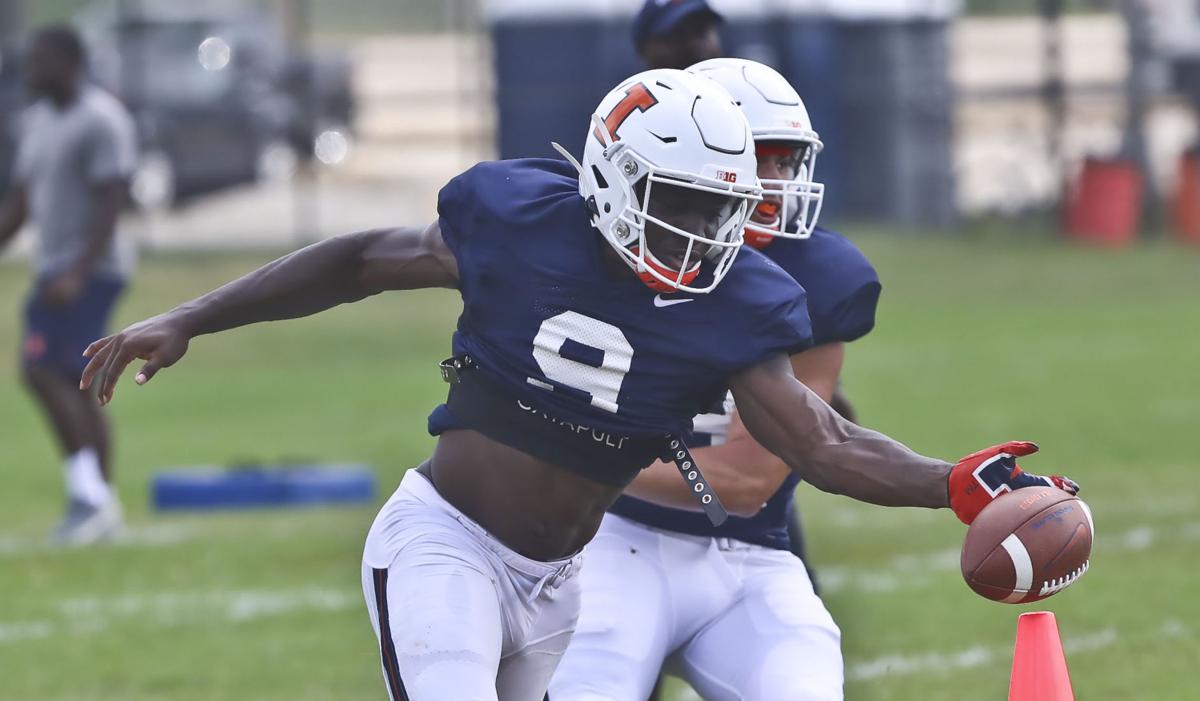 URBANA — Josh Imatorbhebhe was at a crossroads in his life: Leave USC as a graduate transfer and walk into the great unknown of college football or stay with the Trojans where he didn't wasn't sure he could ever reach his full potential.
He had sleepless nights and dug deep into the pits of his soul looking for an answer. He didn't pick USC out of North Gwinnett High School in Suwanee, Ga., because it was his last option. Imatorbhebhe was coveted as a four-star recruit with the blue bloods of the sport champing at the bit to get him as a wide receiver in their program.
Eventually, after receiving a bachelor's degree from USC, he elected to leave the school as a graduate transfer with two years of eligibility remaining and ended up in Champaign-Urbana with the Illinois football team. He gives the Illini a strong presence at wide receiver at 6-foot-2, 215 pounds on the outside and has had a good training camp.
"Every night when I'd go to bed it was like, I'm at odds with myself," Imatorbhebhe said. "I'm like, I can either stay here because I've already graduated. I can stay here and be here for the next two years and not really ever figure out what I can become as a player. Or I can go somewhere else where I don't know anything or anyone, put myself in a more risky situation and potentially achieve my dreams.
"Rubber met the road and I chose the second option and I'm praying that it works out. It's looking pretty good early on and I'm going to continue to press forward and make sure I do everything in my power to keep on stacking small wins to see what it looks like in the end."
The statistical production at USC wasn't the best version of Imatorbhebhe. He had two catches for 11 yards in three seasons with the Trojans, one of which was a redshirt season in 2016. He has higher ambitions than that. He wanted to be a freshman all-american, then a consensus all-american as a sophomore, win the Biletnikoff Award as the nation's top wide receiver as a junior. He's serious about his goals and doesn't set them for himself as lip service. The Trojans, though, bring in so much talent each offseason that it's easier to fall deep in the depth chart that it's hard to climb back up.
You have free articles remaining.
"This is stuff I hope happens," Imatorbhebhe said. "Early on it wasn't starting to happen, so I started to freak out. Then it didn't start to happen more and more and I didn't feel like I had control, so the sleepless nights were through the time process. I felt like I needed to get in a better atmosphere where my mind is more at an equilibrium so I can focus on football."
He found that equilibrium with Illinois, where they needed his production as badly as he needed a fresh start. He entered the transfer portal in late January and immediately drew interest from big programs. Illinois was early to reach out and eventually landed commitments from his former USC teammates, defensive lineman Oluwole Betiku Jr. and wide receiver Trevon Sidney. Both encouraged Imatorbhebhe to listen to Illinois' pitch and it resonated. He didn't have to draw out a pros and cons list for joining a program he knew very little about.
"I was looking for the best opportunity," he said. "This has nothing to do with all the bright lights or the nicest jerseys or all that stuff. It was, 'Where can I make the most impact in these last two years of college football?' Coach Rod welcomed me with open arms and showed me the plan that he had for me had I came. I felt like it was the perfect opportunity."
He's still getting comfortable with the team. There are new teammates and a new scene. Imatorbhebhe feels like he has a good grip on the playbook, but he's still settling into the offense. Offensive coordinator Rod Smith knows it, and he also knows that Imatorbhebhe is just getting started.
"I'm thrilled with Josh, his progress," Smith said. "There's still another level he's going to get to. He's not close to where he's going to be. As he continues to get more comfortable and understands what we're doing, he's just going to get better. I love his presence, I love his hands, I love the person.
"He works his tail off. He's everything you would want in a wide receiver in terms of mental makeup, physical physicality, physical tools. He's going to be a good football player."
Imatorbhebhe brings a maturity and experience to the receiver room. He knows what it takes to be successful and is trying to relay that to his teammates. He's no longer at a crossroads in his life. He speaks with comfort and elegance and wants to reach his full potential.
"How you do anything is how you do everything," Imatorbhebhe said. "Doing the little things right. You do that, you look up in Week 12 and you'll be in the championship game, seriously."
Contact Joey Wagner at (217) 421-6970. Follow him on Twitter: @mrwagner25