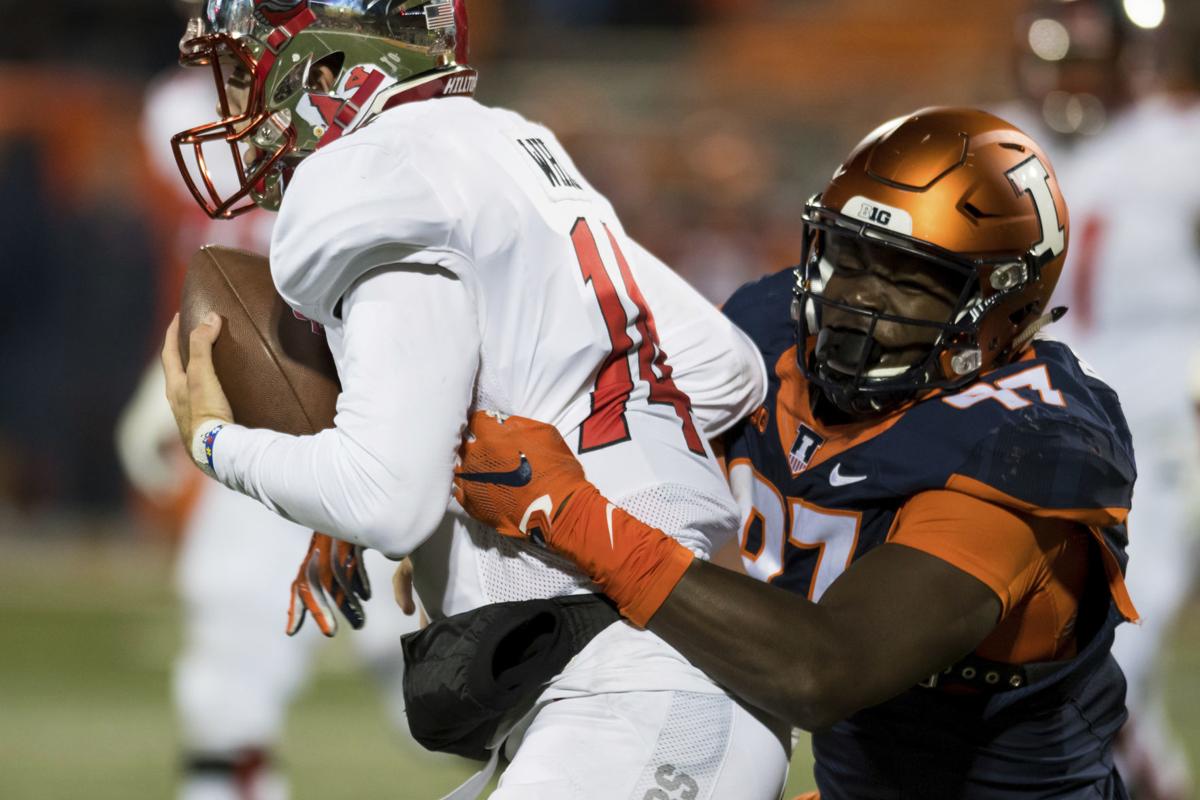 CHAMPAIGN – When Simeon Rice was a freshman at the University of Illinois, it took defensive line coach Denny Marcin just three days of practice to know he was watching something special.
So he called Rice's mother and told her. "Your son has a chance to be great," he said.
Marcin knew because he'd coached future NFL Hall of Famer Lawrence Taylor at North Carolina and he knew what an unblockable force looked like. Marcin was sure Simeon Rice could be that kind of defensive end.
Marcin, who died last fall, was right. Rice would go on to have a stellar Illini career. He became the No. 3 overall pick in the 1996 NFL Draft and during a 12-year pro career he recorded 122 sacks, forced 25 fumbles, went to three Pro Bowls and won a Super Bowl ring.
It would be fun now to hear Marcin's assessment of Illini defensive end Bobby Roundtree.
This is not to suggest that Roundtree, who will be a sophomore this fall, is going to have a Simeon Rice type of career. That remains to be seen.
But when Roundtree wrapped up practice on Friday, he looked eerily similar to Rice as he pranced off the field. At 6-foot-5, 245 pounds, Roundtree is one of those players who looks part defensive pass rusher, part race horse. He's an athlete who has a thoroughbred look and as he readies for his second college season, he is raising his goals high.
Understand that Roundtree already has a big fan following on the Illini coaching staff. He can count head coach Lovie Smith and his new defensive line coach Austin Clark among those who believe the sky is the limit for this potential difference-maker from Largo, Fla.
Roundtree made a believer of Smith and defensive coordinator Hardy Nickerson last year in training camp. He was just 17 years old when he lined up as a starting defensive end Sept. 2 against Ball State. When he did he became the first true freshman to start a season opener at defensive end in 37 years.
He played in all 12 games getting nine starts and finished the year with 50 tackles (tied for sixth) and four sacks (tied for the team lead).
He was named to the all-freshman team by BTN.com.
Now, with a full season of knowledge and greater physical strength, he believes 2018 will be the season he breaks out and truly makes his mark.
"I would like to double all of my stats," he said this week. "I want to win more games and be closer to my team, you know, more team bonding."
Clark was a recruiting assistant at Cal in 2015 when Roundtree's name first came up on their radar.
"I actually knew about Bobby Roundtree coming out of high school," Clark said. "When I was at Cal we were recruiting him and he has grown so much physically. He's put a lot of time into his body and what I've learned is that he wants to be a great player.
"It's important to him to come out and practice hard, to do the right things. And when he doesn't do the right thing, it hurts him. That's the way all the great ones are. They want to succeed so bad. That's the kind of guy you want to coach."
Roundtree's daily devotion to becoming a great player is what has him in such high standing with Lovie Smith.
"Bobby has done everything we've asked him to do," Smith said. "He's an excellent football player.
"It's year two for him and our young players all have a better understanding of what's expected of them. There's no substitute for experience."
By the time September rolls around, Roundtree said he expects to weigh between 250 and 255 pounds and have improved his quickness. "I have to be quicker," he said, which is interesting because he might be Illinois' quickest defensive end.
As a freshman, Roundtree started learning to pay attention to the outside shoulder of the offensive tackle. "That shoulder tells everything," he said. "I need to lock in and focus mainly on that."
By reading the angle of the shoulder, Roundtree said he can plot his path to the quarterback. Or determine if he's doing to be stopping a running play.
"Last year I was surprised they just threw me out there," he said. "But they told me, 'Don't worry about next year. Just do your best this year.'"
Roundtree was shoved into action because the Illini lost two pass rushers who are now on the Jacksonville Jaguars' roster – Dawuane Smoot and Carroll Phillips.
Any list of current young Illini players who have NFL potential must include Roundtree, who already has pro scouts sizing him up.
With the knowledge gained by playing an entire season, and with the chance to be bigger and stronger this fall, Roundtree said he's ready to take a big step.
Will it be a step that reminds people of Simeon Rice? That would be a leap, but Lovie Smith is going to turn Roundtree loose.
"A lot of times the biggest improvement you see is from year one to year two," the head coach said. "We're hoping to see that from him."
Be the first to know
Get local news delivered to your inbox!