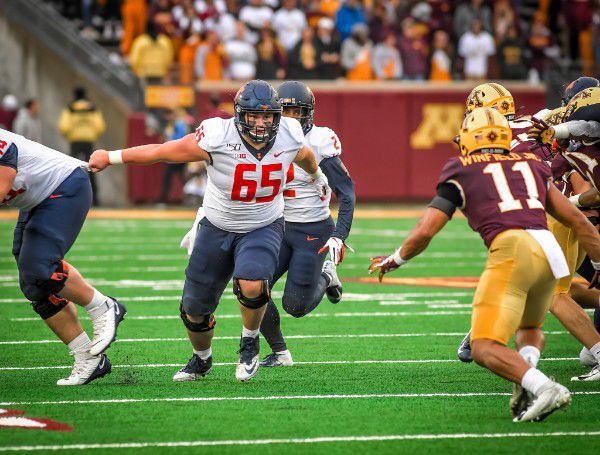 CHAMPAIGN — There was a plan in place for both Doug Kramer and Jake Hansen when it came to spring football participation as they come back from season-ending injuries.
"There was obviously some stuff that might have held me from," Kramer said Monday via teleconference. "We kind of had a plan going into it. I was going to do as much as I could, try to work in full, 100 percent. Obviously I am coming back from that injury at the end of the year. We were planning on doing as much as I could do. Obviously we're not going to figure out what that was."
He said he felt good in winter workouts as spring football approached. He's a three-year starter who had started 27 consecutive games before missing the RedBox Bowl and was the No. 3-rated center in Power 5 programs by Pro Football Focus entering that game. Kramer was active, doing cutting drills and change-of-direction drills before spring break.
"I know it was going to be a bit of a process coming back," Kramer said. "I was just kind of taking it day-by-day. I trust (head athletic trainer) Jeremy (Busch) and the rest of the training staff and then (head strength coach) Lou (Hernandez) and all of those guys in the wight room. Honestly, I felt really good going into this spring ball just before all of this stuff started happening before spring break."
Hansen, too, said he would have been limited in spring practices. He came back from an injury that ended his season as the national leader in forced fumbles. The linebacker played in nine games and was a semifinalist for the Butkus Award, given to the nation's top linebacker. Like Kramer, he said he was feeling better ahead of what should have been spring practices.
"It's the best I've felt in a pretty long time," Hansen said. "I feel really healthy and my body is getting right. Honestly, for me, it was going to be a little bit less spring ball so it wasn't going to be something that was going to impact me individually as much, but as a team it's going to impact us. I'm feeling really good, I'm 100 percent healthy and I'm excited for this next year and having a healthy season and good year."
The extent of participation for other members of the team who were recovering from injuries isn't known. Wide receiver Josh Imatorbhebhe missed the Northwestern game and the bowl game with an injury, standout freshman cornerback Marquez Beason suffered a season-ending injury in training camp, Mike Epstein suffered an season-ending injury, as did wide receiver Ricky Smalling and receiver Trevon Sidney.
While spring practices would have been crucial for younger players with eyes on breaking into the rotation or taking a starting spot, the veterans get more time to completely recover from their injuries.
"I will say, though, we weren't the healthiest going into spring ball, so it's going to help us a lot getting everyone healthy for the season," Hansen said. "There are pros and cons with both, so we'll see. I think it's not going to impact us too much, so we'll be putting in the work necessary for the season."
---
PHOTOS: Illinois falls to Cal in Redbox Bowl
Contact Joey Wagner at (217) 421-6970. Follow him on Twitter: @mrwagner25
Concerned about COVID-19?
Sign up now to get the most recent coronavirus headlines and other important local and national news sent to your email inbox daily.