topical
popular
top story
ILLINI BASKETBALL
Tupper: Illini need to figure out late-game jitters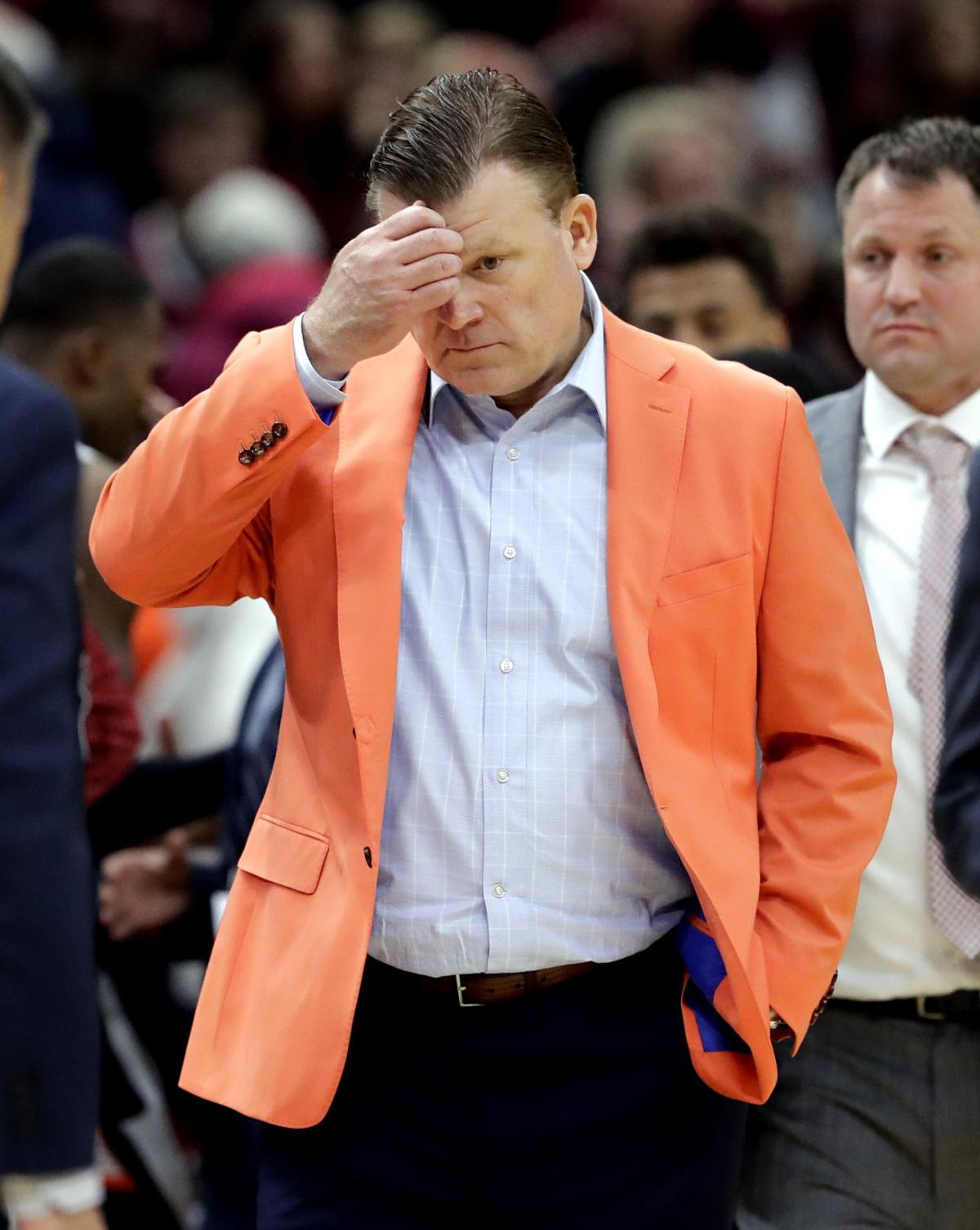 CHAMPAIGN — A frustrating sports team can make a person mutter. And I'm guessing Illini basketball fans, coaches and players have been muttering these four words lately:
There's also a five-word version.
"Get the freakin' ball inbounds."
Coach Brad Underwood has been muttering a version of that one.
Saturday night's all-too-familiar loss to New Mexico State was simply maddening, because those who have followed this team had a painful flashback to the Maryland game on Dec. 3.
It was the exact same script. Illinois fell behind by double digits early, roared back, took the lead and needed only to get the ball inbounds to win in the final seconds.
But never has a basketball team seemed so completely unable to safely throw the ball into play with the game on the line. It might be jitters. It might be a lack of confidence that compounds when these breakdowns are repeated. It might be, as I've suggested in the past, a basketball bacteria that has infected this program and may need some kind of a witch doctor/exorcist to make it vanish.
Whatever it is, you can bet Underwood is now revisiting his book of inbounds plays to see if there's a simpler, more fool-proof way to avoid this catastrophe again.
From an Illini perspective, the hope was to figure out a way to win in Chicago against New Mexico State, then take that small handful of confidence into the Braggin' Rights game Saturday against Missouri in St. Louis. Now, with another layer of frustration heaped on top of close losses to Wake Forest, Northwestern, Maryland, UNLV and New Mexico State, it's a jittery bunch that would need a minor miracle to upset a Missouri team that was 9-2 going into Tuesday night's game against Stephen F. Austin.
Illinois has been close, losing five times by a combined total of 24 points. But the only award for being close on Selection Sunday is the NIT. In Champaign, that's the dirtiest three-letter word going.
To Underwood's credit, he hasn't pushed the blame on his players. "I've got to do a better job," he said Saturday and has said more than once. "Guys have to make plays. I have to help them and I will help them. We'll find a way to get that done."
Underwood's biggest challenge is to understand that whatever breakdowns could possibly happen probably will happen in the tense late-game grind that seems to rattle the Illini. He can take nothing for granted.
The trouble is, Missouri is good enough to make last-minute strategy a moot point. The Tigers have been playing well despite losing their top player, Michael Porter Jr., just two minutes into the season. Back surgery followed and at the time, he was declared out for the season.
But recently, fueled by a doctor's comments on a St. Louis radio show, there has emerged hope that Porter could return to the court in another month.
Something was when both head coaches were fired. Now, with enthusiasm and hope running high again, a full house is expected. Game time is 7 p.m. (ESPN2).
LOU UPDATE
As of Tuesday afternoon, former Illini coach Lou Henson was still hospitalized in Champaign. There was hope he might be released on Tuesday, but his wife, Mary Henson, said doctors still wanted to monitor him closely.
Henson entered the hospital late last week and could not attend the Illinois-New Mexico State game Saturday in Chicago. The game was put together as a way to honor Henson, who coached each school to the Final Four. Mary Henson did attend a reception at the United Center where she saw many former players, coaches, team managers and support staff.
"I had a marvelous time," she said. "But it's too bad Lou couldn't have been there."