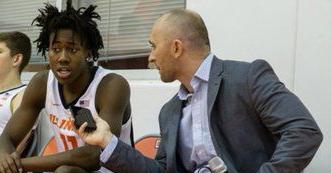 Jeremy Werner is climbing the list as one of the longest-tenured everyday beat reporters who covers Illinois athletics.
He's not at the top in terms of seniority, but the Illini Inquirer, which is part of 247Sports, publisher has been around the beat for a while and has seen plenty. He also has his own radio show in the Champaign area, "The Jeremy Werner Show."
Herald & Review sports reporter Joey Wagner sat down with Werner via Zoom on Thursday to talk about a variety of topics.
Here are five highlights:
On what to make of this season's Illinois football team:
Werner: Can I say that I'm high on this team? I get some of the recruiting and long-term questions about this team, but I look at this roster and when it comes to the last decade of Illinois football rosters, I go back to 2011 to the last time I saw one this talented and proven and experience.
"The rest of the Big Ten West is better now than it was then, so that's the concern is how big of a step will you take from last year? I have no question this team is talented and they are capable of having a very good season. That said, they have some question marks, but this is the best quarterback they've had in five years. Their running back position, I think, is deep when healthy.
"They have a difference maker at wide receiver (senior Josh Imatorbhebhe) and a couple seniors coming back from injury. The tight end position with Luke Ford and Daniel Barker is probably the best I've seen in 10 years. The offensive line is the best I've seen in 10 years. I think the offense should take a monster step forward, and that was the problem last year; especially in the second half of the year when you couldn't win some of those last game.
"Defensively, you've got some big questions on the defensive line, but the back seven is really, really talented. Plus, there's so much experience."
On the recruiting cycle amid the coronavirus pandemic:
Werner: "I think it's a completely different cycle. I think you might find, especially in the high school season, all of a sudden a guy shoots up in the rankings and all of a sudden a guy gets a bunch of Power Five offers, while usually that happens in the spring or summer because they go to all these mega camps where there's 30 or 100 Division I, Division II programs sitting there watching these guys. It's a huge part of the evaluation process.
"(Illinois redshirt freshman) Seth Coleman didn't have any Power Five offers. Illinois sees him at a camp in Georgia and all of a sudden he gets an offer from Illinois and then during his senior season, he starts to get offers from everywhere. That part of the process, Illinois has been pretty good at is evaluating those kids, seeing their combine athleticism and seeing them one-on-one against some of the best people in the country.
"That kind of the process has been gone, so you're relying more on film."
On where he credits his work ethic:
Werner: "Sports taught me that. If you put your work ethic, I was always smaller and I was not that athletic, but I got obsessed, kind of, with the weight room in high school. I saw that, hey, if I put this work in and other people don't, that can be an advantage for me and I can make it and I can be good. Maybe I don't have the most talent in something, but I can still be really good at it if I work harder or I work as hard as I can.
"I don't think I'm the best writer. I think there are better writers. I think I work hard to find the angle of the story or to provide Illini fans with some kind of insight into it or to give them as much as I possibly can."
---
PHOTOS: Joey Wagner's favorite stories of 2019
Joey Wagner's favorite stories from 2019
Here are some of my favorite stories from 2019, most of which are about the successes of athletes through adversity. MacArthur's MyShaun Dozier got viral attention for his inspiring story; Pana receiver Wes Kile might be deaf, but that doesn't stop him on the football field or basketball court; Illinois running back Reggie Corbin, linebacker Dele Harding and tight end Justice Williams spent their time giving back and coaching youth football; Macon County boys basketball Player of the Year told us where he got his inspiration to play; and Portland Rosen got a special surprise at the final Forsyth Classic.
Contact Joey Wagner at (217) 421-6970. Follow him on Twitter: @mrwagner25
Be the first to know
Get local news delivered to your inbox!