When Alex Palczewski received his first football scholarship offer as a junior at Prospect, the joy overtook him.
The letter that had him "jumping up and down like a little kid" was from Virginia Military Institute, hardly a football powerhouse, but the door was now open for Palczewski not only to continue his football career, but also to show gratitude for his parents' sacrifices.
"I just knew I don't have to pay for college," he told the Tribune this week. "I could tell my parents, 'This is the one thing you don't have to worry about.' We always played sports, but they didn't know it could be a career and take us somewhere."
Football took Palczewski to Champaign, where the 6-foot-6, 300-pound junior has started 24 consecutive games on the Illinois offensive line, the last 13 at right tackle. He brought the work ethic instilled by his parents, Andrzej and Bozena, who immigrated to the United States from communist Poland in the mid-1980s.
"If football can help them retire even a few years early, that would mean the world to me," Palczewski said.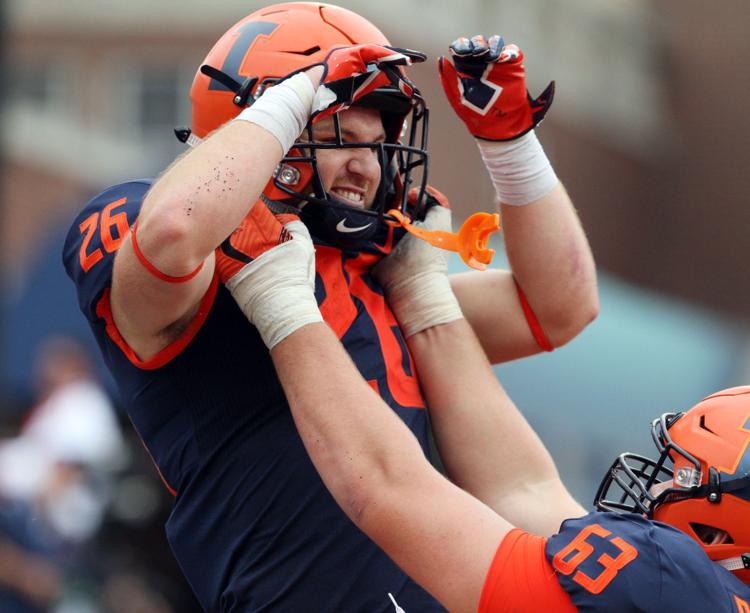 As part of a 2017 overhaul that saw eight freshmen become starters, he was a wide-eyed newbie thrown into the rigors of Big Ten football without the transitional learning period most offensive linemen go through.
"We were all undersized, 17 years old, didn't know what was going on," said Palczewski, who started the final 11 games that year at guard. "It was really hard. But it really helped to see what Big Ten was all about. We got to see the best players and what was necessary to be successful.
"I remember in 2017 it was going out there and trying not to get beat too bad. Now we know we can dominate."
With left tackle Vederian Lowe, guards Kendrick Green and Richie Petitbon and center Doug Kramer joining Palczewski, the line appears to be a strength for the Illini.
"They're always a constant," coach Lovie Smith said.
In the season-opening 42-3 victory against Akron, Illinois rushed for 207 yards with seven ball carriers getting at least four carries. Even with the news of running back Mike Epstein's season-ending knee injury, Illinois has a strong core of rushers topped by senior Reggie Corbin.
The Illini will attempt to use their deep ground attack Saturday to beat Connecticut on the road.
"We have so many good players," Palczewski said. "We know if we do our job, give them holes and give them time, they're going to make plays."
Palczewski's parents, who once knew little about the sport, attend most home games.
"It's a dream come true for him," Bozena said. "He loves it. I know it's hard and a lot of work to put into it. He doesn't complain."
Palczewski said he learned that from his parents.
Andrzej has worked as a carpenter for decades, rising at 6 a.m. and returning home at 6 p.m. Bozena works third shift as a nurse.
"Blue-collar workers their entire lives," Alex said.
They met in Chicago in the late 1980s through a friend. Andrzej arrived in 1989, Bozena in 1984. Both came after being frustrated with their lack of income and opportunity in Poland, Bozena said.
She originally arrived in New Jersey but was told, "Chicago is like a second Warsaw." Alex likes to repeat the claim, mostly urban legend, that outside of Warsaw, Chicago is the city with the most Polish-speaking people. A 2015 WBEZ-FM report did confirm that the Chicago metropolitan area has the "largest Polish area outside of Poland."
Chicagoans can vote in Polish, listen to a Polish radio station and dine at a variety of excellent Polish restaurants.
"There are so many (Polish) people here," Bozena said. "The area had everything, Polish bank and stores and bookstores. It felt like Poland."
Neither knew English when they arrived with a suitcase and youthful confidence. They were eager to send money home to their families.
"You could work (in Poland) but you can't earn or go anywhere with your life," Bozena said. "It was a big opportunity to help my family."
While they settled into life in Chicago, they immersed their three sons in Polish culture. Alex's first language was Polish, and he took speech classes through third grade to learn English pronunciations. He looked forward to his grandmother's handmade pierogis when she visited Chicago for months at a time -- and he devoured them in seconds.
Even now, his name means something to him.
"I'm Polish and super proud of it," Alex said. "I want an association with it. When someone says, 'Alex Palczewski,' I want them to say, 'That guy works super hard and he does everything right.' I think so far I've been able to do that. I have to make sure to uphold that name."
He absorbed the lessons his parents passed along about hard work.
"He never complains but is always in such a great mood," Alex, the youngest of the three boys, said of his father. "They have given us so much, but it's been hard for them."
Alex started playing soccer in his youth, coming out of the box as a goalie to tackle. He watched former Illinois quarterback Miles Osei play at Prospect. "It was the coolest thing I've ever seen," he said.
His brother Adam also played football, and Alex was drawn to the sport.
Palczewski's dedication to football was reinforced during his junior year of high school, when he suffered a fractured vertebra. Doctors required him to rest for the remainder of the season, and his parents told him that was the end of football.
"I remember sitting in the hospital and thinking the only way I was going to stop was if I had to do surgery on my neck," he said. It wasn't required. "I knew I had to sit out, but I knew I wasn't done playing."
Palczewski went to the doctor to get clearance papers to present to the school.
"I was not happy he was doing it behind my back but I give him credit," Bozena said. "He was really determined to play this football."
"Our expectations are we know we can have the best rushing attack in the nation," Palczewski said.
He's also motivated on a more personal level -- for family pride.
"My parents always get to brag back home," Palczewski said. "Whenever you see my last name on the field, you immediately know it's Polish. That '-ski.' It's a great association I love having."