CHICAGO — Jim Harbaugh's podium sessions at Big Ten media days have always been a must-watch for his peculiar answers and non-answers.
The Michigan coach chose not to elaborate about his recent comments about former Ohio State coach and rival Urban Meyer. He said on The Athletic's Tim Kawakami's podcast. "Urban Meyer's had a winning record, really phenomenal record everywhere he's been. But also, controversy follows everywhere he's been."
Asked to put that into context, Harbaugh said, "No context. I don't think it was anything new or anything of a bombshell. It was things many of you all understand and have written about."
While Meyer is no longer coaching at Ohio State, he looms over Michigan.
Harbaugh's reputation is haunted by his 0-4 record against the Buckeyes, which made his dig at Meyer even more controversial.
Michigan fans are growing antsy for the Wolverines to win the Big Ten and make the College Football Playoffs this season. Harbaugh said he thinks his team is "in a really good place."
High expectations are welcome, he said.
"That's what drives you," he said. "That's what gets you moving. ... You are focused on disciplined thinking and the task at hand and the process of making those goals happen."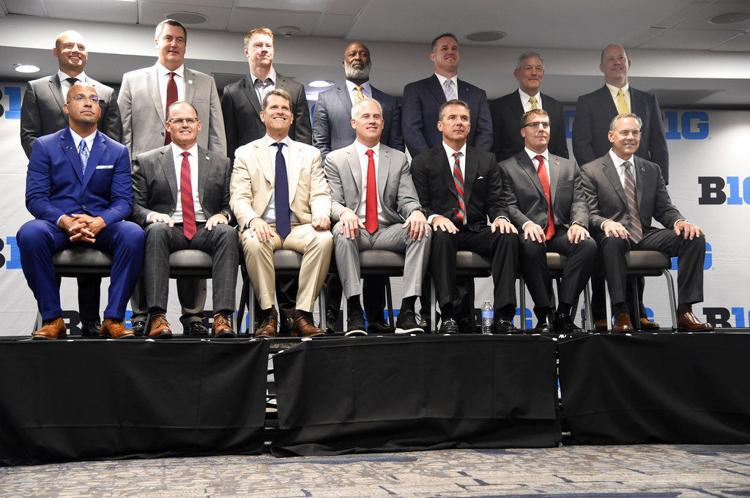 No love for reigning Big Ten West champs Northwestern from media, bettors or computers
On the one hand, Pat Fitzgerald laughs off the annual preseason predictions. You know, the ones that never have Northwestern at or near the top of the Big Ten.
"We're not great click-bait, I guess," he said Friday at Big Ten media days. "Picking us first is not real sexy. We'll just earn it."
The Wildcats earned it last season, winning the Big Ten West by three games.
And yet the media, betting public and computers are not high on a team that's 15-1 in its last 16 Big Ten games and has won 36 games over the last four year seasons.
NU's projected over-under win total on various betting sites is 6.5. Only four teams -- Indiana (6), Maryland (4.5), Illinois (4) and Rutgers (2.5) -- are getting less love.
"It's always fun to read this time of year how we stink," Fitzgerald said. "I should actually get better at golf because I don't know why I coach. I should just golf. Haven't experienced (a free) August since 1984. So maybe I should start doing that."
Last season Northwestern was a 50-to-1 shot to win the Big Ten. The Cats put up a fight in the league title game, trailing Ohio State by three late in the third quarter. The Buckeyes pulled away, 45-24.
NU is a 39-to-1 longshot to win the league this season. Seven teams have lower odds, starting with Ohio State (even money at 1-1) and Michigan (2-to-1). Indiana (42-to-1) comes after Northwestern.
ESPN's Football Power Index gives Michigan a 48.3 percent chance to win the league. An ESPN graphic listed eight teams, ending with Wisconsin at 1.5 percent.
Not mentioned: Northwestern.
Asked if he'll use the naysayers to fire up his team, Fitzgerald referred to the fiery Chris Farley character from "Saturday Night Live."
"Yeah, absolutely, I'm going to have Matt Foley come talk about that in the first team meeting and really get the guys stoked up," he said. "That's what's so great about football. The West gets knocked. I enjoy it. That's what I tell our players, enjoy it, and you've got to go out and earn it on the field, and that's what makes our game so great. We'll just continue to do that and control what we can control."
Michigan State's Raequan Williams is motivated to help his hometown of Chicago: 'We've got to try something'
Lori Lightfoot, watch out. Michigan State defensive tackle Raequan Williams might be aiming for your job.
"I just want you to know," Spartans coach Mark Dantonio said Thursday at Big Ten media days, "his goal and his vision is to be the mayor of Chicago. We look forward to his campaign."
Williams, a DePaul College Prep alumnus, said he never actually mentioned any serious or lighthearted political aspirations to Dantonio.
"But I'm very happy he thinks I have the character to be mayor and that I'm a great person," he said.
If elected, Williams said he would target gun violence. He lost a younger brother, Corey Hill Jr., and a cousin, Antonio Pollards, whom he considered a brother, to gun violence in 2016 and 2017.
"We've got to try something," Williams said of the epidemic.
Williams, who made All-Big Ten last season, opted to return to East Lansing for his fifth season.
"We had numerous guys have to make a decision whether they were going to come back or go out in the NFL draft, and he was one of those guys," Dantonio said. "And he made that decision to get his degree and sort of complete his circle in that area. He is a tremendous person, a very caring person and an outstanding athlete."
Who will be a surprise in the Big Ten? Illinois coach Lovie Smith says, 'We plan on that being us'
Illinois was unanimously picked in a media poll to finish last in the Big Ten West, but coach Lovie Smith told reporters the Illini could be a conference surprise
"There will be a team that will come out of nowhere that will have an outstanding year," Smith said. "We plan on that being us."
The last two seasons, Illinois was one of the youngest teams in the nation. This season, the Illini return 18 starters.
"A few years ago we had 15 freshmen that started," Smith said. "Those guys are juniors now and are running our football team, and that's a good thing. When we first got here, we knew there were challenging things to take care of and we attacked it. We got to work right away. We overhauled our football program."
For more on expectations for Smith's fourth season, read Shannon Ryan's column.
Why was Nebraska coach Scott Frost late today? Blame the weather
Nebraska coach Scott Frost was a bit late for his Thursday podium session. Blame it on the stormy weather in and around Chicago.
"Sorry we're a little bit late," he said. "Our plane got diverted. Spent a little time at a hotel in Gurnee selling shower-curtain rings, and we finally made it. ... We've done a lot of work. Really excited about the season and can't wait to get it started."
Frost did the unusual, via Big Ten standards, by bringing a sophomore to media days.
His name: Adrian Martinez. He was the nation's best freshman quarterback after Clemson's Trevor Lawrence, setting 11 school records.
Frost called it "a pretty easy choice" to bring him: "One, he deserves it. He's as good a player as we have and I think as good a player as a lot of people have around the country. Just letting you guys in on a little secret, usually we would bring seniors. We're not going to have many seniors on offense this year."
For more on Martinez -- including a debate with Frost on who was faster in his prime -- read Teddy Greenstein's column.
Big Ten Commissioner Jim Delany says the transition to Kevin Warren will not be 'awkward at all'
Jim Delany is about ready to pass the baton, and he's confident his successor won't drop it.
Delany called Kevin Warren a "smart, experienced executive. Based on my short interaction with Kevin, your sixth commissioner of the Big Ten will be a great leader."
Warren, the Vikings chief operating officer, will start Sept. 16 and become commissioner Jan. 1.
During the 3 1/2 months in between, Delany and Warren will work together to smooth the transition.
"We've got a plan," Delany said Thursday at the start of Big Ten media days. "I don't think it will be awkward at all."
Delany said he will give Warren a "sense of rhythm" of league business and introduce him to all the key players and partners, both inside and outside Big Ten headquarters.
"We have a really nice way with each other," Delany said. "I'm incredibly impressed with what he has done in his life. Given his skill set and the person he is, I think it will be a great fit."
Asked about his biggest regret during his 30 years as commissioner, Delany mentioned the loss of some rules from the 1970s, when freshmen were ineligible and student-athletes were given laundry money. Delany said he wishes current student-athletes received "full socialization" once on campus -- in other words, being more integrated into the student body.
Add this to the pile: Last year during this event, Delany called for the creation of an injury/availability report. This would have helped the media and the wagering public while allowing players to avoid the awkward "will you or won't you play" game with fans and fellow students each week.
"It doesn't look like that's going to get done," Delany said. "I pushed it pretty hard, publicly and internally."
The NCAA wasn't interested.
Why? Delany said reporters would have to ask NCAA officials.
Who's the most in-demand Big Ten football coach? It's Northwestern's Pat Fitzgerald, according to one poll.
The question posed to college football media members by Cleveland.com went like this: Which Big Ten coach would you hire if you were an athletic director?
Half of the conference's coaches received at least one vote, but none got more support than Northwestern's Pat Fitzgerald. He received 14 of the 33 nods.
9 votes: Scott Frost, Nebraska
4 votes: Jeff Brohm, Purdue
2 votes: James Franklin, Penn State
2 votes: Jim Harbaugh, Michigan
1 vote: Ryan Day, Ohio State
1 vote: Mark Dantonio, Michigan State
Fitzgerald, who guided his team to the Big Ten West title last season, is the second-longest-tenured coach in the conference. He took over for Randy Walker in 2006. Kirk Ferentz's tenure at Iowa began in 1999.
Had this poll been conducted before last season, Urban Meyer likely would have received massive support. Meyer stepped down after winning the Rose Bowl, and the Buckeyes hired his top assistant, Day.
Frost received nine votes despite going 4-8 in his first season at Nebraska. But the Cornhuskers excelled down the stretch, and Frost won a bevy of national coach of the year awards for his work at UCF in 2017.