COLLEGE SPORTS
With $5 million in donations, Millikin announces new on-campus baseball field
DECATUR — Millikin announced Tuesday that it received contributions totaling $5 million for a new on-campus, all-weather baseball field that will become the new home of Big Blue baseball in the spring of 2019.
The field will be south of the Decatur Indoor Sports Center and will include artificial turf, stadium seating — including some seat back chairs — clubhouse, lights, press box, concessions and batting cages.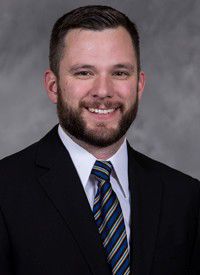 "This is an unbelievable moment for the program," Millikin baseball coach Brandon Townsend said. "Being on campus, with a facility of this caliber, takes us to another level.
"Our guys are wowed by the support. This makes you feel that this school cares about you. They care about your program, they care about baseball."
Bryan Marshall, Millikin's assistant athletic director for sports information and athletic communication, said the university is in the process of receiving bids from contractors and didn't have an estimated final construction cost or start of construction date. The estimated completion date is Feb. 19.
Millikin will be the only school in the CCIW with an on-campus, baseball-only facility with a full turf field and a clubhouse.
"When you come and get in our clubhouse, you will get the sense that this is another level," Townsend said. "This isn't glorified high school baseball, this is Division III baseball and our facility will be better than some Division I stadiums. I could go on forever on all the advantages this facility is going to have."
Millikin second baseman Jon Walters, a junior from Normal, said the current Big Blue players are optimistic about what the field will mean for the program.
"(Townsend) gathered the team out there for practice (and told us about the field), and it was really exciting," Millikin second baseman Jon Walters said. "Especially with the recruiting, this is going to help us take a step in the right direction."
The Millikin baseball team currently plays its home games off-campus at Sunnyside Park's Lou Renner Field. The off-campus field limits the access for the Millikin student body and also takes a lot of work to maintain — a job that falls on the players and coaches.
"Our guys have to put in an hour of field work a day on our current grass and dirt field, so there would be less field maintenance for us to do," Townsend said.
Millikin canceled a home game against Wheaton College scheduled for Wednesday because of the rain forecast for Tuesday. With a turf field, play could begin just a few moments after rain and lightning delays end.
"We have already currently lost two games this season that should have been home games, and it was not because of the weather on that day," Townsend said. "It was weather that happened the day before and the field didn't drain properly, which happens with a dirt/grass field."
Townsend said the field is also an advantage for scheduling.
"(The field) will prevent us from traveling as much. I already have some schools from Iowa and Wisconsin who have said they will come down and play at our place when we get the new facility," Townsend said. "So that will allow us to stay home more and feel more comfortable and not miss as much class."
Workman, a Decatur native and 1965 Millikin graduate, is a retired senior internal auditor for UPS. Workman and his family also made a lead gift in support of the 2014 addition of artificial turf and other significant enhancements to Frank M. Lindsay Field through the "Transform MU" capital campaign.
"We believe that the addition of on-campus athletic facilities aids in the recruitment of student-athletes and also increases the enjoyment of campus life for all students," Workman said in a statement. "We were pleased with how well the new softball field turned out and look forward to construction of the baseball field."