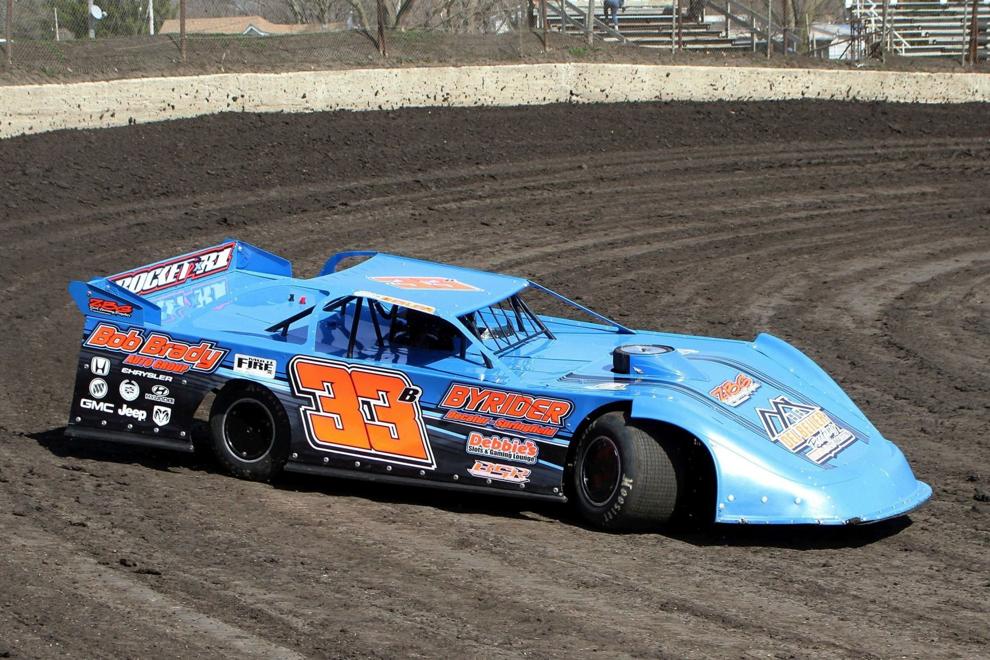 MACON -- One week later than originally scheduled, Macon Speedway is set to open the doors on a new season for the 76th time, this Saturday. The 1/5-mile dirt track will feature six different classes of race cars plus the CEFCU Kids Club, spectator drags, concession specials, and a $1,000 to win pro mod race.
The pro mods will be competing in their biggest event of the year, running for a $1,000 top prize. The division had a big race at Lincoln Speedway last weekend, which ran extremely clean and saw Macon Speedway regular, Kevin Crowder, claim the win.
Kids 11 and under will be treated to the first edition of CEFCU Kids Club, which was also rolled over from last week. Those who sign up for the club, will receive the new 2021 edition of the CEFCU Kids Club t-shirt. There is no cost to enroll but child must be in attendance.
At intermission, the first spectator drag event of the season will be held. A spectator drag is an event where fans can take their street legal vehicle on track, compete in a one lap race against one other fan, and move onto the next round if they win. To enter the event at no cost to compete, call the speedway office at 217-764-3000. Overall winner will receive a trophy and only the first 8 entries will be accepted.
All fans should come to the track hungry and thirsty, as Saturday is also $1 hot dog/$2 beer night. Hot dogs will be sold for $1 each, while the adult refreshment stands will be selling beer for $2 per can.
Divisions on track will be the pro late models, modifieds, pro mods, sportsman, street stocks, and hornets.
Pits open Saturday at 3 p.m. which is an hour earlier than normal to help allow for opening night paperwork to get filled out. At 5 p.m., the grandstand gates will swing open and at 6j p.m. hot laps will begin. Racing will begin at its normal time at 7 p.m.
Grandstand admission will be $15 for adults and free for kids 11 and under.
---
GALLERY: Macon Speedway's Wayne Webb
Wayne Webb in 1979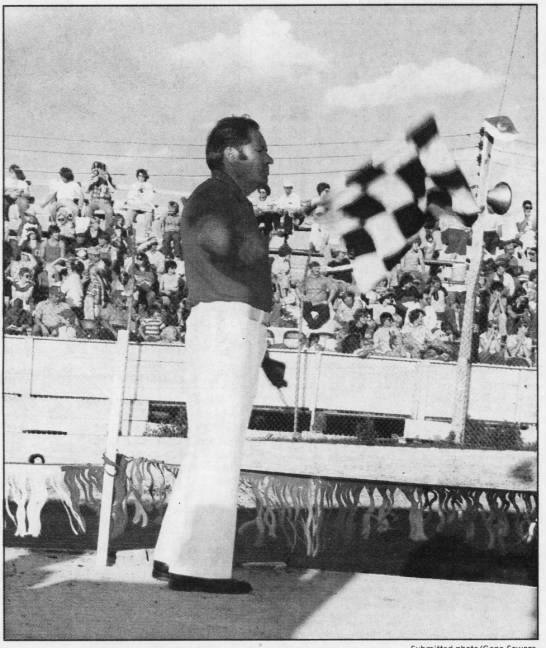 April 1964 Decatur Daily Review

Owner Wayne Webb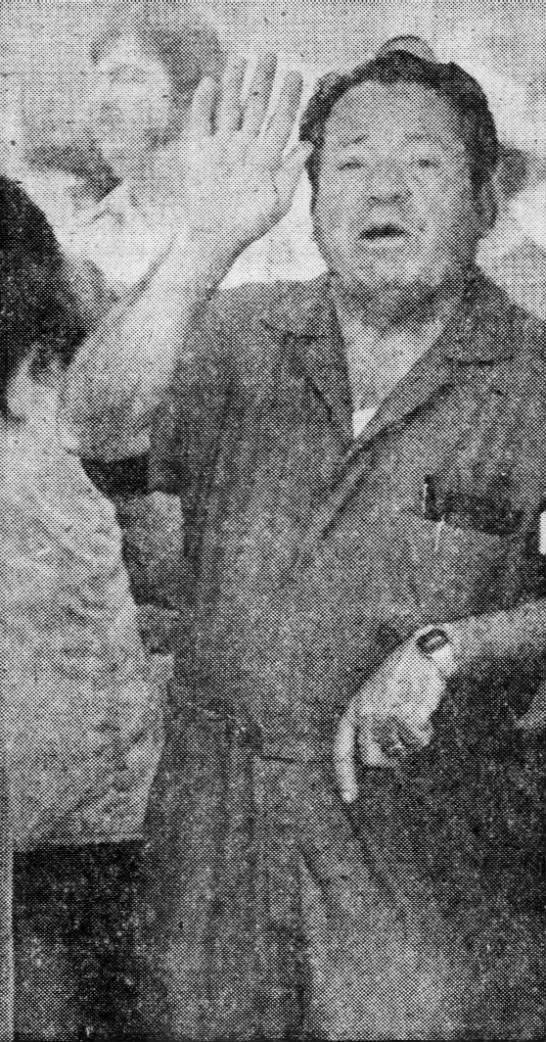 Wayne Webb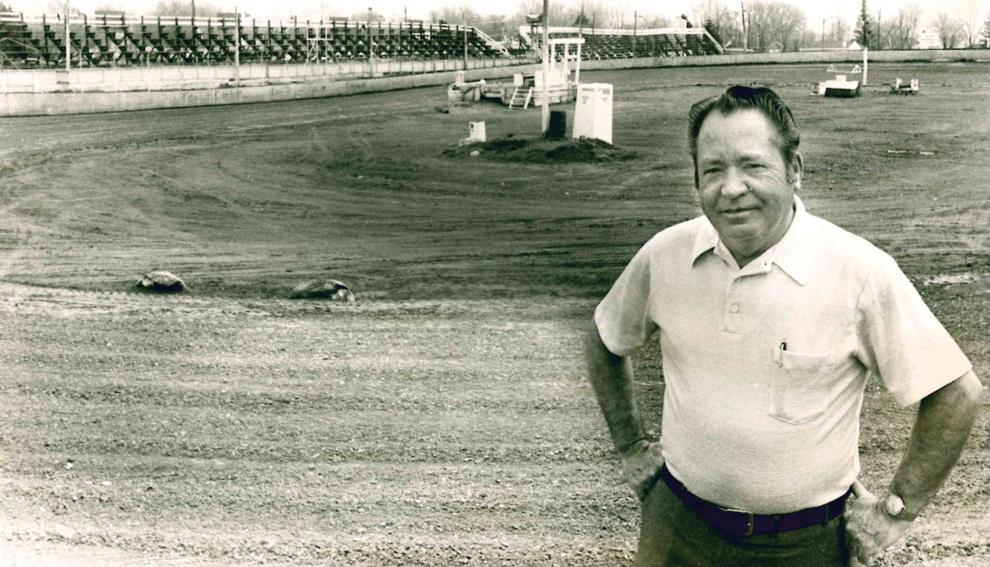 Decatur Herald 1954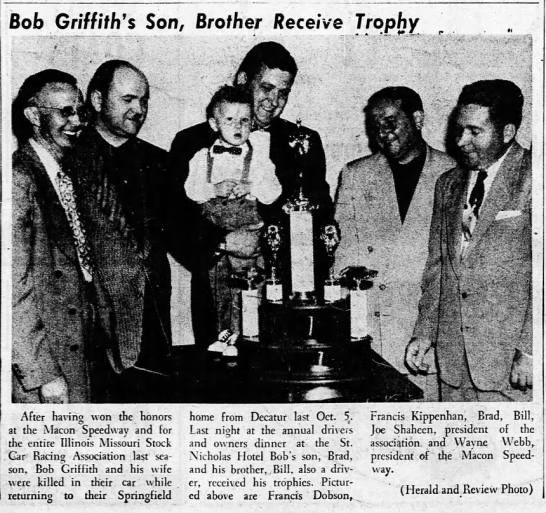 Decatur Daily Review April 1959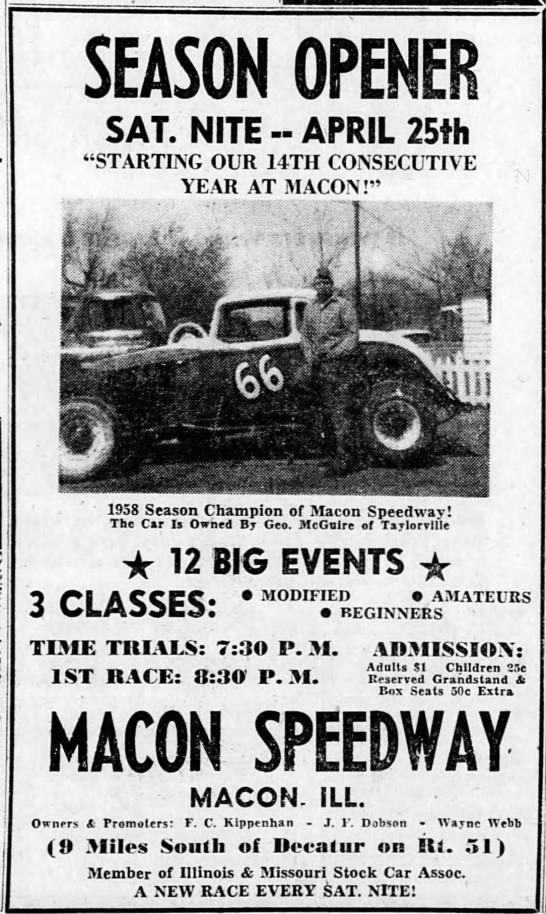 Herald & Review April 1990

At Macon Speedway, a formula that has outraced time
MACON — Over the course of 72 years, amenities have been added, the seating has grown and lighting has improved. The addition of a scoring tower and enclosed "Fourth Turn Lounge" offers creature comforts that didn't exist when it first opened.
But strip away those bells and whistles and more than seven decades later the original premise that gave birth to Macon Speedway stands virtually undisturbed. Fast cars racing on a tight dirt oval is the basis of an ongoing drama that growls across the corn and bean fields every summer. Mix in grandstands that place race fans nearly on top of the roaring cars and the stage is set for a story that has never grown old.
If you're compiling a list of what qualifies as a unique slice of Americana here in Central Illinois, Macon Speedway stands near the top.
It seems nearly everyone who has lived in Macon County for any length of time has made at least one journey to Macon Speedway, located nine miles south of Decatur just west of U.S. 51.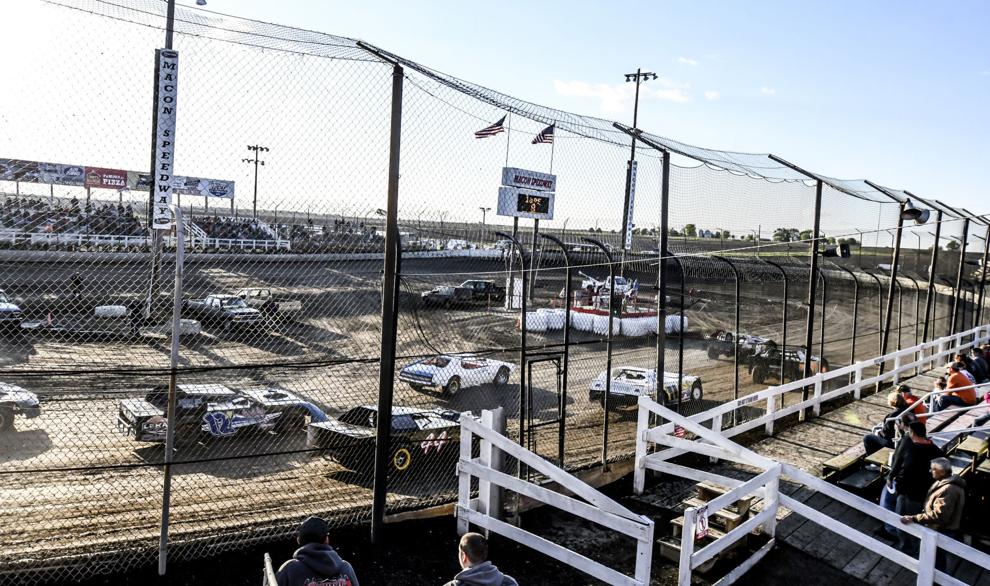 Three drivers who have been around since its early years agree Macon Speedway has parlayed its one-of-a-kind features into a reality TV-like spectacle. Cars and drivers may change, but the excitement and drama unfolds with new episodes every summer.
Jim Ater will turn 80 next month. He was born and raised in Macon and lives there still, continuing to operate his Ater Service Station mainly because a loyal following of residents won't know what to do if he ever stops changing their oil, fixing their tires or keeping their vehicles running.
He started racing when he was made an offer he couldn't refuse.
"A guy bought an old Plymouth or Dodge for $12 and said if I put a roll bar in it he would let me drive," Ater said. "So I did and that first night we made $12 back, and me and him were partners for the next five or six years."
Ater would go on to win several track championships and was one of the most popular drivers at the speedway throughout the 1960s and 1970s.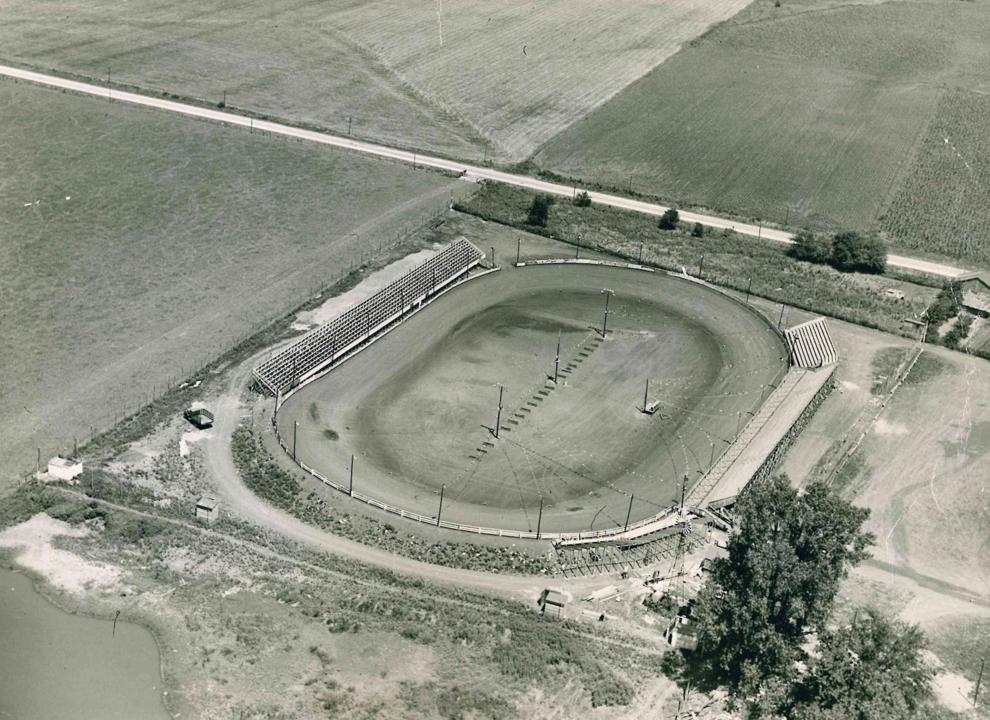 He agrees that Macon Speedway's unique opportunity for fans to sit so close to the action has been an enormous part of the track's allure.
"It's amazing," he said. "You think about something staying the same for 20 years, and you can't hardly imagine it. Things are always changing. But at Macon Speedway, it's been basically the same for 72 years. People still love it."
Roger Drake, 74, started racing at Macon in 1966. One major change came in about 1980 when most of the cars stopped pitting on the infield and starting pitting on the outside of the track.
"That made it a lot safer," Drake said.
"Another change is when they bought the land to the west, which gave them additional parking for the big rigs," Drake said. "Some of those are half-million dollar haulers. When I started, we had a small open trailer and a truck, and I thought I was A.J. Foyt."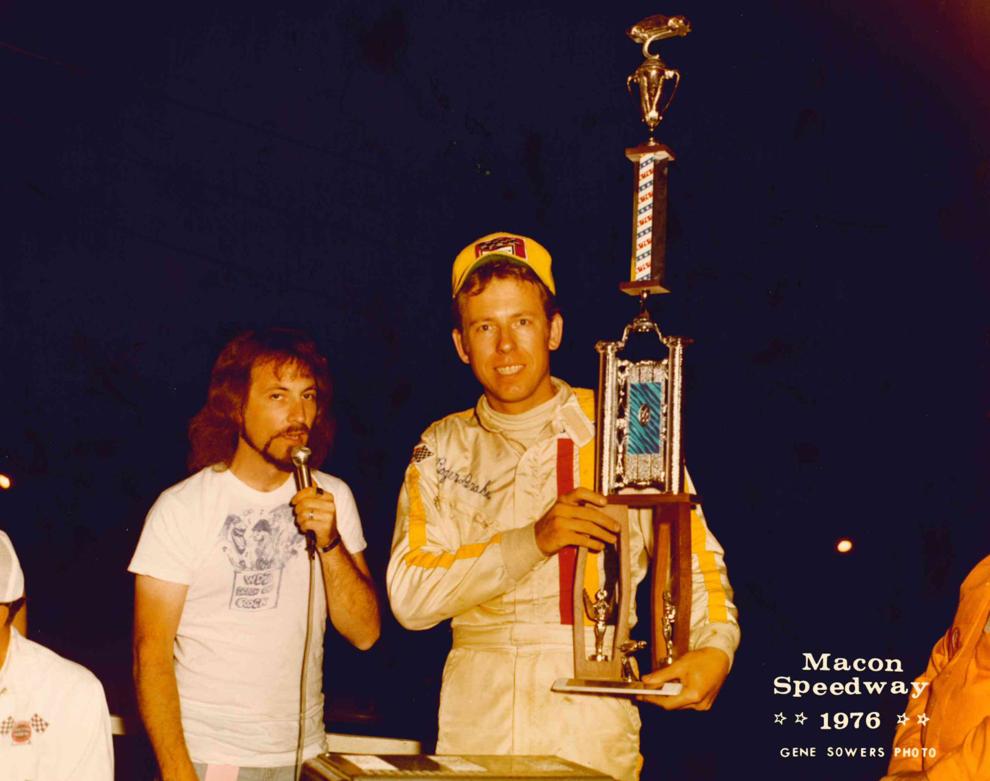 Drake said he and his son recently attended a race at Farmer City Speedway when his son spelled out exactly what has preserved Macon Speedway's appeal.
"At Farmer City, they put on a real nice show," Drake said. "But my son said, 'I like Macon better because we can sit right on top of the track.' "
Bill Morris, who recently turned 80, raced at the track for many years and continues to be a regular visitor who is still drawn in by the competitive nature of the races.
Racing in tight quarters — with cars practically close enough to touch — never gets old, he said.
"If you stop and think about it, all the other tracks in the area have their fans sitting back away from the action," Morris said. "Macon is probably the only short track in existence where the fans get to sit right on top of the track."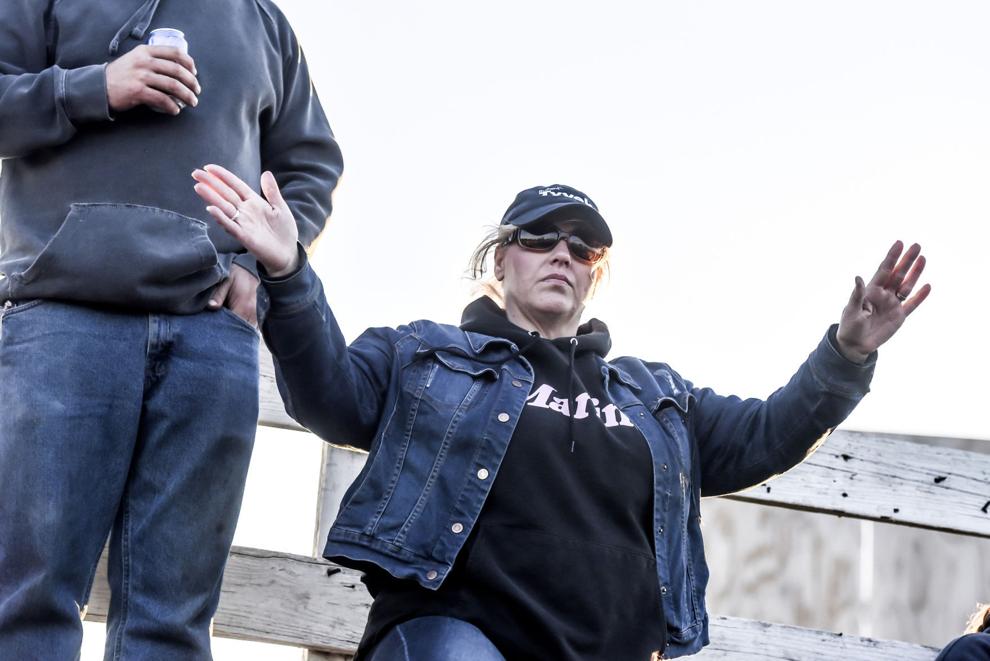 Morris said when he drove at bigger tracks, there was generally time to glance up into the stands and try to spot a familiar face. But not while racing on Macon's tight, one-fifth mile oval. "There's no time to gawk at Macon," he said. "Things happen real fast."
Morris said short-track auto racing has another appeal that has stood the test of time. Unlike other professional sports, the local drivers are "regular people" who work as electricians, plumbers or farmers and likely attended one of the area high schools.
"Everyone in the stands can come down and talk to any one of them. You can't do that at a football or basketball game."
Over the years — and still to this day — fans root for the driver they feel a close affiliation with. Often those ties go back to high school, so the Illiopolis people would root for Jim Leka, the Argenta-Oreana folks cheered for Drake, the Macon fans roared for Ater and the Lakeview grads supported Butch Garner.
Drake is grateful he had a chance to race alongside drivers such as Ater and Garner.
"You couldn't have asked for anybody better to race with than those guys," he said. "Both gentlemen, kind people."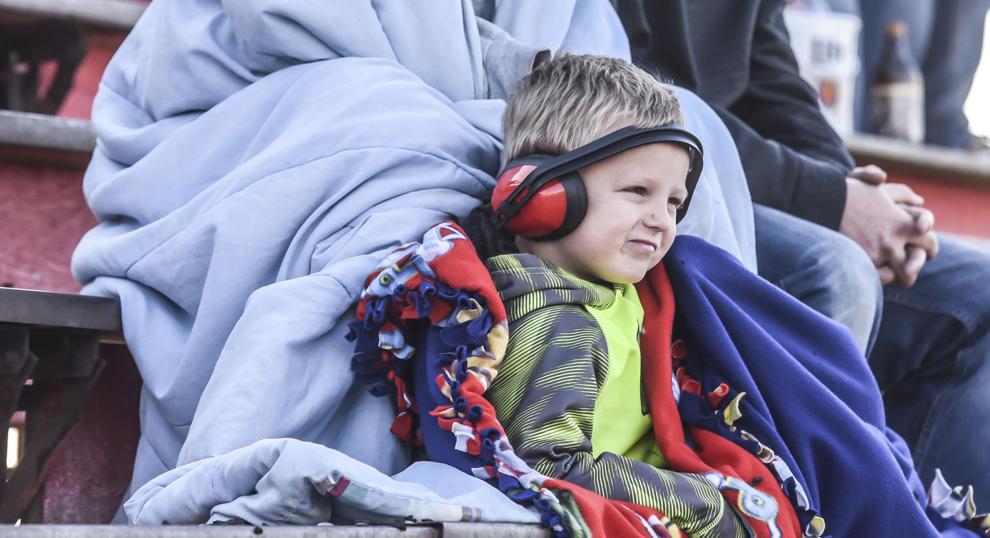 There were times, Ater admitted, that the temperament in the stands wasn't so gentlemanly.
"I remember one night Butch and I finished one and two," Ater recalled. "They couldn't figure out who won. People were fighting about it in the grandstands. Butch and I were sitting on my car laughing and pointing. 'Look at those guys over there!'
"Finally, they took first- and second-place money and split it between the two of us. We were tickled to death. But in the stands there were Butch Garner fans and Jim Ater fans who weren't so happy about it."
Drivers have always turned racing into a family affair, bringing wives and children and parents to the races.
"That's something I've always liked about it," Ater said. "The kids would always be in the stands playing together, and the families sat together and rooted for their guy."
Race fans are also drawn to the element of danger.
"I don't think anyone comes down there hoping that someone will get hurt," Drake said. "But if there's a wreck, they know anything could happen at any time. And if they don't come that night, they just might miss it."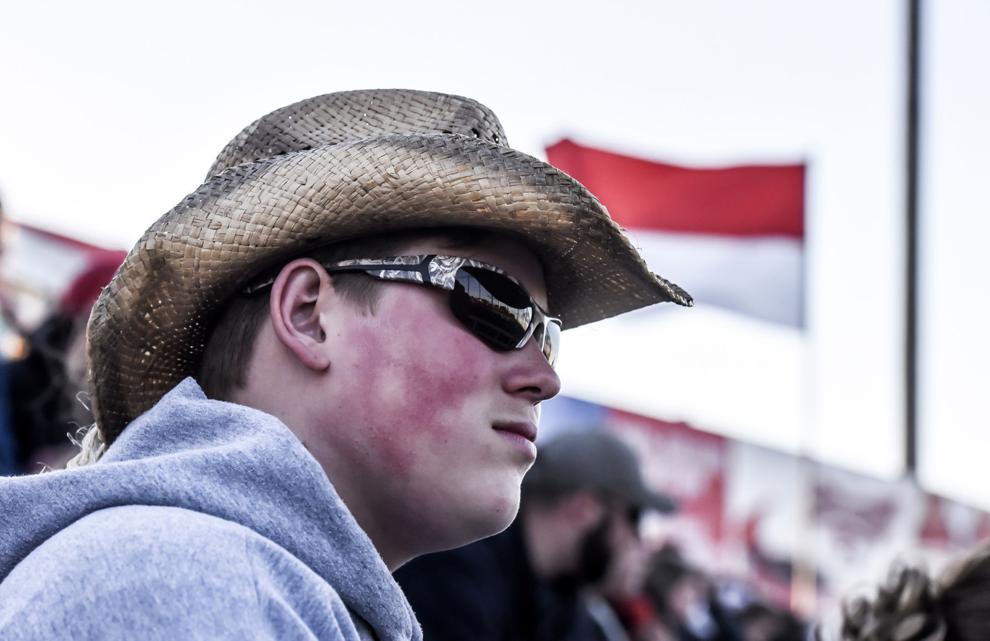 Drake remembers the excitement being at its peak in the 1960s and 1970s with packed crowds every Saturday night.
"My mom would have to leave in the morning and put blankets down to save seats for my family. If you didn't, you couldn't find a place and you've have to stand up. It was a real event. It was the most dad-gummed thing I ever saw, and I was sure happy to be a part of it."
The fans rewarded Drake in 1971.
"They had a vote for the most popular driver. It went on for a three-week period, and when they tabulated the votes, I ended up winning it.
"I won the race the night they announced it, and they had me pull my car behind the judge's stand," Drake said. "They paid me for winning the race, paid me for winning the heat race and had me sit on the judge's stand.
"They had a blonde serve me steaks and champagne and put a crown on my head. People donated gifts. By the time the night was over, I could hardly walk."
Most of the biggest changes at the track have addressed safety. Elimination of the wooden board fence around the track gave way to a concrete wall. Some fans speculated it would be more dangerous but just the opposite was true.
"If you banged into those boards it would grab your car," Drake said. "They were dangerous. You'd just bounce off the concrete."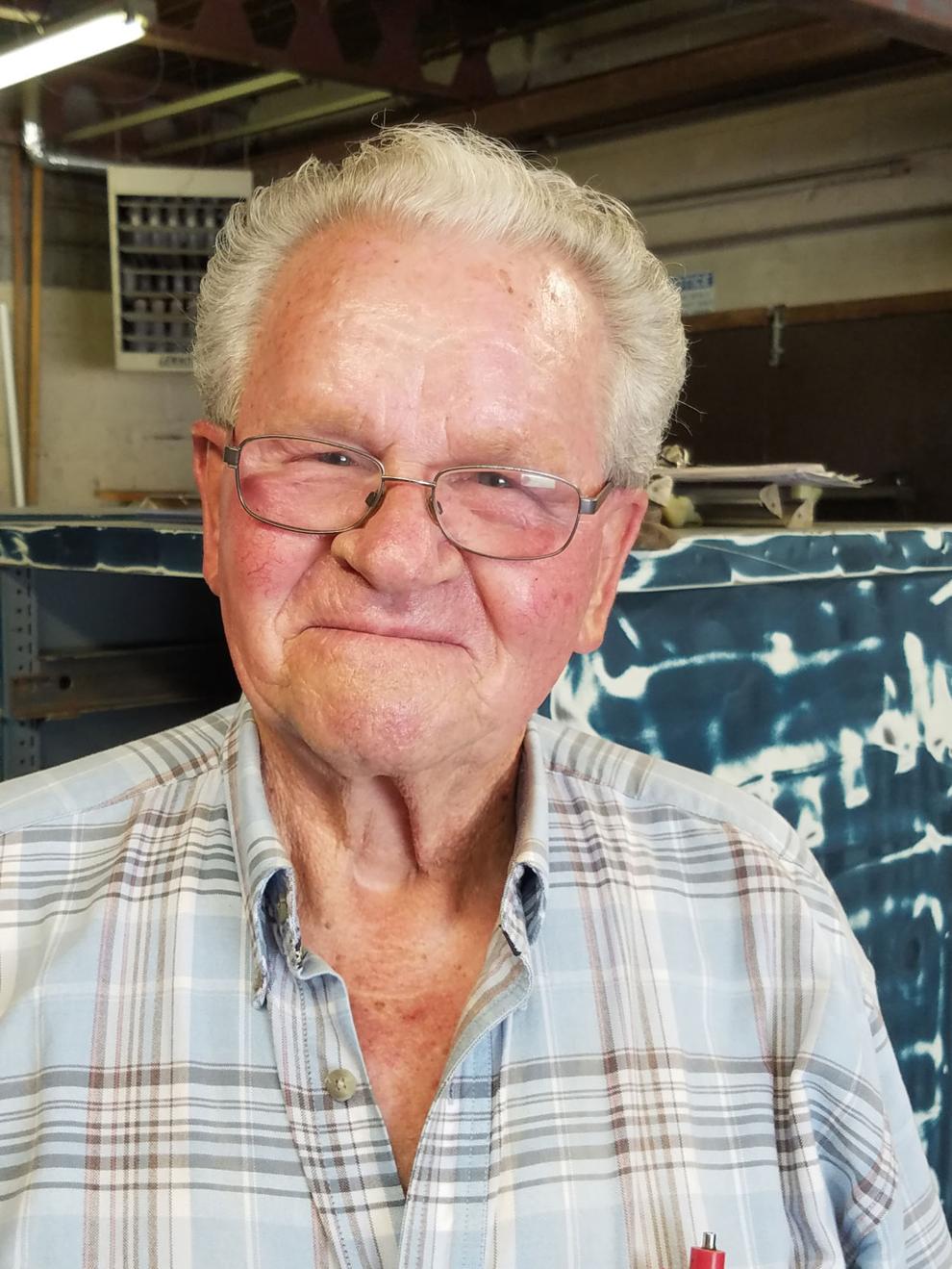 Before the concrete wall was installed, a race car would occasionally break through the wooden barrier, creating another danger.
Ater remembers one incident in particular.
"One night, some guy from Arcola had an old fender car, and he went under the grandstands," he said. "They wouldn't pull it out until after the races were over. It was helping hold the stands up. If they had pulled it out, the stands might have collapsed."
Through 72 years, the track has had just two owners — Wayne Webb and Bob Sargent.
Sargent leased operation of the track twice but never relinquished the deed. When he returned in 2006, he did so with three NASCAR stars joining him as partners.
With the addition of Ken Schrader, Kenny Wallace and Tony Stewart, there was speculation that the track would expand in size and scope.
None of that was ever considered, in part because the big-time NASCAR drivers had a small-town appreciation for exactly what made Macon special.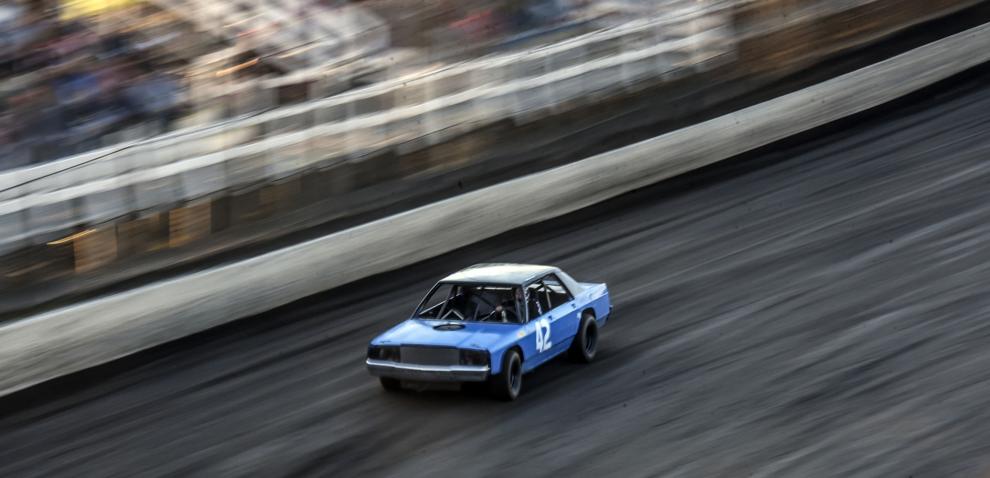 "When we got together, we agreed we wanted to keep Macon as Macon is," said Sargent, who took over from Webb in 1985. "Bigger isn't necessarily better, and they recognized that.
"There are two reasons why: A smaller track is better for the fans, and it's not as hard on equipment."
But what about moving forward? Are changes in store?
"My opinion is, the heart of Macon Speedway won't change," Sargent said. "The amenities — computers, video boards, suites — things of that nature will be our next change and they're probably things we don't even know about yet.
"But I do believe the core of what we do will stay the same.
"The NASCAR guys didn't come in here to plop millions down. They came in to support the track and the community and because they believed in what we had."
Even though he lives just blocks from the track, Jim Ater is no longer down there every Saturday night.
"If the wind is blowing right, it sounds like they're racing on my patio," he said. "But if it's blowing to the west, I might not hear them at all."
When he does stop in for a visit, it's more of a social call. Plenty of fans still know him and rush to him to swap stories.
"I still see Roger Drake and Bill Morris and Ron Wood and all of the Sowers. I had a grandson who liked to go, and I would go down there with him.
"But I'd see Butch or someone else and talk to them, and by the time I got around to finding a seat, the race was over," Ater said. "When I look around, a lot of the people I see now are grandkids of the guys I raced with. It's been quite a place."