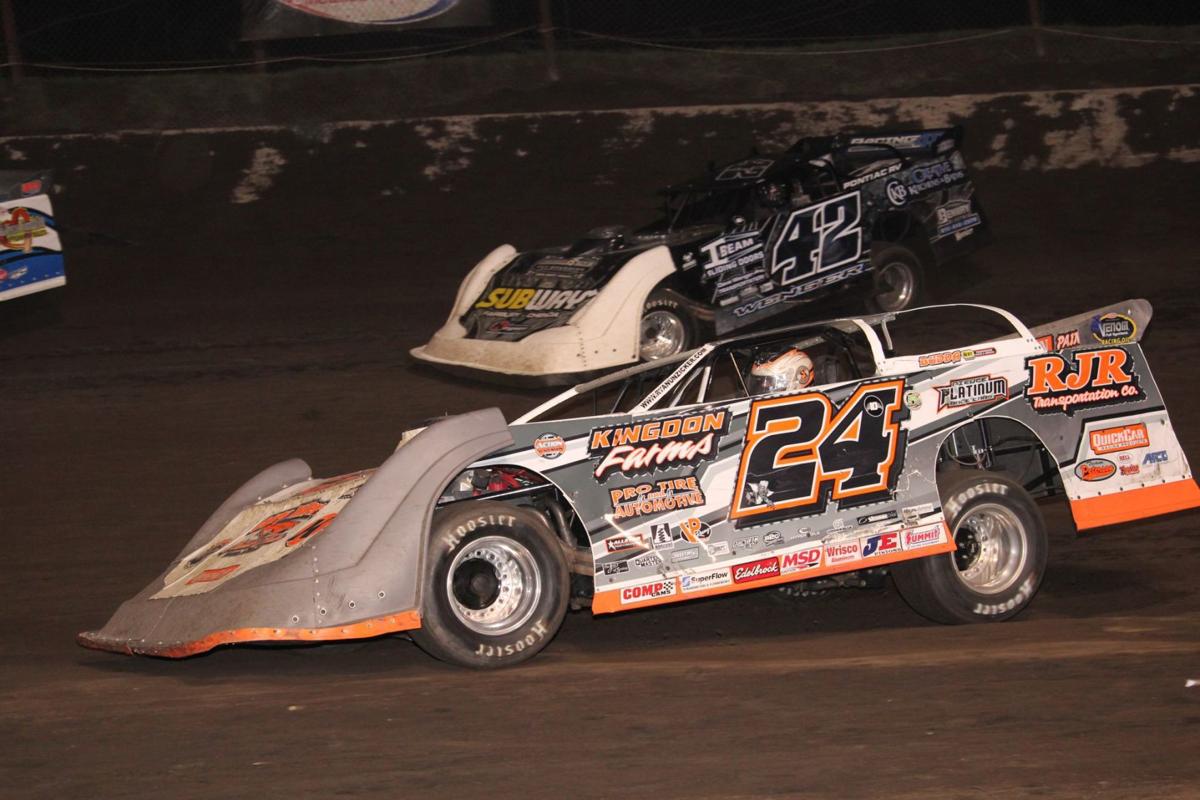 MACON — Even before Kerby Damery died from cancer in February 2015, he was planning on ways to help others with the disease.
After his death, Damery's wife, Nikki Damery, decided to go forward with those plans.
The result was KerbyStrong — a non-profit foundation that provides gift cards to local cancer patients that need immediate financial assistance during their cancer treatment. Funds used for transportation, gas, prescriptions, co-pay coverage or any other assistance deemed necessary.
Six months after Kerby's death, the KerbyStrong 100 made its Macon Speedway debut. The fourth edition of the race, which will help raise money for the foundation, is Saturday at Macon Speedway.
"It's a special time for us to remember Kerby and the vibrant personality that he had — he was an extraordinary guy who was uplifting and positive to everyone he met," Nikki said. "And it's a way to help out by giving to others who need help."
Headlining the event will be the Midwest Big Ten Series Super Late Models, one of the three main classes that Kerby competed in during his career. This is the fourth and final time this season that they will be in action, with a $2,000 top prize at stake. Sportsman and Modifieds — the other two divisions Kerby competed in — along with B-Mods, Street Stocks and Hornets, will also be racing.
Kerby was diagnosed with appendix cancer in 2007. Nikki, an employee of Cancer Care Institute of Illinois, said Kerby's experiences, combined with what she saw, sparked a conversation.
"We saw a barrier," Nikki said. "Patients needed help with transportation. They would no show or cancel their appointments and not come to treatment because they didn't have the money to get there.
You have free articles remaining.
"We were a middle class family, and we were struggling. So we knew there was a need."
To help with their financial need, the Damerys made up bracelets inspired by Lance Armstrong's Livestrong bracelets, except these were "KerbyStrong."
"We sold them and made $500," Damery said. "That was the start of it."
After that success, Nikki said Kerby's goal was to start a foundation called R2W — race to win the fight against cancer.
"He said, 'We could do fundraisers, golf outing racing events and make T-shirts, then give the money back to the local community for cancer patients in need," Nikki said.
A month after Kerby's death, Nikki met with Macon Speedway co-owner Bob Sargent and they agreed to make a night of 100 laps of racing — 25-lap features in Sportsman and Modified, and 50 in Late Models — and the KerbyStrong 100 was born.
The race, which features a 50-50 drawing benefitting KerbyStrong and KerbyStrong merchandise for sale, is a big part of the foundation's fundraising efforts. In the first year, the goal was to raise $10,000. They raised $15,000. Through the first three years, KerbyStrong has raised more than $60,000 — all of it going to local cancer patients in need.
Any patient undergoing cancer treatment at Decatur Memorial Hospital or Cancer Care Specialists of Illinois are eligible.
"It's a way to help them in some small way, show them they're appreciated, and show them they're not alone," Nikki said.
Contact Justin Conn at (217) 421-7971. Follow him on Twitter: @jconnHR