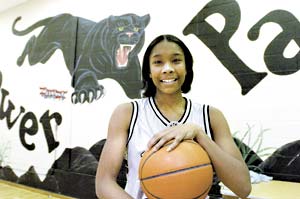 DECATUR - Raisa Taylor's basketball success shouldn't come as a surprise.
The Eisenhower sophomore - and the Herald & Review's 2005 Macon County Player of the Year - is the youngest of a trio of athletically gifted sisters.
Tai excelled in volleyball, and is now serving in the Air Force. Gianina excelled in track, and was a member of Illinois Wesleyan's national champion 1,600-meter relay team.
The question in Raisa's case wasn't if she would excel. It was just a matter of which sport she would excel at.
"In sixth grade, I just started playing. In seventh grade, I showed that I was just a little bit better than other girls," Taylor said. "I guess I just kind of found basketball."
Sophomore seasons are traditionally known for slumps, but Taylor went in the opposite direction. The 5-foot-11 center averaged 22 points and nine rebounds per game for Eisenhower, despite receiving the biggest share of attention as the season wore on. She shot 46 percent from the field and finished the season with 66 blocks.
Scoring points wasn't a problem for Taylor this season. Neither was confidence, and it's not a coincidence.
A scorer isn't afraid to take the next shot just because the last one missed.
Taylor admits she was timid her freshman season, if only because she was a freshman.
"Last year, I get a rebound, I was looking to pass," Taylor said.
The leadership role might have fallen to Taylor, but she wasted little time embracing it. She was Eisenhower's best offensive option, sometimes the only one.
Word travels fast in coaching circles, between game tape and friendly conversations. It wasn't long before teams figured out that one player wasn't enough to slow Taylor down.
"Everybody double and triple teamed her, and it made us look at our options a lot," Eisenhower coach Stacy Potts said. "She always found a way to get to the ball. She had an instinct for it."
It took less than a month for teams to start throwing junk defenses at Taylor. St. Teresa coach Bill Ipsen loves man-to-man defense, but Taylor said the Bulldogs were the first team to show a zone look just for her benefit.
You have free articles remaining.
If zones didn't work, maybe some good-old fashioned physical basketball would.
"It was little things, just pushing, pulling, pushing you down, no calls, and stuff like that," Taylor said. "It did bother me at first, but then I just worked through it and didn't worry about it. Then I was like 'Well, if you guys are going to do it to me, I'll just do it right back.' So then that was it, because they couldn't take it just like me."
She's sure to see much more of the same next year. Teams, especially those in the Big 12, will know what Taylor is capable of. She wasn't shy about wanting the ball this year, and Potts won't be shy about getting it to her.
"She'll know exactly what to expect next year. Her two years so far will be even more of a help for her," Potts said. "She'll carry the load like she did this year, maybe even more. She wants the ball, that's the key."
Taylor still has half of her high school career ahead of her, but her instincts are already honed. After a few possessions, she could read her opponents like a champion poker player. It turned out to be a useful skill, since most of her defenders had a few inches on her.
"A couple minutes into the game, if you watch players playing against you on defense, you know what they do. You can feel where they are. You know how they play," Taylor said. "You can just do stuff off that. I do stuff off that easily all the time.
"The tall people from Bloomington, I know they jump every time you shoot or fake. It's just being smart about the game, really."
And perhaps the best way to overcome evolving defenses is to throw a new wrinkle into your game. Taylor began experimenting with her outside game toward season's end. It paid dividends, especially in the regular-season finale against Champaign Centennial, where she hit three 3-pointers.
"She didn't really shoot outside a lot until probably last six or seven games," Potts said. "When she's the tallest player you have, she's got to be down low. It was a surprise, so it really helped."
Taylor's shooting touch isn't where she'd like it to be, but it's nothing that can't be fixed.
"It's just that I'll shoot it before I jump, or I'll jump then I'll shoot it," Taylor said. "I really haven't worked on it that much, but this summer I'll work on it a lot."
She'll spend spring running track. That, like basketball, seems to be in her genes. Taylor will compete in the high jump, 800 relay and the 400, just like Gianina.
"Track's just to stay in shape while I'm not doing anything. Knowing me, if I wasn't in track, I'd just stay home and eat," Taylor said with a smile.
The way her two years have played out, a comfy couch and a bag of chips might be the only things capable of slowing Taylor down.
Todd Engle can be reached at tengle@;herald-review.com or 421-7970.