The Chicago Bears drafted 10 players in last month's NFL draft, from Darnell Wright at No. 10 to Kendall Williamson at No. 258. Here's a quick overview. 
No. 10: Darnell Wright, OT, Tennessee
The Bears loved what they saw from Darnell Wright that day on the Tennessee campus, and three weeks later they made him the No. 10 pick in the draft, locking him in as a likely starter for his rookie season and beyond.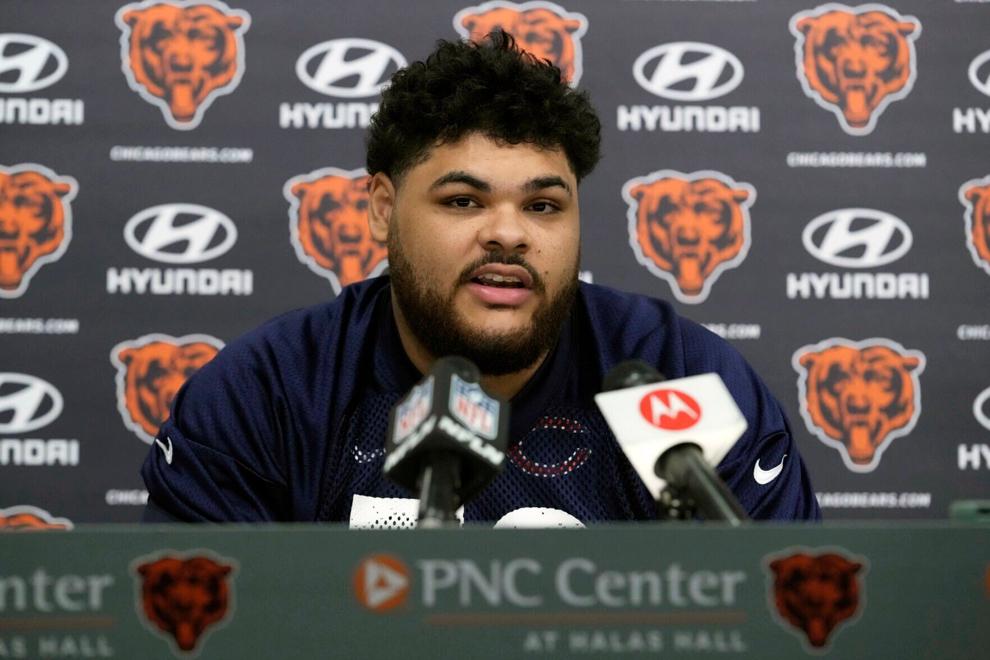 Tennessee offensive line coach Glen Elarbee worked with Wright for two seasons and sees high-end NFL potential for the massive tackle.
"A lot of times if you don't binge-watch the tape and you're just around him in day-to-day life, he comes across as this big, cuddly teddy bear," Elarbee told the Tribune. "Then you throw on that tape and he's trying to physically inflict pain on you.
"He's violent in what he does. He has unbelievable athletic ability but he can use his hips and transfer all of his power into his blocks and he can just absolutely destroy somebody like that." 
No. 53: Gervon Dexter, DT, Florida
General manager Ryan Poles passed on the consensus best defensive tackle in the draft — Georgia's Jalen Carter — and that move will be evaluated for some time. But the Bears got a young player with upside at the position in the second round, choosing Florida's Gervon Dexter with the 53rd pick.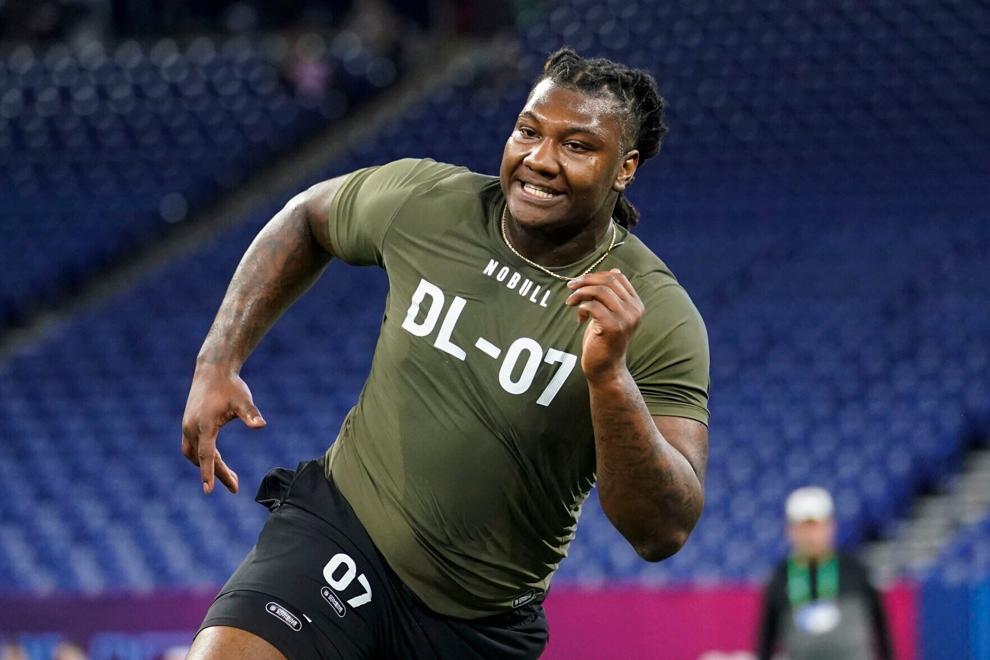 David Turner, currently the defensive line coach at Mississippi State, coached that position for the Gators from 2019 through 2021. He was part of not only recruiting Dexter, but also coaching him for Dexter's first two seasons in Gainesville, Fla.
"He was raw with a lot of athletic ability," Turner told the Tribune. "There are a lot of things you can coach, but you can't coach 6-foot-6, 280 pounds. From that standpoint, he had all of the tools. He was a natural and aggressive kid.
"The good thing about football, you don't get five fouls (like Dexter did as a basketball player). So he can rough them up a little bit and he doesn't have to worry about fouling out."
No. 56: Tyrique Stevenson, CB, Miami
General manager Ryan Poles has made several moves to boost the Bears secondary since he took over in January 2022. In last year's draft, he added cornerback Kyler Gordon and safety Jaquan Brisker in the second round. And late last month, he used another second-round pick on Tyrique Stevenson, a 6-foot, 198-pound cornerback who played two seasons at Georgia and two at Miami.
Now Stevenson is expected to compete for playing time at corner with Gordon and Jaylon Johnson.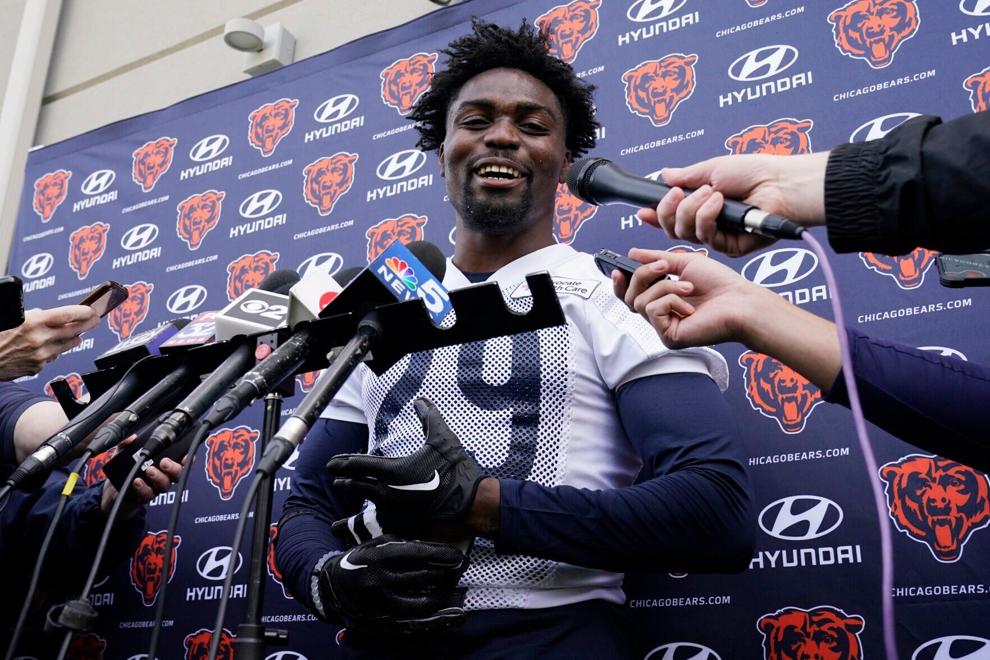 Miami secondary coach Jahmile Addae coached Stevenson for his final season with the Hurricanes, during which Stevenson had two interceptions and nine passes defended. Addae told the Tribune that the Bears were getting "an aggressive, edgy, multifaceted player."
"He's still growing in his craft, but as I see it, he's able to help in multiple positions, which obviously adds worth at that level. But he's going to be fiery. He's going to compete his ass off when the ball is in the air. He's going to be physical at the point of attack.
"He's going to know where he needs to line up — and everyone else around him. Just holistically a good football player."
No. 64: Zacch Pickens, DT, South Carolina
The Bears weren't necessarily looking to double-dip at defensive tackle on Day 2 of the NFL draft. That's just how it worked, and now they have a chance to rebuild the front with youth from the inside out.
The Bears chose South Carolina defensive tackle Zacch Pickens with the first selection of Round 3 (No. 64), nine picks after selecting Florida's Gervon Dexter. While it could appear redundant, veterans Justin Jones and Andrew Billings are on one-year contracts and without future options at the position, the Bears almost assuredly would have been signing or drafting tackles next offseason.
Pickens had a career-high 42 tackles for the Gamecocks last season with 2½ sacks, and his disruptive first step offers hope he can boost the interior pass rush.
"The thing people are going to find out about Zacch is he is such a great teammate and person," said Jimmy Lindsey, South Carolina's defensive line coach the last two seasons who is now at LSU. 
Lindsey described Pickens as "just a really good, unselfish teammate."
"You never had to worry about him being late in the building or missing a workout or a tutor or study hall," he told the Tribune. "I think that is why his play the last two years increased tremendously from the first two because he was living right off the field and he was invested on the field. All of that coincides together with becoming a good player."
No. 115: Roschon Johnson, RB, Texas
Bears general manager Ryan Poles said he was "shocked" running back Roschon Johnson was still on the board when the Bears drafted him in the fourth round last month. The Bears believe they are bringing in a player who can help them in many ways on and off the field.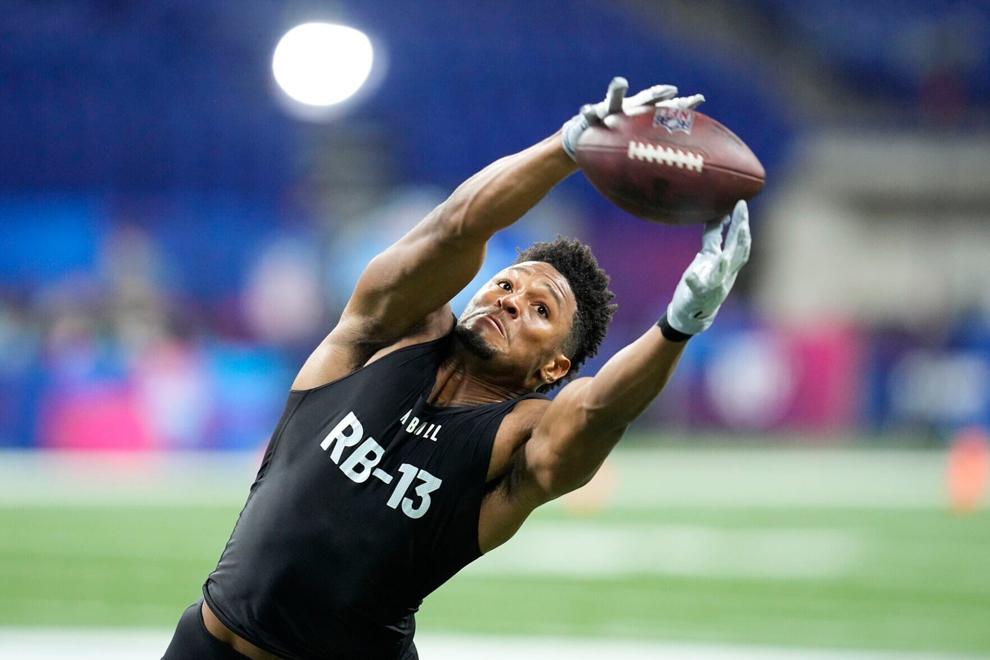 Texas running backs coach Tashard Choice saw all of the ways Johnson can affect a team as Johnson totaled 93 carries for 554 yards and five touchdowns in 2022 as the backup to Bijan Robinson — the No. 8 pick in the draft.
Choice described Johnson as "old-school, old-fashioned, rough-and-tough football player" and "a pro in all the aspects of the game."
"He works harder than anybody on the football team, but he also is a voice in the locker room that people respect," Choice told the Tribune. "He's never overbearing. He never speaks out of place. His accountability, his leadership, he does all of the little things to make sure the team wins. And he's a team-first guy.
"Before he became a leader, he was a great teammate, and that's what makes Ro excel in this role."
No. 133: Tyler Scott, WR, Cincinnati
Speed. That's the first word on every scouting report for Bears rookie wide receiver Tyler Scott. A fifth-round pick in last month's draft, Scott was a Junior Olympian in track as a kid in addition to being a burner as a high school running back.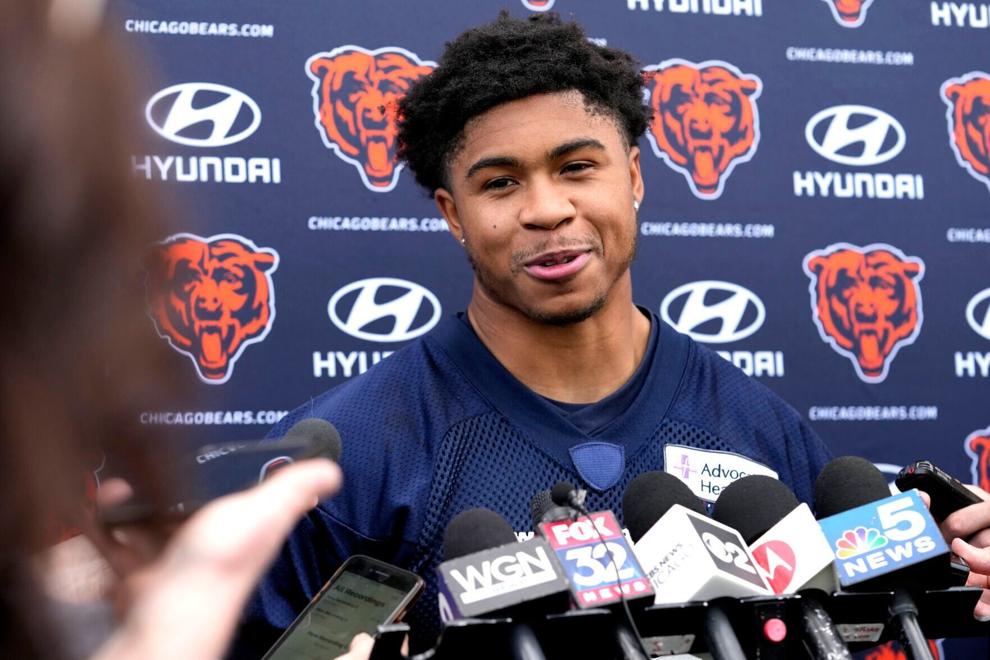 After he got to college at Cincinnati, he converted to wide receiver and last season produced 54 catches, 899 yards and nine touchdowns for the Bearcats.
The Bears felt fortunate to select Scott as late as they did (No. 133) and envision him becoming a dynamic weapon for quarterback Justin Fields. Former Cincinnati receivers coach Mike Brown, who is now at Wisconsin, can't say enough about Scott's speed and approach to the game.
"He's really explosive," Brown told the Tribune. "He is a guy who, once he gets out in front, he's not getting caught." 
Brown said he enjoyed watching Scott's progression and work to maximize the benefit of skills he developed in track. 
"Tyler is the type of kid where anything you challenge him with or anything you give him to do, if you give him great reason behind it and he sees it as being beneficial for him, he's going to figure it out," he said. "He's that type of kid."
No. 148: Noah Sewell, LB, Oregon
Rookie Noah Sewell joins the Bears at an intriguing time in the linebackers room.
Before the Bears drafted Sewell out of Oregon in the fifth round, general manager Ryan Poles signed free agents Tremaine Edmunds and T.J. Edwards to join second-year linebacker Jack Sanborn. Now Sewell arrives to add depth to the position.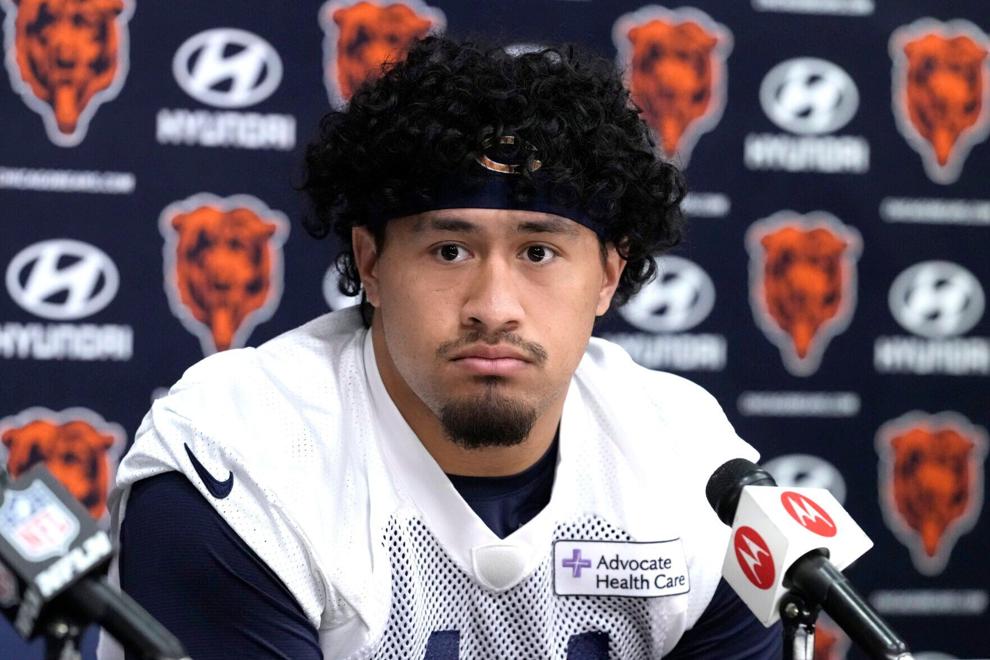 Oregon defensive coordinator Tosh Lupoi worked with Sewell for his final season with the Ducks as he wrapped up a three-year career that included 215 tackles, 20½ tackles for a loss, 7½ sacks, two interceptions, 11 passes defended and three forced fumbles.
"I don't think it's going to surprise anybody in our building or our organization if Noah has a really successful NFL career," Lupoi told the Tribune. "He's got the mindset and desire to be great if he wants to. And I think he's got a really bright future ahead of him."
No. 165: Terell Smith, CB, Minnesota
With a need for depth at cornerback to join Jaylon Johnson and Kyler Gordon, the Chicago Bears drafted Tyrique Stevenson in the second round and circled back for Minnesota's Terell Smith in Round 5 at No. 165 overall.
Conventional thinking is Stevenson will get the first shot to be a starter in the nickel package, but the Bears believe Smith has upside and will compete to be in the mix.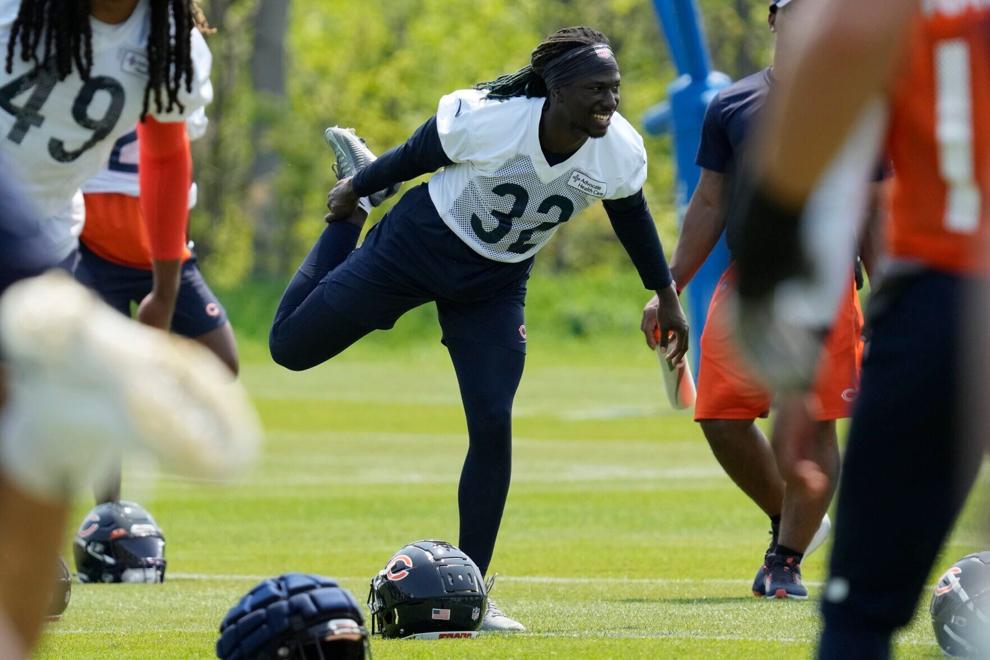 "What's special about him is he's kind of made that steady ascent?" co-director of player personnel Trey Koziol said. "So, when we look at drafting players, it's like, can you still get more out of them? Are they still on that developmental upswing? And I think that's where Terell really stood out."
Minnesota coach P.J. Fleck described Smith as a player who was constantly pushing to improve. 
"After his freshman year, and when he didn't play his sophomore year because of injury, he spent three years every day — I am not kidding on this — before and after practice with our strength coach working on his hip mobility and flexibility," Fleck told the Tribune. "I mean every single day.
"... You're talking about a guy that really dedicated himself into making something that was maybe a weakness into a strength. You turn on that film now and you don't see a stiff player at all."
No. 218: Travis Bell, DT, Kennesaw State
Even after selecting two defensive tackles on Day 2 of the NFL draft, Bears general manager Ryan Poles could not resist the opportunity to scoop up a third.
There was too much about Travis Bell's makeup and hustle that drew Poles to the player, so the Bears selected him in the seventh round with the No. 218 pick, adding a developmental player from the FCS level to the position group.
"This is probably one of my favorite human beings," Poles said of the Kennesaw State product. "He is a special person. I didn't want him to leave after his 30 visit and he didn't want to leave either. There's something different about this guy. He is passionate about the game."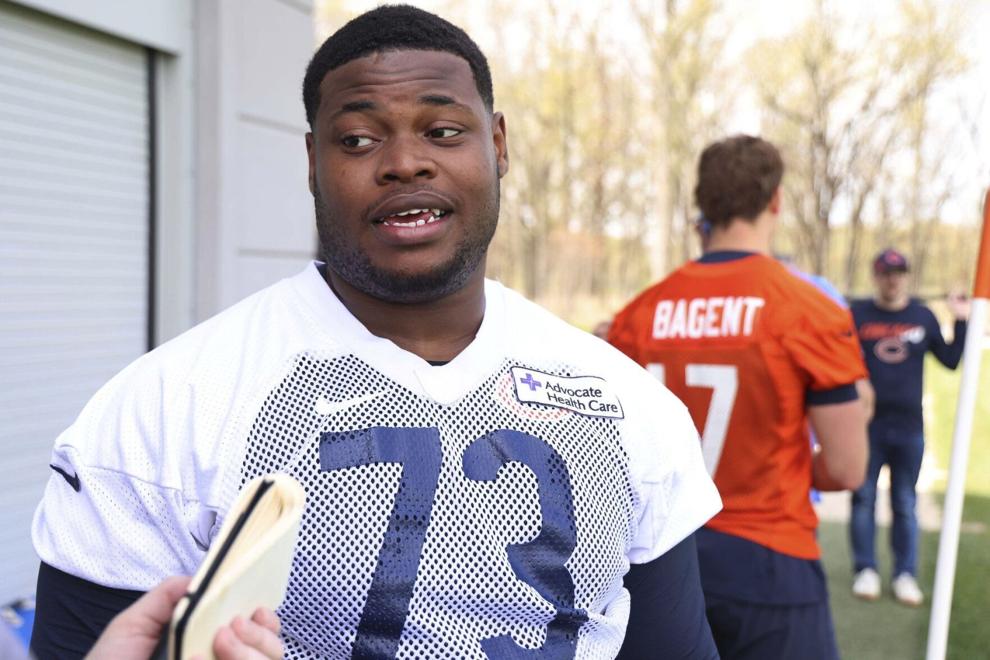 Kennesaw State coach Brian Bohannon described a similar affinity for Bell and what he meant to the school's program.
"We did a thing in camp where guys would get up in front of the room and they were asked to name two or three guys on the team they want to go to battle with and trusted," Bohannon told the Tribune. "I bet his name came up with every kid on the team. For all the reasons you want too.
"He's the most humble, nicest guy on the planet until he gets between the white lines. There is a switch that flips. Different guy. Unbelievable."
No. 258: Kendall Williamson, S, Stanford
One of the most impactful draft picks Ryan Poles made in his first year as Bears general manager was choosing safety Jaquan Brisker in the second round of the 2022 draft.
Poles waited until the seventh round to select a safety this year, drafting Stanford's Kendall Williamson with the 258th pick, citing his speed and range.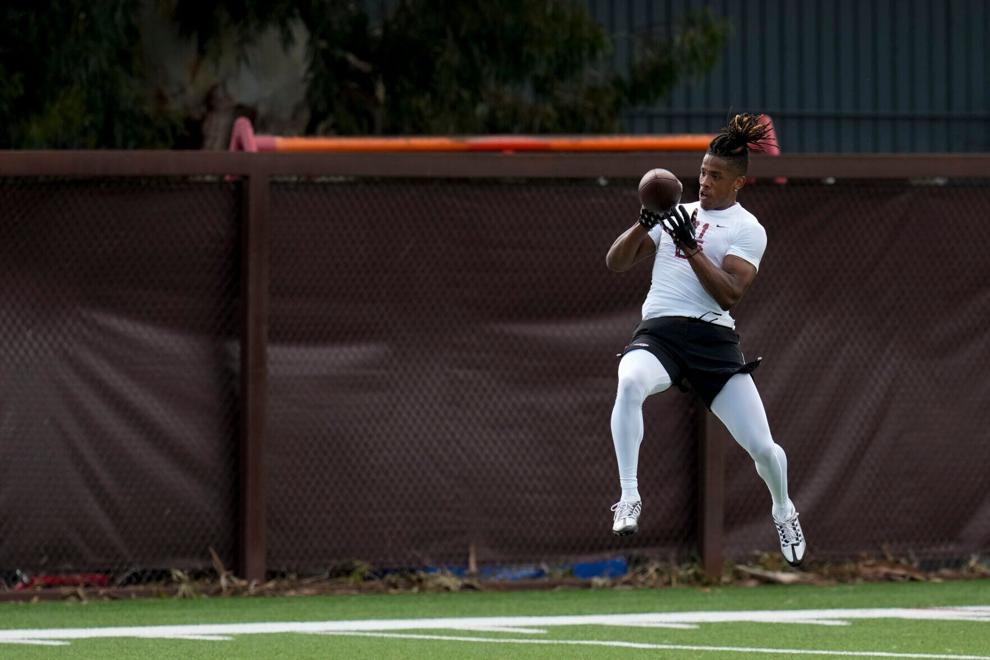 While the Bears plugged in Brisker immediately, they shouldn't need to force Williamson onto the field with veteran Eddie Jackson still in place. But the Bears need to plan for the future and create a depth chart, and Williamson's traits make him a potential core special teams performer for coordinator Richard Hightower.
Over the last two seasons, Williamson totaled 117 tackles, six tackles for a loss, one sack, one interception, nine passes defended and two forced fumbles.
"He has really developed into a leader. Not a real loud, vocal guy. That's not his personality. But someone who really works hard and puts in the time," Lars Anderson, Stanford's defensive coordinator during Williamson's five years at the school, told the Tribune. 
"It's amazing how many times you could find Kendall at night in the meeting rooms or come in during the summer and he's in there watching film or he's got young guys in there and he's got them up on the board going through and teaching them the defense. It was impressive."