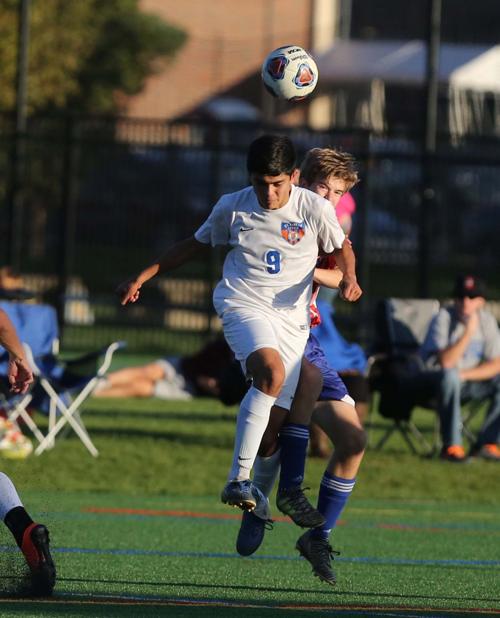 DECATUR — In last season's regional semifinal win against Bloomington Central Catholic, Edgar Onate laid on the field in a heap of pain.
He thought he had broken a bone near his thigh. He didn't know what it would mean for the regional championship game — a 7-3 loss to Bloomington Cornerstone Catholic — or his immediate future.
It turned out to be a dead muscle, which has since healed, and served as an eye-opener for how physical the varsity boys soccer game could be.
He trained in Mexico, where soccer is notably more physical, during the summer, while also visiting his grandmother, and returned to St. Teresa a more physical player.
"To start this season, I was a little bit scared about the physicality of the other players," Onate admitted. "As the season went on I adapted to the situations and got better at playing."
Those adaptations led to 42 goals and 12 assists on his way to the Herald & Review Boys Soccer Player of the Year award.
Onate, a sophomore, led the Bulldogs to a regional championship and a sectional semifinal loss to Urbana University High.
"He was a little tougher going into sophomore year," said former St. Teresa coach Tom Cantwell, who stepped down after the season. "Next year he will be a tougher than that and a little tougher going into his senior year and will be a little bigger and stronger.
"That's what it takes to be successful when you get into the high school games. You have some rough and tumble games. You can't be afraid to go to into those ugly, rough areas on the field.
"You just have to know you're probably going to get hit when you take this shot or a shoulder turned into you, or whatever the case might be. This year he wasn't really afraid of any contact."
Not even Onate could have predicted how many goals he would score as a sophomore.
You have free articles remaining.
But as the games went on, and the talent around him consumed the focus of defenses, Onate scorched the net — over and over again.
"I didn't know it was going to be that many," Onate conceded. "As the games went on I realized how many I was scoring. There were games where I was disappointed and games I was overly proud of myself."
One of those disappointing games came Sept. 13 against MacArthur, where he was held without a goal — a relative rarity on the season.
The games he was held without goals were few and far between compared to games he shined.
Those games stick out, too, like his four goals against Riverton or four goals against Effingham St. Anthony.
Or the relatively quiet one goal he scored against Williamsville in the Class 1A regional championship game.
"It's not just scoring, but being a part of the important moments and helping the team have those good memories and wins," Onate said.
Onate and the Bulldogs return a bulk of the team's core next season. They have their sights on a sectional championship, or at least making it to the game.
And if it's possible, Onate is entrenching himself in the game even more.
His club soccer team, Springfield Area Soccer Association, hired a new 14U coach in Springfield High's Pat Phillips.
Phillips has a proven track record of success and his impact on Onate is already showing.
"There's a lot of constructive criticism, which is what I needed," Onate said. "He's good at telling you when you do something wrong and how to fix it, not just that you're doing something wrong."
For Onate, there were very few times he did anything wrong for the Bulldogs this season.