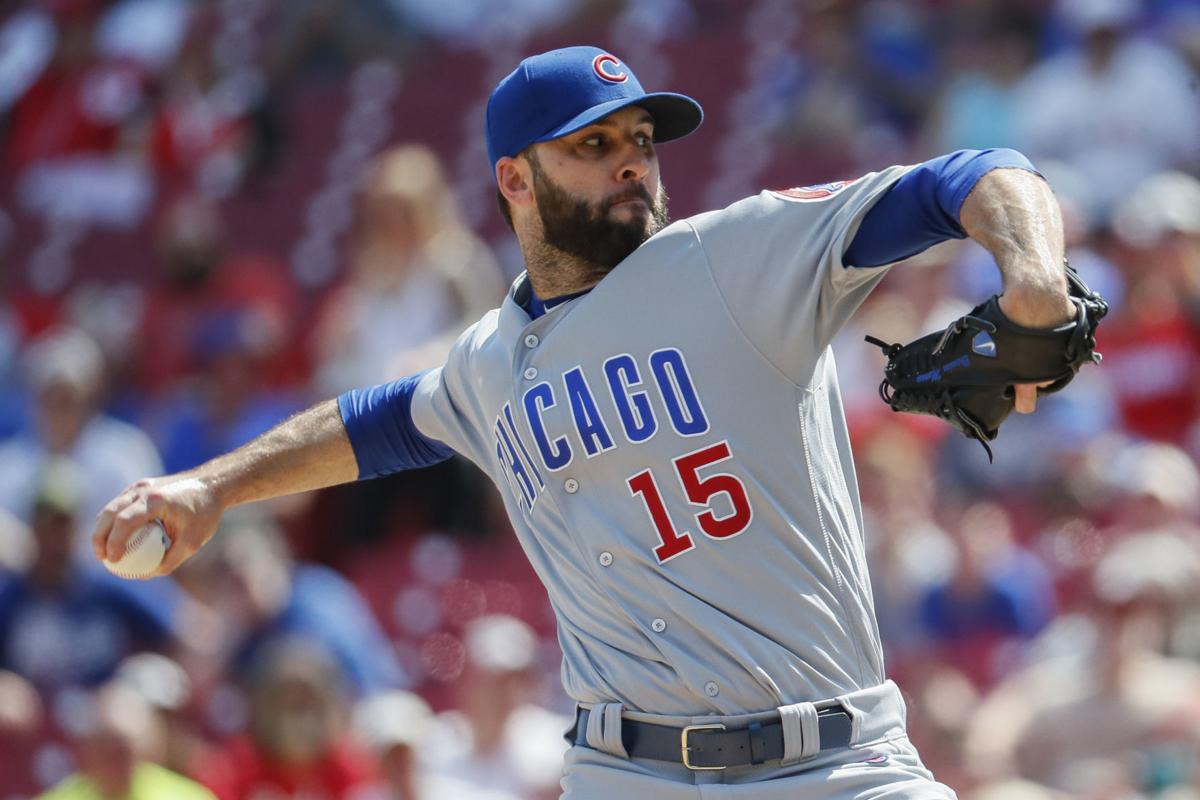 The Cubs officially opened spring training Wednesday with the first workout for pitchers and catchers, while the other players also have arrived at Sloan Park. Here are three takeaways from camp.
1. Brandon Morrow feels worse for others who were affected by the Astros' sign stealing.
Slightly more than two years after allowing four runs and not retiring a batter in Game 5 of the 2017 World Series for the Dodgers, Morrow said he didn't feel a "big vindication" after the Astros were penalized by Major League Baseball for an elaborate electronic sign-stealing system.
Instead, Morrow felt worse for pitchers like Mike Bolsinger, who filed a lawsuit Monday in Los Angeles County Superior Court alleging the Astros' tactics damaged his career after he allowed four runs in one-third of an inning in his final major-league appearance in 2017.
"I don't feel any different," Morrow said after a long pause. "The games were played on the field. They were decided on the field, so it doesn't change anything for me."
Morrow said the Dodgers tried to do "everything they could" to prevent the Astros or any playoff team from getting an advantage.
"You're thinking they're not cheating, but stealing signs or working to get signs and stuff like that," Morrow said. "So you're doing everything you can, but it's hard to protect. They got a camera on the catcher and got some programmed algorithm to break your signs."
Morrow said the noise inside Minute Maid Park made it too loud to hear the sound of a garbage can being struck that tipped off hitters about specific pitches.
"But there were rumors about other stuff they had going," said Morrow, who said he isn't a conspiracy theorist.
Morrow admitted that not winning the World Series was hard to accept, but said he isn't sure whether the scandal heightened his emotions.
"I had the feelings that were already established by losing in seven games," Morrow said. "I haven't really gone back and watched the games or really thought too much."
2. Talks already are percolating for who will be the season-opening starter against the Brewers.
Manager David Ross has some thoughts about his rotation for the season-opening series against the National League Central rival Brewers but plans to talk with coaches Tommy Hottovy and Mike Borzello and the candidates before announcing his decision.
"I'm going to put the guy I see best fit for that (opening day) spot," said Ross, looking at past success, who finished strong last season and looks sharp in spring training."
Right-handers Yu Darvish and Kyle Hendricks and left-handers Jon Lester and Jose Quintana all are viable candidates to pitch in the opening series.
3. David Ross has a passion for prose.
Ross quipped that "there was a lot of standing around" supervising his first workout as manager.
But his emotions occasionally could veer off script when he talks to his players as a group.
"You write down your thoughts, and want to organize them the right way and not bounce all over the place," Ross said.
"When I speak freely, I bounce all over the place. There's definitely an order I try to keep. I'm finding when I start, there's a lot that comes out that I'm passionate about and start speaking to. It's things I've written, and it's on my heart, and they've come up in a meeting."
Ross' blend of passion and conciseness during his second interview fully convinced Cubs officials to hire him as manager in October.
"The nerves will be there," Ross said. "I think I'd be silly to not think I'd get nervous about something."
Be the first to know
Get local news delivered to your inbox!