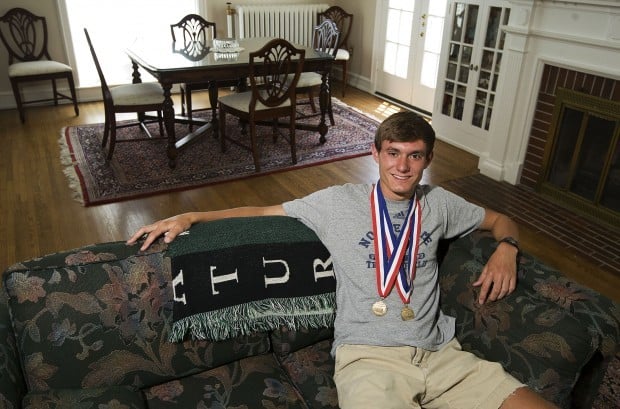 If you don't know H&R Macon County Boys Track and Field Athlete of the Year Michael Clevenger's story, here it is in a nutshell:
Clevenger, from MacArthur, ran and played soccer as a freshman, but when he realized his potential was greater in running, chose to put all his efforts into cross country in the fall and track in the spring. He flashed his potential as a sophomore, then dominated every meet he was in as a junior and senior. He's a two-time Class 2A cross country state champion, a two-time 3,200-meter state champion, a 1,600-meter state champion, two-time H&R Cross Country Runner of the Year and, now, two-time H&R county boys track athlete of the year.
Clevenger has also made his presence known on the national scene — in particular with an 8:54.12 in the 3,200 at Arcadia that was the fifth-fastest in the nation this season. He'll continue his running career next year at the University of Notre Dame.
But who is Michael Clevenger and what makes him tick? Here are the four people Clevenger listed as his key influences and their take on him.
Clevenger met Rinchiuso his freshman year, and Rinchiuso stayed patient while Clevenger tried to juggle cross country and soccer during the fall his first two years of high school. Once Clevenger dedicated himself to running, Rinchiuso helped him reach his potential but also keep him healthy with intelligent training regimens.
"He told me what I needed to do to take my running to next level," Clevenger said. "All my racing tactics and strategies, I attribute to him."
WHY HAS MICHAEL BEEN SO SUCCESSFUL AS A RUNNER? He decided after a disappointing finish to his sophomore year in cross country that he wanted to be the best he could be at something on a large scale. He knew he could be OK at soccer, or OK at golf, but he'd seen glimpses when he ran well how good he can be. He studied the sport, and he put in the offseason work that made him a champion.
WHAT ARE MICHAEL'S INTERESTS OUTSIDE RUNNING? He loves golf and he loves tennis. And he watches every sporting event on TV — whatever the sport. He likes all kinds of sports.
DESCRIBE MICHAEL: He's just a likeable, outgoing kid. He's friends with everybody. Whether it's his competitors or his teammates, I don't think anyone doesn't like him.
WHAT'S A FUNNY STORY ABOUT MICHAEL? It would have to be his frequent trips to the bathroom. We drove to Joliet for a race recently and we had to stop in Bloomington, Pontiac and then in Joliet before we got to the meet. We went to Quincy on the bus with the team and I told him — once we leave Springfield, there are no bathrooms, only cornfields. That was rough for him.
Bill is the president of the Decatur Park District and always encouraged Michael to play sports — "From the time I was 3 until I quit playing soccer, I was playing four sports at a time." He's also someone Michael trusts to help him make tough decisions.
"He's always been supportive of everything I've done," Michael said. "But when it came time for me to choose whether or not I wanted to keep playing soccer, he talked to me about my future and helped me realize I probably wasn't going to be big enough to play Division I soccer. And he also helped me realize my passion was for running, not soccer."
WHAT MOTIVATES MICHAEL? He seems to have this intrinsic ability, where he sets these goals and absolutely works his rear end off to achieve them. Even at a young age, he understood that things don't come easily.
WHY HAS MICHAEL BEEN SO SUCCESSFUL AS A RUNNER? Besides his internal drive, he's had a lot of supportive people around him. From early years with Mike Landacre at Johns Hill, then Greg Collingwood and the Staley Striders. Those guys presented the option to him and made it fun for him.
And I can't say enough about Angelo. He's been a mentor. What Michael has accomplished doesn't just happen. There are a lot of intangibles, and Angelo is a big one.
You have free articles remaining.
DESCRIBE MICHAEL: He's really a pretty laid-back kid. And he's extremely thoughtful — he really thinks things through. And he's pretty easy to communicate with.
But then you watch him as he prepares for meets and running events, it's like a switch flips and he goes from that polite kid, to a fierce competitor. That's definitely part of his personality, too — his competitiveness.
WHAT'S A FUNNY STORY ABOUT MICHAEL? I think Michael was 8 or 9 — maybe even a little younger. We came home and as we pulled up we saw Michael's older brother and his friends were playing roller hockey in the driveway. They had roller blades and hockey sticks — everything. Well, among all these teenagers was Michael with a catcher's mask and chest protector standing in front of a makeshift goal, and they were shooting at him. But he seemed to be enjoying it.
Candi is the chief financial officer at Heritage Behavioral Health Center in Decatur. Michael credits her for keeping him grounded and spearheading his college decision.
"It was important to me to choose a school for academics and not athletics — she always stayed focused on that," Michael said. "She researched every school thoroughly."
WHY HAS MICAEL BEEN SO SUCCESSFUL AS A RUNNER? I think a big part of it is he likes having a running program – he likes to have the goals set out in front of him, then see the results as he achieves the goals. It's amazing to watch him do that.
DESCRIBE MICHAEL: He cares about people. He sees the big picture of what's going on around him. And he enjoys life.
WHAT ARE MICHAEL'S INTERESTS OUTSIDE RUNNING? He's always loved soccer — playing it and watching in on television. He likes to do physical things — he never was a big video-game player. He does like to read, though.
Stephen Clevenger, brother
Michael has three older brothers, and while the next oldest — Stephen — is seven years older, Michael always tried to emulate him.
Stephen went to college to play soccer but ended up on the University of Mississippi cross country team.
"I started running because he ran," said Michael of Stephen, a recent law school graduate. "Watching him run at Ole Miss kind of opened my eyes to what it was like to be a Division I runner. We talk after pretty much every race."
WHAT MOTIVATES MICHAEL? He just has this drive to get better every day. I'd say it's because our parents — they instilled that in us as kids. At this point, it just comes naturally to him.
WHY HAS MICHAEL BEEN SO SUCCESSFUL AS A RUNNER? Well, you have to put in the work. A lot of people don't see what goes into it. But that's distance running — they all do it. For Michael, a lot of it is natural talent. If they're at the state meet, they've worked hard to get there. But not everyone has his talent.
WHAT ARE MICHAEL'S INTERESTS BESIDES RUNNING? If he's not running or doing something for school, there's a good chance he's on the golf course. That's just what our family does — me and his other brothers, too.
DESCRIBE MICHAEL: He's just like any 18-year-old kid. He hasn't gotten a big head about the success he's had. He likes to joke around and he doesn't take himself too seriously.