ROBY -- The third time was a charm Thursday for the Illinois State Police officers who had been waiting 39 days for Shirley Ann Allen to leave her home in rural Roby.
Allen 's standoff with police ended just before noon Thursday when she was captured on her back porch by officers as she attempted to cut wires to a surveillance camera hidden inside a bucket.
It was the third time within a span of three minutes Thursday morning that Allen , 51, had ventured onto her porch. State troopers stationed near the porch were reaching for her as another officer spied something shiny in her hand and fired six rubber bullets. Three hit her.
Allen was listed in good condition at St. John's Hospital in Springfield, where she will undergo the psychological evaluation she had fought against for 39 days.
Allen's standoff with police began on Sept. 22 when three Christian County sheriff's deputies and Allen 's brother, Byron Dugger, tried to deliver a court order that she go to Springfield for the evaluation. She refused and has held authorities at bay since.
State Police saw Allen at her windows 17 times throughout the morning. She had cut wires to surveillance equipment at the front of her house.
Then at 11:32 a.m., police heard sounds that resembled the loading of a shotgun. At 11:42, Allen stepped out on her back porch and set down a box of food and water State Police had placed inside her back door. Officers began moving around the far side of her garage, closer to the house.
At 11:43, she came back out with a second box of food and water police had put inside her home. Officers stood on the side of her house near the porch. She walked back in.
At 11:44, Allen came out a third time. She approached the bucket with the camera that stood about 12 feet outside the door. The bucket was tied to the porch rail. She struggled with the rope, bending over. One officer saw some glare from the scissors she held in her hand and believed it might be a gun. He fired six large, hard-rubber bullets and hit her three times -- once each in the leg, side and chest.
She was wearing camouflage coveralls stuffed with a pillow and magazines for protection. She also had on several hats.
Allen fell to the porch floor, was subdued and put in plastic flex cuffs for about 15 minutes.
Terrance Gainer, director of the Illinois State Police, said one of the officers put his arm around Allen and said, "It'll be OK honey, It'll be OK."
Officers brought Allen around to the front of the house where she talked to officers, her brother, and stepdaughter, Kate Waddell of Marion for about 45 minutes before being carried to an ambulance.
Gainer said Allen told police she had not eaten or taken a drink in three days. Police did find a stockpile of food which included potatoes, noodles, gelatin, canned beans, tomatoes and juice. They did not find any water.
Officers offered Allen a drink, but she refused, saying the helicopters -- of which there were none at that point -- told her not to drink it because it was poisonous. Then, an officer took a drink and so did her family members. Allen drank the rest of the jug.
Gainer said Allen slipped in and out of rational conversation while sitting on the porch. She made her relatives open their mouths so she could see their teeth and lips to make sure they weren't wearing masks. She also told officers they didn't look like State Police.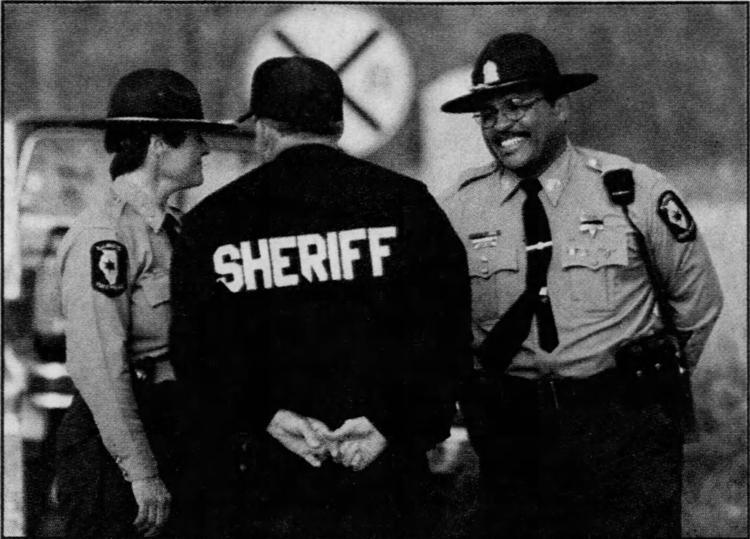 State Police were spending Thursday night boarding up windows in Allen's home. The Christian County Department of Public Health also will check the house to make sure it's habitable.
Gainer said the State Police likely will pick up the tab for broken windows and other damage they caused. He said officers who got into her house said it was neat and tidy.
Allen had been sleeping in her living room, an area State Police tried not to disturb because it was where her husband, John, had died in 1989. Her shotgun was on a table in that room.
Police also found two battery-operated radios with headphones. Both were tuned in to WUIS, a station which plays primarily classical music. Gainer said it was the only media outlet to his knowledge that he hadn't talked to since the ordeal began.
Meanwhile on Thursday, at least two onlookers were told by police to leave after they followed the Sangamon River behind Allen 's home to try to see what was going on.
One, Farrell Montgomery, had been parked in a camper near State Police road blocks for several weeks. He said he wanted to get within eyeshot to see if Allen was being treated safely.
"She's not a criminal," he said. "I'm standing for our national rights. These police are failing to hold their public service. This is ripping at the fabric of what makes America America."
Other neighbors also gathered near the scene. Teresa Patton, who lives about a half-mile from the start of Allen 's road and who paid her property taxes, said she's relieved it's over but remains concerned about Allen .
"It was handled badly from the start," she said. "I'm glad she's out safely, but I haven't seen her yet. Maybe now we'll be able to sleep. I'm not kidding, I would wake up at 3 a.m. and cry because someone so close to us was being treated so badly. I don't think she'll ever forget this and neither will any of us."
Gov. Jim Edgar released a statement Thursday saying the patience of the State Police paid off. He said they are to be "commended for exercising remarkable restraint throughout this very stressful situation."
Gainer, too, seemed relieved. After a week in which two State Police officers were killed in the line of duty elsewhere in the state, it's a reminder of the sanctity of life.
"If there's any yin-and-yang in this, we lost two troopers this week and saved Mrs. Allen ,'' he said. "Somewhere there must be a minor balance."
Originally published October 31, 1997