DECATUR — The icy blast that coated roads in ice and sent vehicles spinning Monday is now expected to drop the temperatures to a dangerous level. 
"We've had people buying bags of salt by the cart full," Dylan Shaner, assistant manager of Blain's Farm & Fleet in Decatur, said Monday. "But the (customer) traffic is slow because of the nasty weather."
According to the National Weather Service in Lincoln, gusting winds were expected to blow the fallen snow, hampering efforts to ease hazardous travel conditions. Temperatures also were expected to fall, bringing with it wind chills as low as 5 below overnight and early Tuesday.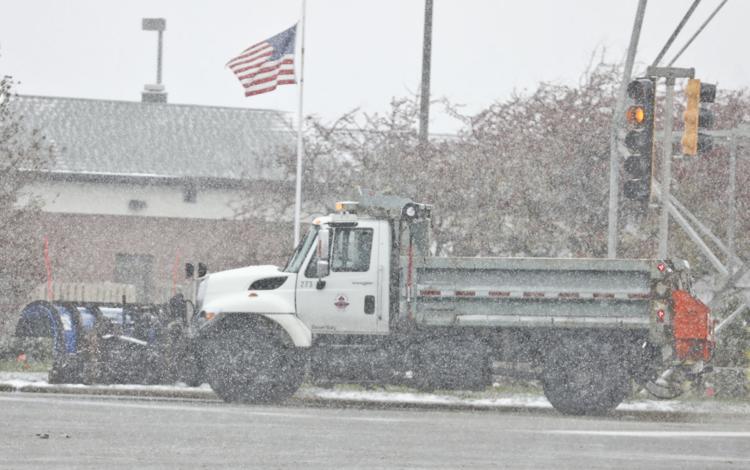 What a difference a day can make. On Sunday, Andy Richardson, owner of AJR Landscaping in Mount Zion, and his crew were mowing and cleaning up leaves. On Monday, his team was busting out the salt and snow plow.
"Nothing surprises me this time of year," Richardson said. "I love it, though. It keeps me on my toes. You have to be prepared for anything."
That means keeping the equipment used primarily during the fall and winter seasons in the same area in his shop, just in case weather conditions change quickly, he said.
"When it turns cold like this, they expect us to be there salting," he said of his clients.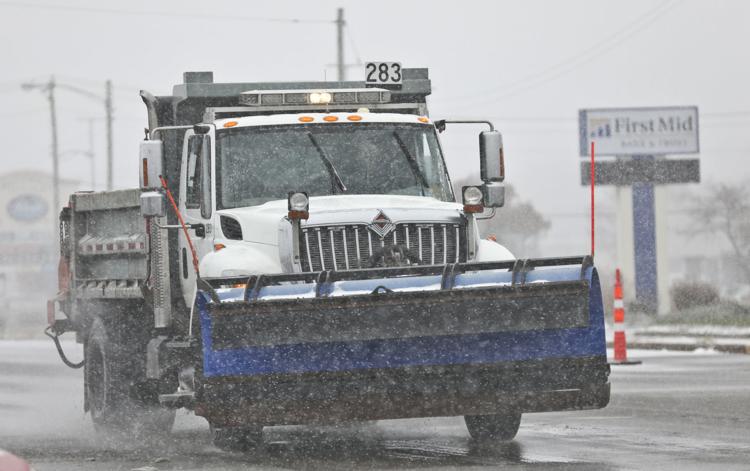 "Nobody was expecting this to hit like this and I just feel awful for anyone who has to work out on the roads on a day like today," said Russell Heitz, affectionately known as "Rusty the Snowman." He has been clearing driveways and church parking lots since 1965, hence the nickname.
Heitz and his wife, Mary, were at a local gas station filling up for a busy night. They were on their way to plow a neighbor's driveway before taking care of several church parking lots throughout the city.
He said he doesn't mind the weather when he gets to spend time with his wife, who often tags along on the trips around town.
The frigid conditions were the result of an arctic airmass that settled into the eastern two-thirds of the country this week. Winter Weather Advisories stretched from the Missouri Bootheel through Ohio and into New York to Maine. 
Weather Service meteorologist Kevin Birk said Tuesday's expected high of 21 degrees for Chicago is a full seven degrees lower than the previous record. Birk says the lows in Illinois, Wisconsin and Iowa could drop into the single digits or low teens.
You have free articles remaining.
Dan Mendenall, municipal services manager for the city of Decatur, said there were 15 plows on the streets and about 20 people working shortly after 4 p.m.
He said crews began plowing and salting city streets around 11 a.m. and he anticipated they would be working through the night to clear all the roadways.
Mendenall has some simple words of advice for motorists sharing the roads with plows.
"I would have them make sure they stay back away from the trucks, don't crowd them, keep out of their way the best you can," he said.
The Illinois Department of Transportation website showed the Interstate 72 corridor from the western Macon County line to Champaign and Interstate 74 from Champaign to the Illinois-Indiana border to be covered with ice and snow for most of the day. The Illinois State Police reported eastbound I-74 was closed temporarily at the Cunningham exit (184) due to multiple crashes.
Interstate 57 in Coles and Champaign counties also was listed as ice and snow covered.
Scanner traffic and sightings of cars in ditches provided clues that some motorists didn't cope very well with the first menacing snow of the season. When asked about the number of accidents to which Decatur police have responded, the person answering the phone said "a lot." 
The wintry mix that caused slippery travel conditions prompted some cancellations and closings. Those planning to attend activities Monday night are encouraged to call ahead or check online listings to make sure the event hasn't been cancelled.
Meteorologist Ben Deubelbeiss said the forecast calls for a steady warming trend that should push the mercury to around 38 degrees Thursday and 40 on Friday, weather forecasters predict. That will be good news for local farmers still trying to wrap up this year's harvest.
"There's some corn still standing from what I saw this morning," said Tim Stock of the Macon County Farm Bureau. "There's always tillage work to be done, guys still needing to put anhydrous on for next year's crop. It's going to be a day or two setback with the cold temps."
---
HISTORY PHOTOS: Snow photos from the years past